Autonomous shuttles in France, now Navetty operations are human-controlled only by remote
The autonomous and electric shuttles of the Navetty research project, supported by the Yvelines Department, EasyMile, Transdev, ArianeGroup and VEDECOM have been running with an on-board supervisor since their official launch in May 2021 at the ArianeGroup site in Les Mureaux, France. In early November, "a new step was taken – the partners announce -. The fleet […]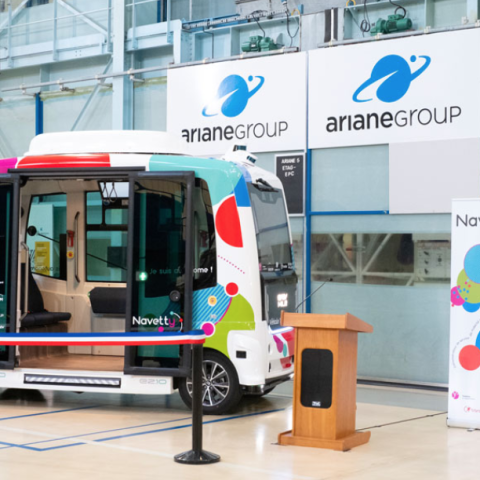 The autonomous and electric shuttles of the Navetty research project, supported by the Yvelines Department, EasyMile, Transdev, ArianeGroup and VEDECOM have been running with an on-board supervisor since their official launch in May 2021 at the ArianeGroup site in Les Mureaux, France.
In early November, "a new step was taken – the partners announce -. The fleet of shuttles is now running completely autonomously, without a human supervisor inside the vehicle, marking the first of its kind on a European scale – that is, fully driverless in a complex environment, in normal traffic conditions".
Efforts now focus on developing the service for ArianeGroup employees. A mobile application for on-demand reservations is set to be launched in early 2023. Employees will be able to order a shuttle directly from their location thanks to an integrated geolocation system. Also in 2023 a route on an open road between the Mureaux train station and the ArianeGroup site is set to be launched.
Transdev operates EasyMile shuttles
Two shuttles, developed by EasyMile and operated by Transdev, run daily on routes of up to 6.6 km to enable ArianeGroup employees – up to 10 passengers per trip – to travel around the 92-hectare site, while guaranteeing service quality and safety. Since the launch, more than 50 daily trips have been made, covering 23,000 kilometers in complete safety, partners stress.
For this large-scale demonstrator, the choice of the ArianeGroup site in Les Mureaux west of Paris, which covers an area of 227 acres, is ideal as it brings together all the complex elements of an urban area: road and pedestrian traffic, roundabouts, intersections and parking lots. This environment, public transport company says, lends itself perfectly to preparing future transition to an urban scale. This autonomous shuttle service has also been designed to meet the needs of ArianeGroup to improve access to its facilities.
For the Yvelines department, which has invested 2.5 million euros in the project, the Navetty research program aims to promote industrial R&D in the region, but also to ensure the deployment of these innovations on roads open to public traffic.
The autonomous shuttles were deployed progressively over a period of 5 months. A remote supervisor can intervene or exchange with passengers at any time from the Central Control Station (CCS), with the possibility of acting when necessary. The arrival of a third shuttle will test the feasibility of supervising a fleet of three autonomous shuttles with a single supervisor, while ensuring safety and service performance.
This will also allow projection towards the demonstration of a viable economic model for the deployment of a permanent autonomous shuttle service. "This is the only project in Europe in which 3 shuttles will be operated remotely by a supervisory operator, without an on-board operator and in a complex private environment", partners claim.
Autonomous shuttles to fix the last mile issue
"Solving the last mile problem, which many of the region's residents encounter in their daily travels, is also a priority objective, and is fully in line with the strengthening of the region's mobility investment policy. This autonomous shuttle service should eventually provide an optimal connection to the future RER EOLE stations. The department is also continuing to support the strengthening of links between the aeronautical, technological and automotive industries, which are very present in the region," explains Maxime Rabasté, Director of Environment and Development position at the Yvelines department.
Benoit Perrin, General Manager of EasyMile, comments: "We are proud to have a reliable and relevant service for ArianeGroup employees, on such a complex site and in a totally autonomous way. Autonomous shuttles reinforce the attractiveness of public transport, by offering practical and safe collective mobility solutions. Our technology is ready to be deployed on sites of this scale and other sites will soon follow Ariane's example."
"Through this program, Transdev is preparing to operate the first commercial autonomous shuttle services. From the training of supervisors to the deployment and operation of the service, we are applying our business expertise to achieve the same standards of safety and quality of service as in our fleets of driven vehicles," says Virginie Fernandes, Director of Strategy and Transformation for the Transdev group.
Eric Lebeau, VEDECOM's Managing Director, "the Navetty program is a concrete illustration of VEDECOM's mission to encourage and federate innovation in the mobility ecosystem, by bringing together territories, manufacturers and transport operators in this European first. As part of this program, VEDECOM will soon be experimenting with two cooperative driving scenarios between infrastructure and vehicles through the implementation of an intelligent traffic circle where disembarked perception followed by a collision risk analysis will make it possible to communicate maneuvering instructions to the shuttles, thus further improving safety and optimizing the time taken to pass through the traffic circle. One more step towards the safe deployment of shared automated vehicle fleets."