Contactless tickets in Santa Barbara launched. MTD partnering with Littlepay and Kuba
Contactless payment options have been introduced on Clean Air Express buses and on a selection of Santa Barbara Metropolitan Transit District (MTD) buses on July 26, 2021. The tap-to-ride system uses cutting-edge fare payment technology provided by specialist partners Littlepay, Kuba, Cybersource, and Elavon. Already in late 2018, MTD Santa Barbara's Board of Directors set […]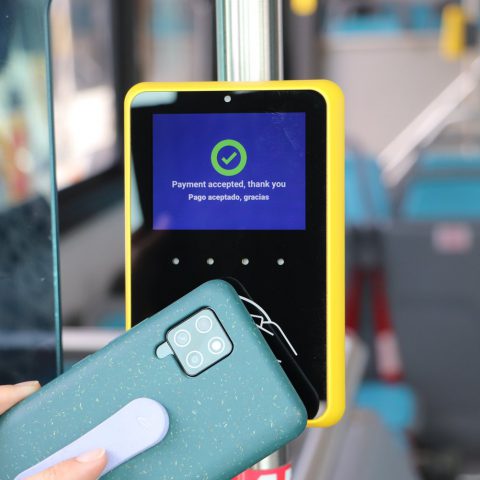 Contactless payment options have been introduced on Clean Air Express buses and on a selection of Santa Barbara Metropolitan Transit District (MTD) buses on July 26, 2021.
The tap-to-ride system uses cutting-edge fare payment technology provided by specialist partners Littlepay, Kuba, Cybersource, and Elavon.
Already in late 2018, MTD Santa Barbara's Board of Directors set the goal of full electrification of the bus fleet by 2030.
MTD Santa Barbara goes contactless
The innovative fare payment system is being made available as part of a six-month demonstration with the California Integrated Travel Project (Cal-ITP), an initiative of the California State Transportation Agency (CalSTA) and California Department of Transportation (Caltrans) to simplify travel by increasing access to public transit—including easier, faster payments via contactless credit/debit/prepaid cards and mobile wallets on smart devices, the PTO says.
MTD points out that «The contactless payment system for Santa Barbara MTD and Clean Air Express is the first to be introduced among public transit providers in the Ventura, Santa Barbara, and San Luis Obispo tri-county region and one of the first three systems to be deployed statewide».
In addition to Visa and MasterCard credit and debit cards with tap-to-pay capabilities, mobile payments options include Apple Pay, Google Pay, Samsung Pay, and Fitbit Pay. While registration or account setup will not be required to use the system, an online portal will be available to all customers paying with a card who need a receipt or would like to check their recent rides and fare payments.
Automatic fare capping enables both transit providers to offer riders the ability to pay-as-they-go to receive multi-ride discounts when riders tap to pay with the same contactless payment card or device throughout the day or within a 30-day period.
MTD Santa Barbara: contactless tickets to eliminate barriers
"Older fare collection systems create unnecessary barriers for people to ride and choose transit," said Marjie Kirn, executive director of SBCAG, which operates the Clean Air Express. "With the new contactless payment system, customers can now pay their fare the same way they can buy a coffee or groceries by simply tapping a credit, debit card, or using a mobile wallet on a smart phone or watch with no registration or account setup needed."
"We are excited to introduce this convenient payment option for our riders," said Jerry Estrada, general manager of Santa Barbara MTD. "We're piloting this technology on ten of our buses, serving Lines 12x and 24x. This means you'll be able to get to UCSB, Downtown Santa Barbara, Camino Real Marketplace, and Old Town Goleta with a simple tap of a card or device."
"Much of our goal is a more modern and consistent transportation experience throughout California," said Caltrans Director Toks Omishakin. "Allowing riders to pay for transit with the same methods they use elsewhere not only increases efficiency and mobility, but also reduces barriers to using public transportation."
Littlepay and Kuba, partners for the contactless ticketing in Santa Barbara
Amin Shayan, CEO at Littlepay, says, "The system we've created is a great example of our modular approach to contactless fare payment, working with a range of pre-integrated 'Littlepay Ready' partners to deliver an end-to-end solution—from point of tap to settlement of funds."
Michael Hart, CRO at Kuba, says, "We're thrilled to team up with Littlepay to support the delivery of contactless travel in California with this rapid-to-deploy system. We're eager to continue our expansion in the region and to improve the passenger experience by removing the barrier of traditional fare payment, through easy-to-use contactless options across the United States."