Bernmobil goes with Irizar: 14 articulated e-buses ordered in Switzerland
Swiss operator Bernmobil has awarded Irizar e-mobility a contract to supply 14 battery-powered articulated buses. These vehicles are to be used on routes 19 and 21 from the beginning of 2023 and will reduce CO2 emissions by a further 1,200 tonnes per year, Bernmobil states in a press note. At the same time, the PTO […]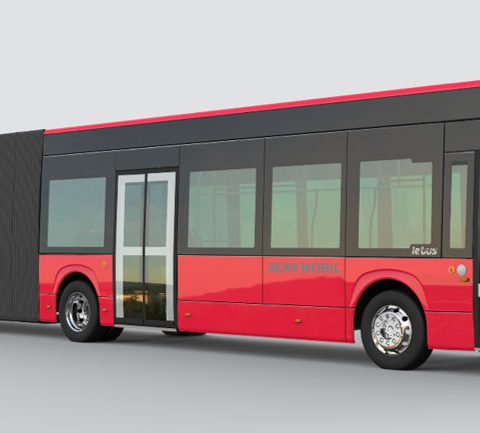 Swiss operator Bernmobil has awarded Irizar e-mobility a contract to supply 14 battery-powered articulated buses. These vehicles are to be used on routes 19 and 21 from the beginning of 2023 and will reduce CO2 emissions by a further 1,200 tonnes per year, Bernmobil states in a press note. At the same time, the PTO has awarded Siemens the contract for the fast-charging stations and the charging infrastructure in the depot.
Bernmobil has also been converting a bus line to battery electric operation, thanks to the lighTram realized by Hess.
Bernmobil goes with Irizar e-mobility
From the beginning of 2023, bus lines 19 and 21 are to be electrified. To this end, Bernmobil just awarded the contract for the delivery of 14 articulated electric buses to the company Irizar e-mobility, represented in Switzerland by Ferrostaal Schweiz AG.
Eight e-buses will be used on line 19, five on line 21; one e-bus is planned as a reserve. The new e-buses will further improve passenger comfort and the quality of life for the inhabitants of the Bern region.
By around 2035, Bernmobil intends to operate all lines with electrically powered vehicles in a climate-neutral manner. With the conversion of lines 19 and 21 to electric operation at the beginning of 2023, Bernmobil will reduce CO2 emissions by a further 1,200 tonnes per year.
Irizar submitted the most economical offer in a public tender, Bernmobil says. Depending on the weather and route conditions, the e-buses can cover between 110 and 200 km without recharging, according to the PTO. The air conditioning is environmentally friendly, using a heat pump and CO2 refrigerant. The interior has large multifunctional areas.
The investment volume for the 14 vehicles is around 13 million Swiss francs, nearly 12 million euros.
Siemens awarded charging infrastructure
In parallel with the invitation to tender for the vehicles, Bernmobil also put the charging infrastructure for the
e-buses through a public tender. Siemens was awarded the contract to supply three fast-charging stations at the terminal stops as well as the charging infrastructure in the bus garage at Eigerplatz. The costs for the three fast-charging stations including the charging infrastructure for the garage amount to around CHF 2 million (1.8 million euros).