A batch of 22 Volvo e-buses headed to Drammen, Norway. With 2 articulated models
Vy Buss is ready to bring a further batch of electric buses in operation in the Norwegian town of Drammen. 22 Volvo e-buses have just been ordered, with delivery planned for the period October – December 2020. What is interesting, two of the commissioned buses will be articulated models (unveiled by the manufacturer at Busworld […]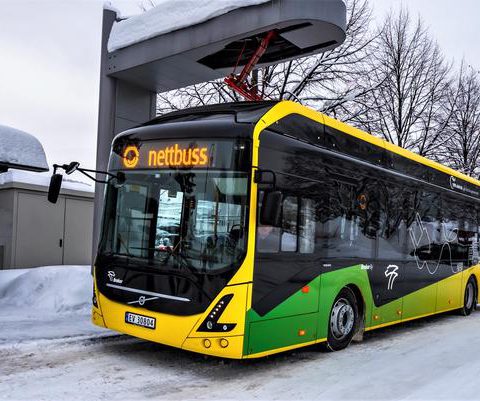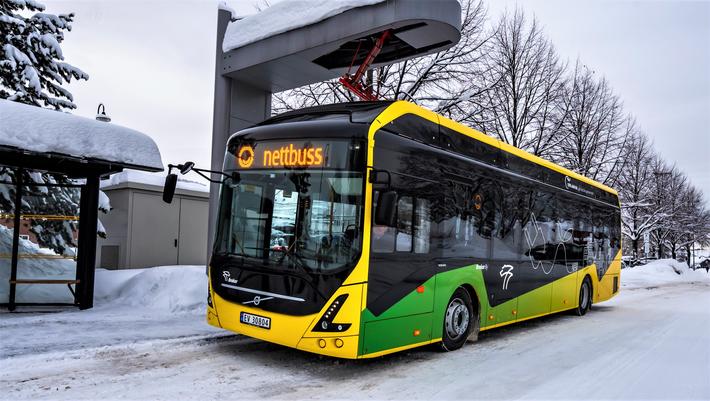 Vy Buss is ready to bring a further batch of electric buses in operation in the Norwegian town of Drammen. 22 Volvo e-buses have just been ordered, with delivery planned for the period October – December 2020. What is interesting, two of the commissioned buses will be articulated models (unveiled by the manufacturer at Busworld 2019), that for the first time will make it out of Copenhagen.
This investment will bring the number of electric bus vehicles around Drammen roads to 28. And all of them will carry the logo of Volvo Buses, that just yesterday announced it has received a major order for 128 hybrid buses in Brussels from STIB-MIVB.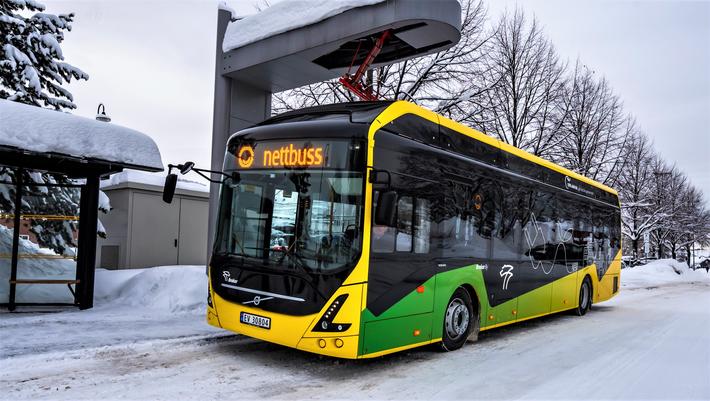 Brakar and Vy Buss, electric buses in Drammen will grow
Drammen already has a fully electrified bus line (the number 51) thanks to six Volvo 7900 Electric delivered at the beginning of 2019. And last year the charging infrastructures supplier Ekoenergetyka has been awarded a contract to install up to 15 inverted pantograph stations that will be able to deliver up to 300 and 450 kW. The contract includes an option for further ten charging stations. These infrastructures will join two top-down Panto chargers by Siemens with power of 300 kW.
The first articulated electric buses for Brakar
Vy Buss (formerly Nettbuss) operates the public transport in Drammen, a 70,000-inhabitants city (some 40 km south west of Oslo) on behalf of PTA Brakar. Brakar and Vy Buss have agreed to buy electric buses instead of diesel buses, in order to continue to take steps in the green direction, Brakar points out in a press release. The articulated vehicles will be the first electric 18m buses to go into operation for Brakar. They'll operate on line 3.
"Brakar is taking this an important step in the direction of an emissions-free public transport. Public transport is one of our most important means of achieving the County Council's goal of reducing greenhouse gas emissions in Viken area from by at least 80 per cent by 2030″, says Kristoffer Robin Haug, county councilor for public transport in Viken county municipality.
Green plans depend on state compensation to Covid-19 losses
"The extent of this investment is now dependent on the state financial compensation to the public transport companies following the Covid-19 outbreak. Without it, we must reduce important plans for a better and greener offer in the Drammen area for the time being. We do not want that" Haug adds.
"The 22 buses are not as many as was planned, but they do mean that our development will go in a greener and more correct direction anyway," says Terje Sundfjord, CEO of Brakar.
Last year, Brakar received NOK 30 million for further construction of charging infrastructure for electric buses. With the investment to Vy Buss, it will be possible with more electric driving on the city lines in Drammen. The new charging stations are coming in Tor's way, at Kniveåsen, Bera, Vinnes, Svingen, Andorsrud, Fredlihavna, Hovjordet, Sørensvingen and Fjell. A project agreement has been signed with Glitre Energi Nett on power supply to the charging stations.