Ziehl-Abegg and IAV offer to convert Berlin sight-seeing buses to electricity through retrofit
A team work in order to electrify diesel double-decker buses (once used by BVG Berlin for normal service) and deploy them for tourist services in Berlin. Tassima, Ziehl-Abegg and IAV are the protagonists of a project that involves buses originally built for BVG, Berlin public transport company. After some years, these buses have been sold to private […]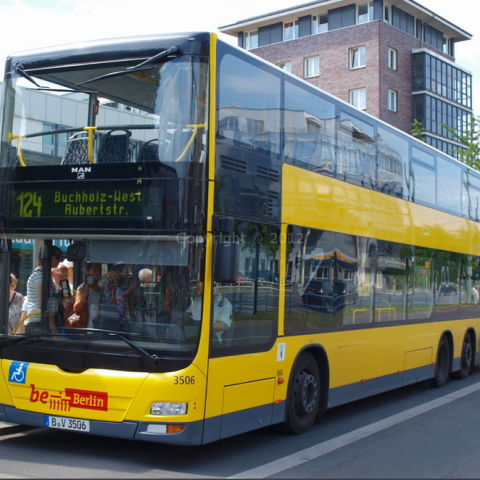 A team work in order to electrify diesel double-decker buses (once used by BVG Berlin for normal service) and deploy them for tourist services in Berlin. Tassima, Ziehl-Abegg and IAV are the protagonists of a project that involves buses originally built for BVG, Berlin public transport company. After some years, these buses have been sold to private companies who have converted them to sightseeing buses. Ziehl-Abegg and its partners are now offering these private operators a retrofit option. Up to now, there is no indication that any operator has already placed an order.
Mass retrofit of diesel buses
The electrical retrofit will involve several hundreds vehicles originally owned by BVG before being sold to private companies. The space now occupied by the diesel engine would be used to place the batteries. The buses would be retrofitted with electric motors in a factory in Brandeburg, thanks to the partnership between the above mentioned companies. Ziehl-Abegg would develop and produce the electric drive axle with electric motors integrated in the wheel hubs. Tassima, as reported on Electrive, is a vehicle refitter and its specialized team will deal with the conversion process. IAV will provide components. Now the decision is up to the private companies who are using the buses for sightseeing purposes.
Berlin, first steps in electric direction
Berlin, where the sightseeing buses are being deployed, is starting to run on the path of transition of public transport to electricity. BVG Berlin ordered a first 30 units fleet of electric buses through a public tender. The winner were Solaris and Mercedes, thereby in Berlin will operate 15 Solaris Urbino 12 electric and 15 recently launched Mercedes eCitaro. This doesn't mean the city is stopping its investments on diesel bueses, as proved by the recent record-breaking order for up to 950 city buses, also Citaro. The new electric buses will join four Solaris Urbino electric that are in operation since 2015 for a pilot. Reportedly, BVG is also preparing a new tender for articulated buses, electric as well.
Germany, not a leader in electric buses
Looking at figures dated 31/12/2017, Germany has about 190 electric buses orded and delivered, the same number as Poland, in a European market composed by 2.106 battery electric buses (with + 279 per cent growth in 2017). European leaders in electric buses are UK, with 356 vehicles orded and delivered. Netherlands follows with 314, than France with 246.