Ebusco to go public. The Dutch company targets to raise €300 million
Ebusco announces intention to launch Initial Public Offering and admission to listing on Euronext Amsterdam. Through the IPO the company targets to raise approximately €300 million as gross proceeds. The net proceeds of the IPO will mainly be used to fund investments in Ebusco's international expansion and growth strategy through 2023, it is announced. Ebusco […]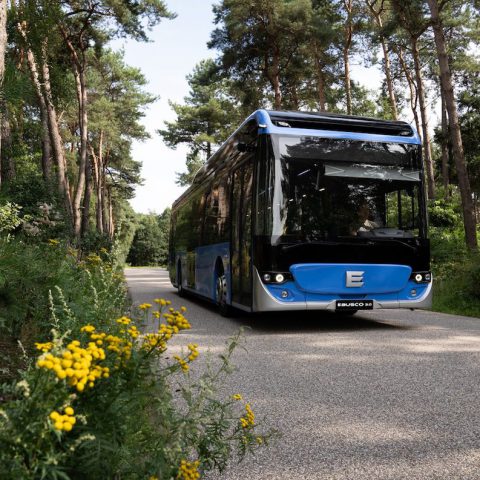 Ebusco announces intention to launch Initial Public Offering and admission to listing on Euronext Amsterdam. Through the IPO the company targets to raise approximately €300 million as gross proceeds. The net proceeds of the IPO will mainly be used to fund investments in Ebusco's international expansion and growth strategy through 2023, it is announced.
Ebusco to go public
The IPO is «to facilitate Ebusco's international expansion and growth strategy to address the rapid electrification of global transit bus fleets», the Dutch company says.
Ebusco Holding B.V, founded in 2012,. today announces its intention to launch an Initial Public Offering and admission to listing and trading of its ordinary shares on Euronext Amsterdam, a regulated market operated by Euronext Amsterdam N.V. The Offering is expected to be an offering of newly issued Shares and is expected to take place in the coming weeks, subject to market conditions and other relevant considerations.
+627% tender opportunities in 2021
Ebusco e-buses have been traveling for more 30 million kilometres leading to more than 27.5 million kilograms of CO2 reduction, the manufacturer calculates. To date, Ebusco has supplied 346 zero emission buses to seven European countries. And the Ebusco 3.0 is on the launching pad with entrance in operation expected in the Netherlands for early 2022.
Ebusco underlines in its press note announcing the IPO that the company «is fast growing, with 116% compounded annual revenue growth from 2018 to 2020, with revenues of €100 million and an EBITDA margin of 27% in 2020, demonstrating best-in-class profitability. While Covid-19 has caused a reduction in orders by public transport operators, on the back of low transport usage, the market has begun to recover and the Company has a strong and rapidly growing order book, which has increased by approximately 66% from 140 buses in June 2021 to 232 buses as at 30 September 2021. In addition, the number of tender opportunities has increased by 627%, from 331 in June 2021 to 2,405 in September 2021».
Ebusco, the public listings
Teslin Capital Management B.V. (acting in its capacity of fund manager of Teslin Participaties Coöperatief U.A.) and Alychlo N.V. have committed to act as anchor investors in the IPO, subject to customary conditions. ING Corporate Investments Participaties B.V., currently a 25% shareholder of the Company, has committed to subscribe for Offer Shares at the offer price in the amount of €32.5 million. In addition, a number of other Benelux based institutional investors and family offices have indicated significant interest to participate in the Offering.
Peter Bijvelds, CEO of Ebusco: "We started Ebusco nearly a decade ago on the strong belief that electric transport is the future. With a sole focus on electric buses and charging systems, we have developed the Ebusco 3.0, a revolutionary and unique bus that is a genuine game changer in our industry worldwide. This positions us well to take advantage of growing market and regulatory momentum.
The global commitment to reducing emissions and improving living environments is driving the electrification process of city buses, as public transport is a significant contributor to air pollution in (sub)urban areas. We see the intended IPO as the perfect pathway to accelerate our growth and to deliver on our mission to drive the transition to zero emission transportation. Access to the equity capital markets will allow us to execute on our international roll-out plan, capitalising on our technological lead. Moreover, we believe that a listing will further strengthen our corporate profile and enhance our position in international markets.
We look forward to this next step in the development of the company, and to continue to contribute to a better living environment with our safe, reliable, emission-free and cost-competitive transportation ecosystems."
The Company has appointed ING Bank N.V., J.P. Morgan AG and Morgan Stanley Europe SE as Joint Global Coordinators and Joint Bookrunners, Barclays Bank Ireland PLC and Jefferies as Joint Bookrunners and Coöperatieve Rabobank U.A., in cooperation with Kepler Cheuvreux S.A. as Co-Lead Manager for the IPO.