632 zero emission buses registered in Germany in 2022 (7% growth). Mercedes leads the market
632 zero emission buses were registered in Germany in 2022 (+7%): the country places on the second place in Europe (but at the forefront in EU), as only UK made better with 696 new e-bus and fuel cell bus registrations, according to figures by Chatrou CME Solutions and anticipated by German media Omnibus.news. The growth […]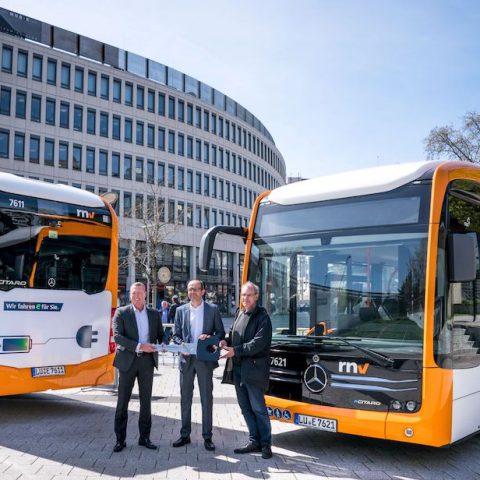 632 zero emission buses were registered in Germany in 2022 (+7%): the country places on the second place in Europe (but at the forefront in EU), as only UK made better with 696 new e-bus and fuel cell bus registrations, according to figures by Chatrou CME Solutions and anticipated by German media Omnibus.news.
The growth compared to 2021 is moderate: while 2021 was a doubling of figures on 2020, last year the increase was just a little over 7% (in 2021 as many as 555 battery-electric buses have been registered along with 33 fuel cell buses).
The figures concern BEV and FCEV buses over 8 tons which were registered in Germany last year.
Mercedes eCitaro leading the German e-bus market
Mercedes leads the ranking of electric buses as in the last year with 296 new registrations for the Mercedes eCitaro. On the second place we find VDL Bus & Coach with 106 new electric buses delivered. Same situation as in 2021. There was a change on the third place: here there is room for Solaris, with 70 zero emission buses delivered. Interesting enough, for the first time the supplier has provided more fuel cell buses than battery-electric buses (28 BEV and 42 FCEV, still according to Chatrou CME Solutions figures covered by omnibus.news). MAN comes fourth.
In 2021 the total number of zero emission buses operating in Germany reached 1,269, according to PwC figures. Adding the 632 vehicles registered in 2022, we get a total figure of 1,901 zero emission buses running today in the country.
In 2022 delays in deliveries were quite common: BVG is still waiting for its 90 Ebusco e-buses, and also Hamburger Hochbahn is waiting for a supply of 50 vehicles. This may threaten PwC forecast released in mid 2022: according the consulting, at that time, German transport companies wanted to purchase almost 3,400 purely electrically powered buses by 2025, including 513 with fuel cell drive. By 2030, there are already plans for more than 5,500 additional electrically powered buses.