Electric school bus fleet in NY State. Lion Electric buses will be used also as power storage unit
New York State has launched an electric school bus test fleet. The five vehicles were purchased from Lion Electric and are used by the operator National Express. Range? About a hundred kilometers, with night recharging times of 4-6 hours. The news is reported in local press and New York Times. 66 miles range for Lion […]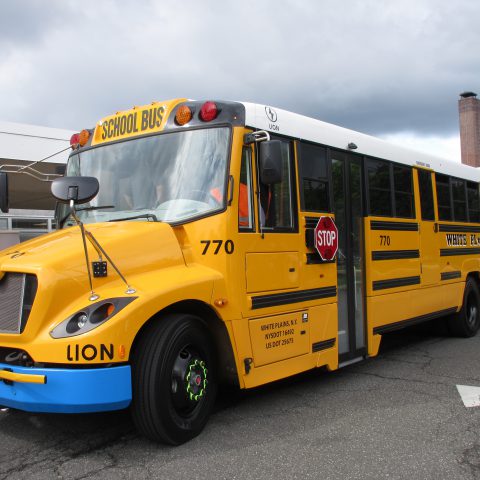 New York State has launched an electric school bus test fleet. The five vehicles were purchased from Lion Electric and are used by the operator National Express. Range? About a hundred kilometers, with night recharging times of 4-6 hours. The news is reported in local press and New York Times.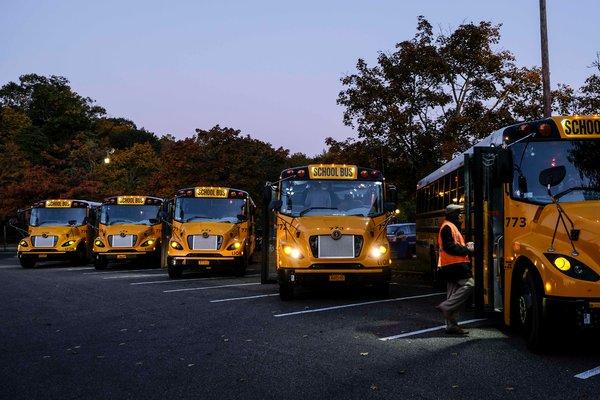 66 miles range for Lion Electric LionC
The test is taking place in Westchester County, which belongs to the state of New York, for the White Plains Public School District. The bus model is the LionC made by Quebec based company Lion Electric. The electric school bus can develop up to 250 kW and 2,200 Nm. The LionC, formerly known as eLion, is based on the same body as the diesel schoolbus Lion 360. The Cummins engine is replaced with a TM4 SUMO MD electric motor. TM4 is also based in Canada, and has recently become part of Dana group. The charging time is between 4 and 6 hours, at 19.2 kW.
Purchased helped by Con Energy and state
Since the absence of noise may become a danger when dealing with children, a harmonic beep has been added to alert waiting students and pedestrians close to the buses. "One of the major benefits for the school district is to be eco-friendly, decreasing our carbon footprint," says White Plains City School District Supervisor of Transportation Sergio Alfonso to Westchester Magazine. Buses and chargers were purchased from Lion Electric by operator National Express and local energy utility Consolidated Edison, with the help the Truck Voucher Incentive Program, administered by the New York State Energy Research and Development Authority ($120,000 of the cost of each vehicle). First Priority GreenFleet is the vehicle dealer and provides servicing, technicians and driver training.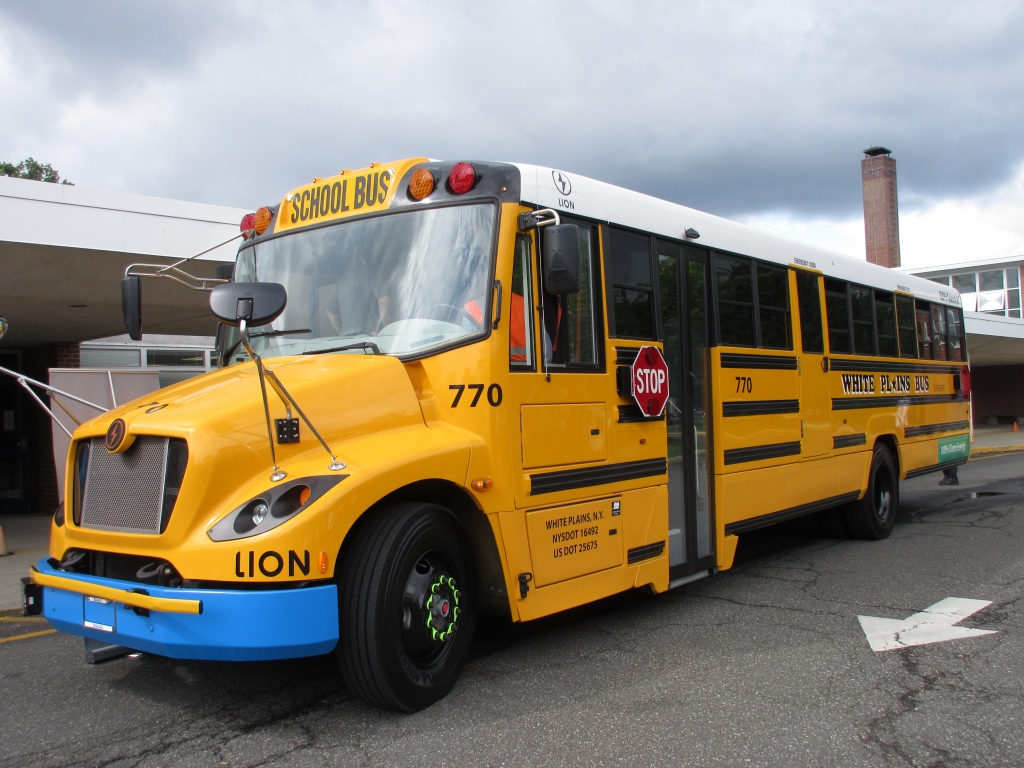 Electric bus used as power storage unit
What is also important, Consolidated Edison will be allowed to use the parked buses as power storage over summer break. According to this pilot project, power can be transferred back to the grid during peak hours when it's most used, like in the afternoons after people return from work and turn on air conditioning units. According to the New York Times, in 2016, three school districts in Massachusetts bought three buses from Lion Electric under a state-funded pilot project. The buses had battery and software failures. Lion Electric states it has learned for those early misteps, improving the technology of the buses and establishing a service center in New Jersey in order to fix quickly any problem.
North America and electric shool buses
Recently Thomas Built Buses released the first electric school bus powered by Proterra, as the two company announced an agreement at IAA Hannover 2018. The Saf-T-Liner eC2, alias Jouley, electric school bus powered by Proterra represents Proterra's entrance into a new commercial vehicle sector, the school bus market. The bus can be charged with industry-standard J1772 CCS plug-in charging technology, including the Proterra 60kW charging system, in about three hours. So that battery should be around 180 kWh.