Up to 22,000€ annually for replacing diesel buses with ZE ones. Flemish Climate Plan shifts into gear
Operators can receive an annual sum of up to 21,700 euros when they replace a diesel bus with a zero-emission bus under the current contracts. Flemish Climate Plan shifts into high gear: 300 extra electric buses run by operators in the next 3 years will reduce CO2 emissions by 50,000 tonnes. Minister Lydia Peeters takes […]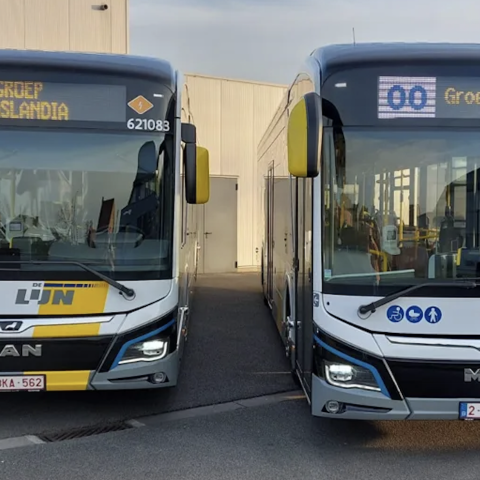 Operators can receive an annual sum of up to 21,700 euros when they replace a diesel bus with a zero-emission bus under the current contracts. Flemish Climate Plan shifts into high gear: 300 extra electric buses run by operators in the next 3 years will reduce CO2 emissions by 50,000 tonnes. Minister Lydia Peeters takes next step towards greening public transport. Operators can receive an annual sum of up to 21,700 euros when they replace a diesel bus with a zero-emission counterpart (electric bus or fuel cell bus) under the current contracts
Flemish Minister of Mobility and Public Works Lydia Peeters, De Lijn and the Federation of Belgian Coach and Bus Operators (FBAA) have made concrete agreements to stimulate the greening of the bus fleet by operators over the next three years, De Lijn points out in a press note.
Flemish operators at the test of energy transition
These agreements were explained on 2 March 2022 during a press event at the premises of Waaslandia, an operator of De Lijn, by Minister Peeters, Luc Jullet, president of public transport of the FBAA, Ann Schoubs, director-general of De Lijn and Bart Kwanten, CEO Groep Waaslandia. Operators can receive an annual sum of up to 21,700 euros when they replace a diesel bus with a zero-emission bus under the current contracts.
Since the start of the legislature, Flemish Minister Peeters has been focusing on the greening of public transport in Flanders. In early 2021, De Lijn presented a plan in the Flemish Parliament (Mobility and Public Works Committee). This plan is based on three pillars, including the transition of the bus fleet of De Lijn's operators towards less polluting powertrains. Minister Lydia Peeters, De Lijn and the FBAA have now reached an agreement about the financing support for emission-free buses and are thus working together on CO2 reduction and healthier air.
Operators can now receive an additional financial contribution of up to €21,700 per year per zero-emission bus purchased within the existing contracts. This financial contribution is aimed at stimulating the green transition among operators when purchasing electric buses. Looking to the next few years, Minister Peeters is supporting operators in their planned fleet replacement of about 300 electric buses in the next 3 years, which amounts to a saving of 50,000 tonnes of CO2.
Cooperation to achieve CO2 reduction
Flemish minister Lydia Peeters: "The greening of public transport in Flanders is an important measure in our ambition for healthier air and to actually tackle the climate challenges. We are not only looking at De Lijn's own fleet, but also at the operators. More cooperation, an 'and-and story', is the key to achieving CO2 reduction. Working together on climate challenges, less CO2 in the air, healthier air for our children and everyone: that is what we are all signing up to, isn't it?
Luc Jullet, President Public Transport FBAA: "Today, the purchase and operation of electric buses is still more expensive than running diesel or hybrid buses. That is why we gladly welcome this financial support from the Flemish Government for the purchase of emission-free buses. As a federation we want to do our bit to realise the climate ambitions of the Flemish Government. This agreement can be an important catalyst in this."
Ann Schoubs, director general of De Lijn: "Sustainable mobility plays a key role in De Lijn's strategy. In this context, De Lijn is also working on the 2 other pillars from the greening plan for public transport. First and foremost by focusing on the electrification of our own fleet. This started with smaller pilot projects with electric buses in Leuven, Antwerp and Ghent. At the end of last year, De Lijn approved a framework agreement for 350 e-buses from suppliers Van Hool and VDL. The first 60 e-buses will be delivered from the end of 2022 and put into service in 2023. In the shorter term, we can also work on air quality in urban areas by deploying additional hybrid and e-hybrid buses there in an optimal emission-free manner. We are now also looking forward to continuing to work with our operators on the greening of our vehicles."