32 percent increase in onboard energy. Gillig selects Akasol and will launch in 2023 an improved battery-electric bus
Gillig announced the availability of a next-generation energy storage system for its battery electric bus. The new storage system, manufacturer by Akasol, provides up to 686 kWh of available energy, the largest capacity in a North American transit bus, the company claims. In July this year Clark County Public Transit (C-Tran) in Vancouver, Washington State, […]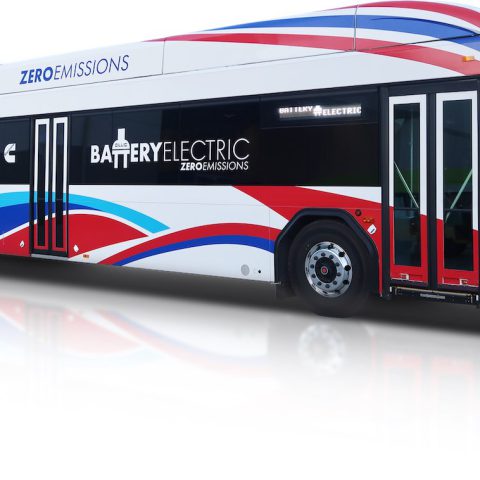 Gillig announced the availability of a next-generation energy storage system for its battery electric bus. The new storage system, manufacturer by Akasol, provides up to 686 kWh of available energy, the largest capacity in a North American transit bus, the company claims.
In July this year Clark County Public Transit (C-Tran) in Vancouver, Washington State, has awarded Gillig an order for eight 12-meter battery electric buses and charging equipment with an award value of $9.74 million. The manufacturer has recently secured a 44 e-bus contract in Utah.
Gillig goes with Akasol and Cummins
Gillig selected Akasol, a leading manufacturer of high-performance battery systems, for its next-generation battery. With available configurations of 490 kWh, 588 kWh and 686kWh, together with a large selection of available charging options, Gillig can configure the bus to meet any agency's requirements, the manufacturer says. Gillig is partnering with Cummins to integrate and validate the new batteries with the bus ahead of the 2023 production start date.
Gillig's battery electric comes in 35-foot and 40-foot models, with the 35-foot bus carrying 31 seated passengers and a total of 62 passengers, while the 40-foot can transport 38 seated 75 total passengers.
Akasol, now part of BorgWarner group, has been so far providing battery modules for Volvo Buses (although the cooperation with the Swedish manufacturer has not been explicitly mentioned) and Mercedes. In late 2020 also a deal with a «the largest Turkish commercial vehicle manufacturer» was made public.
Back in late 2019, in an interview with Sustainable Bus, Akasol CEO Sven Schulz said that «By 2025, we expect that 80 per cent of all newly registered city buses in Europe will be electrified».
Gillig turns to Akasol for battery packs
"We recognized how critical range was to our customers, so we performed an extensive market search to identify a system that provides maximum range for those customers who need it, while also providing for modularity for those with shorter duty cycles," said Ben Grunat, Gillig Vice President of Product Planning & Strategy. "The new battery delivers a 32 percent increase in onboard energy capacity and therefore a significantly longer range for our customers."
"We are especially proud that Gillig decided to use our ultra-high-energy battery system AKASystem CYC for its battery electric bus in North America. The battery system is specifically developed for long-distance traffic and enables variable battery capacities with up to 686 kWh," said Holger Dilchert, Head of Sales On-Highway at Akasol.