Ikarus has some news in sight, including e-bus chassis and articulated model
After launching the new Ikarus 80e electric midi bus at Busworld Europe 2023, Hungarian manufacturer Ikarus continues to update and expand its electric city bus model range: the 12-meter-long Ikarus 120e model receives a new front design, new LFP battery pack (from CATL), new electric motor, and an optional bottom-up pantograph charging system from Siemens. […]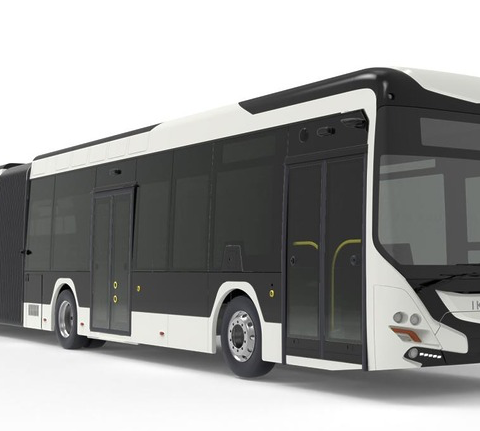 After launching the new Ikarus 80e electric midi bus at Busworld Europe 2023, Hungarian manufacturer Ikarus continues to update and expand its electric city bus model range: the 12-meter-long Ikarus 120e model receives a new front design, new LFP battery pack (from CATL), new electric motor, and an optional bottom-up pantograph charging system from Siemens.
And an all-new articulated version, called the Ikarus 180e, will also join the lineup in the future – maybe in the next year, but it is not sure yet, as reported on Hungarian trade media Magyarbusz.info.
Ikarus is working on an electric bus chassis
As revealed in the presentation of Krisztián Somorai, CEO of Ikarus Electric Zrt. during the 53rd Bus Expert Meeting in Zsámbék, a self-propelled electric bus chassis developed jointly with the University of Óbuda was presented. It has so far been built in a short and a long wheelbase version. In the future, Ikarus would sell the platform to external bodybuilding partners, and for demonstrative purposes they have already built a two-door body on the new basis.
Ikarus articulated e-bus model to come
The flagship of the expanded electric bus range of the Székesfehérvár manufacturer will be the 18,750 mm long articulated model, which will receive the Ikarus 180e commercial name. 350 kW peak power Siemens motor will be installed. In addition, a solution referred to by the manufacturer as a dual motor will be available as an option, with a total output of 375 kW, Magyarbusz.info reports: "This essentially means a two-driven axle design, where the B-axis is driven by the 240 kW t-DRIVE-MD2021 permanent magnet synchronous motor and the C unit by a 135 kW peak power electric motor – according to what was said at the presentation, this version was included in the production program specifically based on the needs of German operators".
In the future, a bottom-up pantograph solution (e-Line) developed jointly with Siemens, optimized for fast charging, will also be available in addition to traditional plug-in charging with the CCS Combo 2 system.