Launch of electric Daily, local adaptation, 'turnkey solution' approach. Gauthier Ricord outlines Iveco Bus strategies for Latin America
Iveco Bus is set to launch the electric Daily in the Latin American market. The brand is approaching its entry in the e-mobility landscape of the region with a offer that will go along with a 'turnkey solution' approach (and with a localization process of the product). Gauthier Ricord, Public Tenders & Product Management representative […]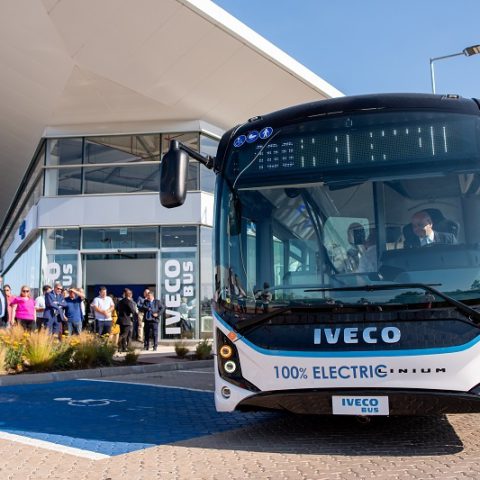 Iveco Bus is set to launch the electric Daily in the Latin American market. The brand is approaching its entry in the e-mobility landscape of the region with a offer that will go along with a 'turnkey solution' approach (and with a localization process of the product).
Gauthier Ricord, Public Tenders & Product Management representative at Iveco Bus, outlined the company's strategy during a recent VideoSpotlight event organized by Sustainable Bus. With a focus on local adaptation, extensive product offerings, and a holistic approach to addressing challenges, Iveco Bus aims to establish itself as a leader in providing electric mass transit solutions throughout Latin America.
Iveco Bus in Latin America: electric Daily at first
"As of today, we are already present in Latin America since many years with a manufacturing footprint, offering gas and diesel vehicles, and we will continue to pursue this offering along with electromobility – stated Ricord -. Our first major step will be the introduction of the Daily electric in Latin America for local operators, based on the van and on the chassis-derived version. This will be the most important step in the coming months".
And the 12-meter is coming: "We have already showcased in the region the 12-meter E-Way manufactured in Europe. It is a high-quality, high-end product that can be suitable for certain missions and operators in Latin America. We have conducted demonstrations in Brazil, Uruguay, and other countries, and we plan to demonstrate this vehicle in more places" (the picture refers indeed to one of the demonstrations held in LATAM).
Localization of product will follow
Ricord continued: "The key point for Latin America is to achieve a perfect match between the country's challenges, regulations, and operators, ensuring the product is well-suited to the market. This will go through a localization of the product by leveraging the technology bricks and know-how that we have already established in our lineup. This will enable us to develop a product that perfectly addresses the local challenges. This localization process will be our next step in adapting our offering to the market.
Challenges and opportunities of Latin American market? "We see a big potential in the region, therefore it's definitely in our radar to be there and to propose our products and services. Probability we'll adopt a more extended approach including the full offering: chargers, infrastructural works and also, probably, financing, as we know this is a big challenge in the area. There are a lot of opportunities but also challenges are huge: readiness of grid, of infrastructure, of network. Our way to approach the region is the following: to pursue the opportunities but also addressing the challenges, offering a full turnkey solution for operators", concluded Ricord during Sustainable Bus' VideoSpotlight.