Exploring the "Electrification of bus Fleets in the Americas". New VideoSpotlight on broadcasting REPLAY AVAILABLE
The electrification of bus fleets is rapidly gaining traction in both Latin America and North America, with significant advancements taking place on both continents. To shed light on this transformative trend, a VideoSpotlight event was held on June 27th, featuring industry experts and key stakeholders who will discuss the current landscape and future prospects of […]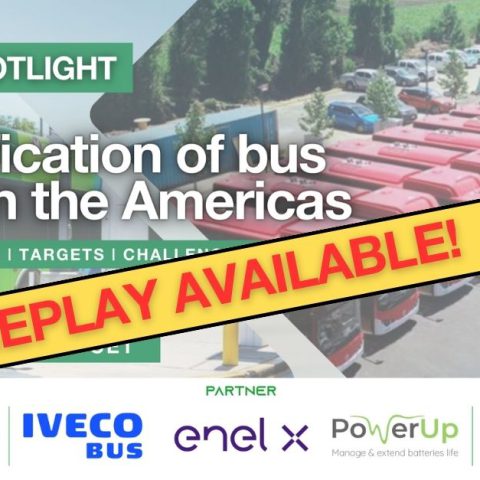 The electrification of bus fleets is rapidly gaining traction in both Latin America and North America, with significant advancements taking place on both continents. To shed light on this transformative trend, a VideoSpotlight event was held on June 27th, featuring industry experts and key stakeholders who will discuss the current landscape and future prospects of electric mass transit solutions.
Don't expect a webinar: our goal is to give a clear picture of the subject in an agile video reporting with involvement of key stakeholders, as already done in May with the VideSpotlight "EU policy framework & transition to zero emission commercial vehicles".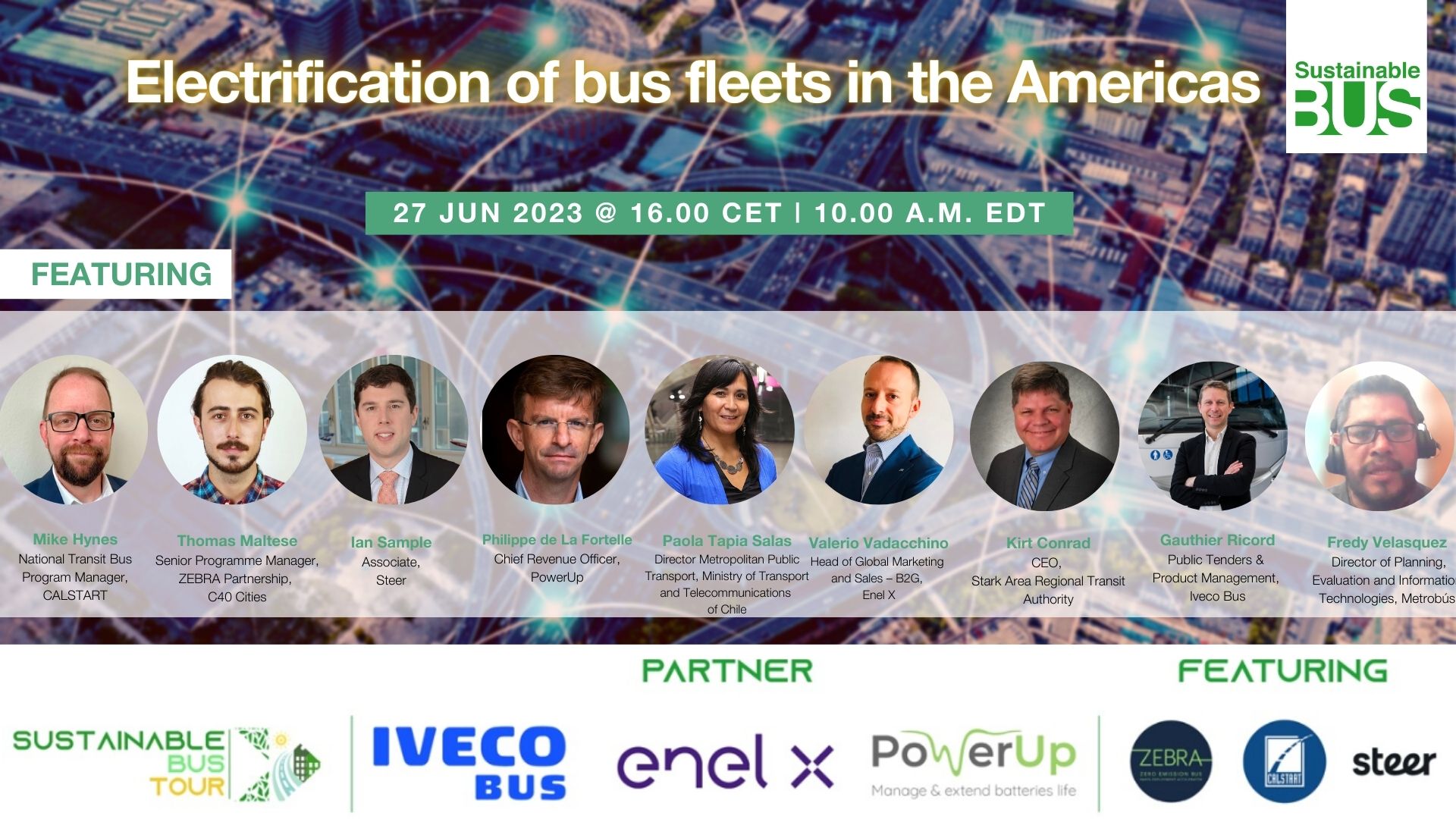 Focus on bus electrification in the Americas
The 27th June broadcasting addressed several key topics, including the performance leadership of Latin America in bus electrification and the projected growth of the North American market. Participants will also delve into the effectiveness of funding and financing models in accelerating the transition to electric buses. With the involvement of renowned organizations and players in the field, the event aims to provide a comprehensive understanding of the challenges, opportunities, and insights related to the electrification of bus fleets.
Among the speakers at the VideoSpotlight event we were hounured to feature: Kirt Conrad, CEO of Stark Area Regional Transit Authority, Thomas Maltese, Senior Programme Manager at the Zero Emission Bus Rapid-deployment Accelerator (ZEBRA) Partnership, C40 Cities; Mike Hynes, National Transit Bus Program Manager at CALSTART; Valerio Vadacchino, Head of Global Marketing and Sales – B2G at Enel X; Philippe de La Fortelle, Chief Revenue Officer at PowerUp, and Ian Sample, Associate at Steer. These experts will share their expertise and shed light on various aspects of the electrification movement.
The best practice of Santiago de Chile and Mexico City were among the highlights of the VideoSpotlight. Paola Tapia Salas, Director Metropolitan Public Transport, Ministry of Transport and Telecommunications of Chile, announced that "We are launching a public call for tender aimed at attracting new operators and incorporating a thousand new electric buses next year or in the following years. Secondly, we are issuing technological tenders, which are very important: we need a world-class fleet management system and a ticketing system that is also world-class".
Fredy Velasquez, Director of Planning, Evaluation and Information Technologies at Metrobùs (Mexico City), stated that "The goal for the following years will be to replace all vehicles with electric ones at an approximate pace of 100 vehicles per year. We hope to achieve 100% of the system transformed into electric vehicles within the next 10 years".
Among main players in Latin American transition to e-buses there is Enel X, represented by Valerio Vadacchino, Head of Global Marketing and Sales – B2G: "Efforts from Enel X for the decarbonization of bus fleets in Latin America started already ten years ago. We now have almost 1,500 e-buses only in Chile and had the chance to develop a similar project in Colombia, where we are now serving around 900 e-buses in Bogotà".
On the technological side, Philippe de La Fortelle, CRO of battery analytics company PowerUp highlighted how they were "able to allow a 5 to 10 per cent increase in performance and capacity for a fleet of e-buses just by fine tuning, rebalancing aspects and parameters", stressing the importance of leveraging battery data to optimize e-bus performances.
Some takeaways, mainly in the area of financing, were summarized by Ian Sample, Associate at consulting group Steer: "The biggest challenge of zero emission buses is related to their higher upfront cost. This create a market for clever providers of financing to come in and provide some structured forms of solutions. I think we are increasingly seeing new forms of financing enter the market as a result".
Latin America, a performance leader in bus electrification. Why?
The electrification of bus fleets in Latin America has seen significant progress, with over 2,600 battery-powered e-buses already in operation as of December 2022. Cities like Santiago and Bogotà account for more than 85% of the total battery electric vehicle (BEV) fleet in the region. However, further transformations are anticipated, as São Paulo plans to incorporate approximately 2,600 e-buses by the end of 2024 and has banned the sale of diesel buses. Latin America's success in bus electrification can be attributed not only to the increased adoption of electric buses but also to innovative procurement and implementation approaches.
North America is set to grow!
On the other hand, North America has been slower in terms of electric bus registrations. However, with the Biden administration's strong push for decarbonization, there is growing momentum in transitioning bus and school bus fleets to electric. In 2022, $1 billion in EPA funding was awarded to support the purchase of over 2,400 zero-emission school buses, out of a $5 billion program.
Forecasts indicate that around 27,000 electric school buses will be built in the United States over the next ten years. Major cities like New York City and Boston have committed to electrifying their school bus fleets fully, with New York City targeting 2035 and Boston aiming for 2030. California is at the forefront of these advancements, leading the way in the transition to zero-emission buses.
With regards to mass transit, North America is expected to experience the highest growth in the market between 2022 and 2027. Factors driving this growth include the increasing demand for electric mass transit solutions, renowned original equipment manufacturers (OEMs) expanding their presence in the region, and government support for the transition.
FEATURING:
✔️ Thomas Maltese, Senior Programme Manager, Zero Emission Bus Rapid-deployment Accelerator (ZEBRA) Partnership, C40 Cities
✔️ Mike Hynes, National Transit Bus Program Manager, CALSTART
✔️ Kirt Conrad, CEO, Stark Area Regional Transit Authority
✔️ Fredy Velasquez, Executive Director of Planning, Evaluation and Information Technologies, Metrobús (Mexico City)
✔️ Paola Tapia Salas, Director Metropolitan Public Transport, Ministry of Transport and Telecommunications of Chile
✔️ Valerio Vadacchino, Head of Global Marketing and Sales – B2G, Enel X
✔️ Philippe de La Fortelle, Chief Revenue Officer, PowerUp
✔️ Ian Sample, Associate, Steer
✔️ Gauthier Ricord, Public Tenders & Product Management, Iveco Bus