Iveco E-Way will be available with FPT batteries and new Siemens/Cummins motor by Q3 2024
Significant novelties have been launched on the Iveco electric city bus range E-Way during the electromobility-focused event held in Paris where electric versions of Crossway LE, Streetway and Daily have been unveiled. The energy storage system has been enhanced with modular solutions. Depending on the model, these vehicles can be equipped with five to nine battery […]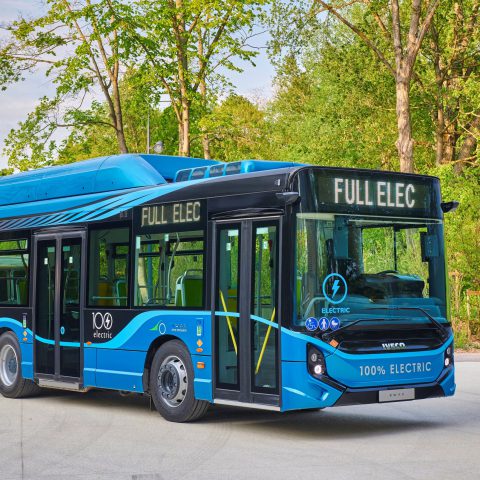 Significant novelties have been launched on the Iveco electric city bus range E-Way during the electromobility-focused event held in Paris where electric versions of Crossway LE, Streetway and Daily have been unveiled. The energy storage system has been enhanced with modular solutions. Depending on the model, these vehicles can be equipped with five to nine battery packs.
That, and this is noteworthy, will no more be sourced from Forsee Power but have been developed in house through the joint-venture between FPT Industrial and Microvast. Each module has a battery capacity of 69 kWh. The batteries are strategically distributed between the roof and rear compartment of the vehicles.
What is interesting, the FPT batteries, according to data from the supplier, offer a very hight energy density (180 Wh/kg). A value that outpaces competitors.
Deliveries of the new generation E-WAY vehicles will commence in the second half of 2024, starting with the 12 m models.
Iveco E-Way new generation available from 2024 on
Spotlight on the Iveco Bus E-Way midibuses: the 9.5 m version will feature an energy capacity of 346 kWh with five battery packs, while the 10.7 m version will have either 346 kWh or 416 kWh with five or six battery packs, respectively. Charging will be done in the depot via the Combo 2 CSS connector.
Concerning 12-meter E-Way models, two charging modes are available. Charging can be done in the depot using the Combo 2 CSS connector or, if necessary, via an ascending or descending pantograph. The performance of the vehicle is optimized with a combination of five to seven battery packs, offering a total capacity of 346, 416, or 485 kWh.
Last but not least, on articulated e-buses from six to nine battery packs will be available, providing 416, 485, 554, or 624 kWh.
The new E-Way vehicles will be equipped with the powerful Siemens ELFA III electric motor (by Accelera by Cummins), delivering a maximum power output of 185 kW (3000 Nm) for the 9.5/10.7/12 m versions and 330 kW (5000 Nm) for the 18 m articulated versions. Additionally, a new 8.2-tonne front axle has been incorporated into these vehicles.
Height of the bus in the E-Way new generation has been reduced under 3,300 mm. Thermal comfort is enhanced through the inclusion of a CO2 heat pump with an optimized air distribution system.