Great goal for Iveco Bus: delivery (in France) its 500th E-Way
An important result, well illustrated by a round number: 500. The Iveco Bus production site in Rorthais, France, has delivered its 500th bus, a 12-metre E-Way destined for the Keolis Pays D'Aix transport company for the Aix-Marseille-Provenza metropolitan area network. The vehicle is part of a 46-vehicle order scheduled for delivery by the end of […]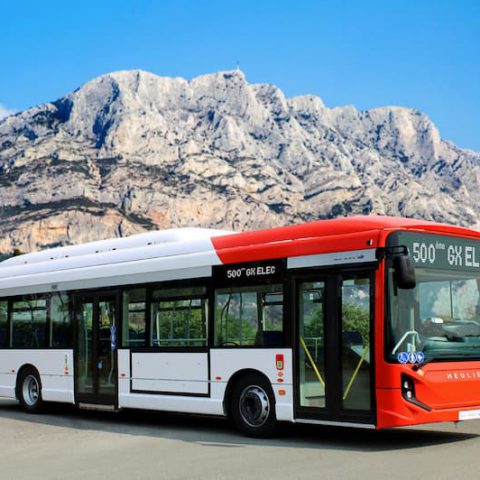 An important result, well illustrated by a round number: 500. The Iveco Bus production site in Rorthais, France, has delivered its 500th bus, a 12-metre E-Way destined for the Keolis Pays D'Aix transport company for the Aix-Marseille-Provenza metropolitan area network. The vehicle is part of a 46-vehicle order scheduled for delivery by the end of 2024.
Since its launch on the market – to meet the needs of the energy transition in the transport sector and insist on electromobility – the Iveco E-way by Heuliez range has convinced public transport operators. It is no coincidence, in fact, that the 12-metre version was the most sold in France in 2020, confirming Iveco France's leadership in electric buses with 45.8% of registrations in the transalpine country. France, yes, but not only: the E-Way has been chosen by several transport companies and public authorities throughout the Old Continent, such as Luxembourg, Germany, Austria, the Netherlands and Norway.
Iveco's 500th E-Way ready to hit the track
The 500th E-Way to leave the factory in Rorthais, branded Gx Elec, will be used in the Aix-Marseille-Provence metropolitan area. It is equipped with NMC lithium-ion batteries that can be recharged at night to run a full day. These buses meet the expectations of Keolis and the Aix-Marseille-Provence Metropolitan Authority, which are committed to energy transition, cutting emissions and reducing noise pollution.
Stéphane Espinasse, President of Iveco France, commented on the company's achievement: «The production of the 500th E-Way is a milestone for us. Our plant is a true centre of excellence in electromobility. It's a key component of our ongoing development of a sustainable public transport system».