Karsan shows the entire electric bus range at Busworld Turkey (with goal of a 3-fold growth in EVs sales)
Karsan attended Busworld Turkey 2022 showcasing its new electric growth strategy, e-Volution, by exhibiting its 100% electric model family from 6 to 18 meters at Busworld Turkey 2022, Turkey's largest bus show. At the same exhibition Otokar launched the articulated e-bus and Isuzu showed the alternative drive range. Allison Transmission also attended the show. Emphasizing that Karsan achieved […]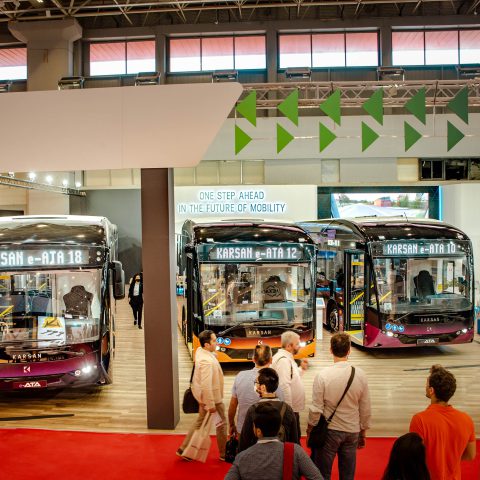 Karsan attended Busworld Turkey 2022 showcasing its new electric growth strategy, e-Volution, by exhibiting its 100% electric model family from 6 to 18 meters at Busworld Turkey 2022, Turkey's largest bus show. At the same exhibition Otokar launched the articulated e-bus and Isuzu showed the alternative drive range. Allison Transmission also attended the show.
Emphasizing that Karsan achieved a strong growth trend, especially in foreign markets with its electric vision, Muzaffer Arpacıoğlu, Deputy General Manager of Karsan said: "In 2021, our e-JEST and e-ATAK models became the best-selling electric vehicles of their segment in Europe. This year, we will push for a three-fold growth in our electric vehicle sales. We intend to position the Karsan brand among the top five players in Europe with our electric development vision, e-Volution."
Karsan electric buses: leader of Turkey's exports
Half a century after its foundation, Karsan, Turkey's leading brand offering high-tech mobility solutions, showed off its electric model family at Busworld Turkey 2022, Turkey's largest bus exhibition. Karsan says it has single-handedly realized almost 90 percent of Turkey's exports of electric minibuses and buses with its more than 300 electric vehicles touring 18 different countries, including France, Romania, Portugal, Norway, Spain, Mexico for the last three years.
Karsan introduced its 100% electric product range to consumers between May 26 and 28, 2022. The manufacturer showcased the 6-meter e-JEST, 8-meter e-ATAK, 12-meter e-ATA, as well as the 10- and 18-meter e-ATA models together for the first time at the fair. In addition, trade show attendees had the opportunity to experience the 12m Karsan e-ATA.
Karsan e-Volution plan: 3-fold growth in the target
Emphasizing that Karsan achieved a strong growth trend, especially in foreign markets with its electric vision, Muzaffer Arpacıoğlu, Deputy General Manager of Karsan, said: "In 2021, our e-JEST and e-ATAK models became the best-selling electric vehicles of their class in Europe. The 6-meter e-JEST increased its share of the electric minibus market in Europe to 51 percent in 2021, becoming the market leader for two years in a row. Karsan's e-ATAK, on the other hand, became the leader of its class in Europe with a 30% share in the electric city midibus segment. The first deliveries of our Karsan e-ATA model, which we launched at the end of last year, were made to Romania at the beginning of this year, and interest in this model is high both in Turkey and abroad. We intend to position the Karsan brand among the top five players in Europe with our electric vision, e-Volution by achieving an at least three-fold growth with our range of electric vehicles."
Muzaffer Arpacıoğlu added, "The heart of the automotive industry is changing from internal combustion engines to electric vehicles. As the first step of this transformation, we first launched our e-JEST model at the end of 2018. Six months later, we launched e-ATAK, and at the end of last year we introduced the e-ATA family, the largest in our electric product range. With this launch, we became the first and only brand in Europe to offer a fully electric product range of all sizes from 6 meters to 18 meters in public transportation. With our vision of always being one step ahead in the future of mobility, we are shaping the future of transportation with our range of innovative products. We are working towards making our products electric with the addition of an autonomous driving function down the line. In this sense, we developed the Autonomous e-ATAK in great cooperation with ADASTEC and introduced our first driverless vehicle at the beginning of last year. Karsan Autonomous e-ATAK, our self driving vehicle used to transport students and university staff in real-world traffic conditions on the campus of Michigan State University, recently began with driverless public transport in Stavanger, Norway. The project is a first in Europe. We are playing a pioneering role in the public transportation of the future, by providing for the first time in Europe public transportation services in cities with our driverless electric vehicle Karsan Autonomous e-ATAK."