MAN will launch at IAA its fully electric Lion's City E, with the biggest battery on market
MAN Truck & Bus is ready to launch its fully electric Lion's City E at this year's International Motor Show (IAA) for Commercial Vehicles in Hannover, Germany. The vehicles will be equipped with central electric motor and depot charging. The mass production will start in the second half of 2020. The battery size is a real […]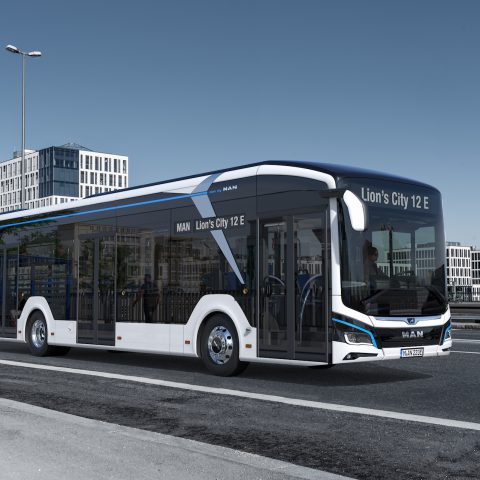 MAN Truck & Bus is ready to launch its fully electric Lion's City E at this year's International Motor Show (IAA) for Commercial Vehicles in Hannover, Germany. The vehicles will be equipped with central electric motor and depot charging.
The mass production will start in the second half of 2020. The battery size is a real surprise: with 480 kWh for the solobus and 640 kWh for the articulated, MAN's electric bus is an absolutely unique case in a context that sees battery usually ranging from 240 kWh to 350 kWh.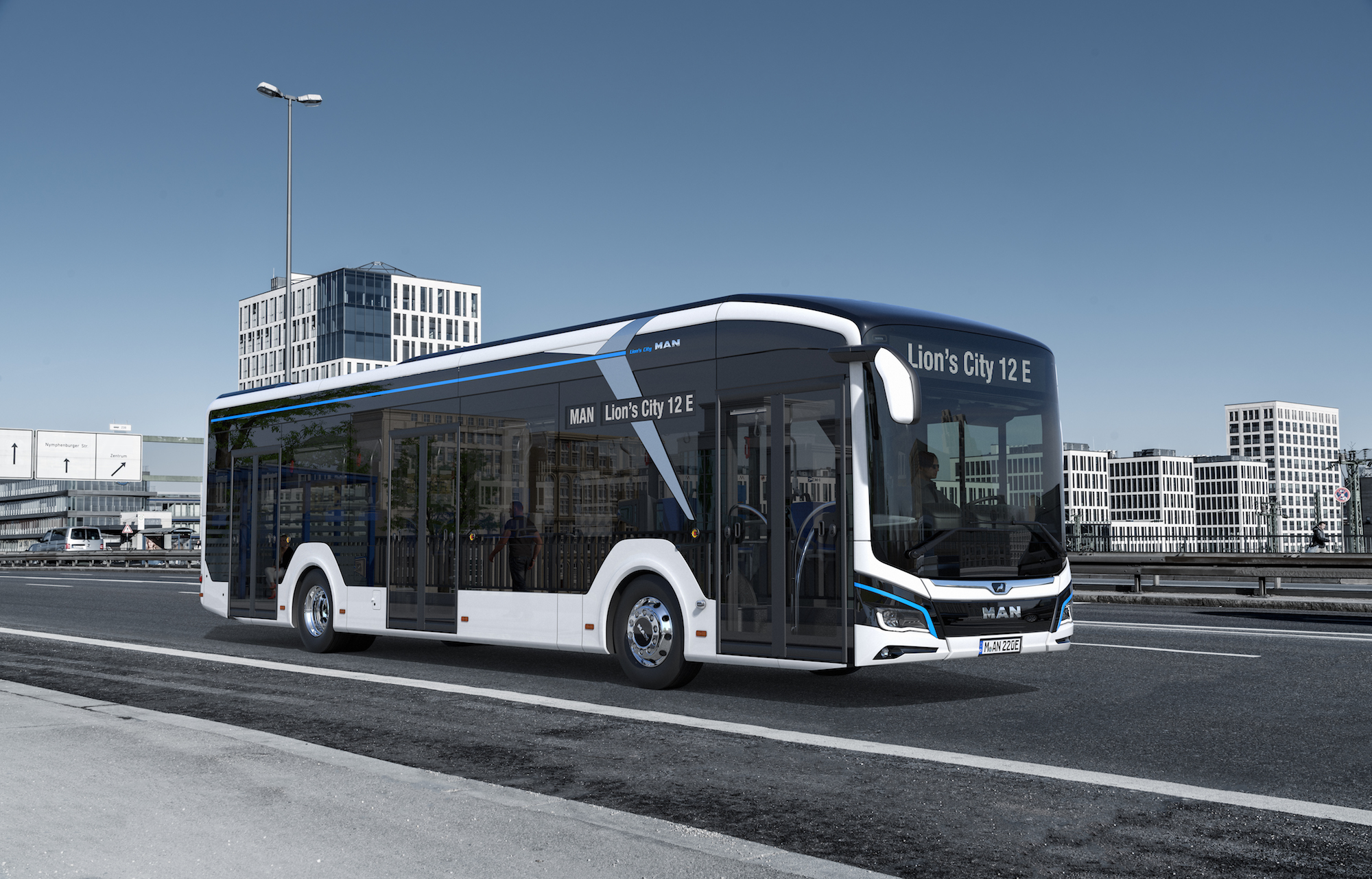 MAN electric bus launch is ready
The company is operating on the assumption that around 66% of scheduled-service buses will be electric by 2030. The new MAN Lion's city diesel was presented in March 2018. The countdown for the release of the electric version is now approaching the end. Its most striking feature of the electric bus MAN Lion's City E is the lack of a rear engine compartment, with the batteries installed on the roof, making room for an ideal seating area at the back.
Firstly, this positioning moves the batteries away from the vehicle's rear, which is vulnerable in the event of a crash. Secondly, it allows for more design flexibility, more pleasant lighting and up to four additional seats in the interior. Indeed, while the layout of first electric buses was derived from that of diesel buses, future electric buses will surely be built with specific layouts that will take advantage of the characteristics of electric traction.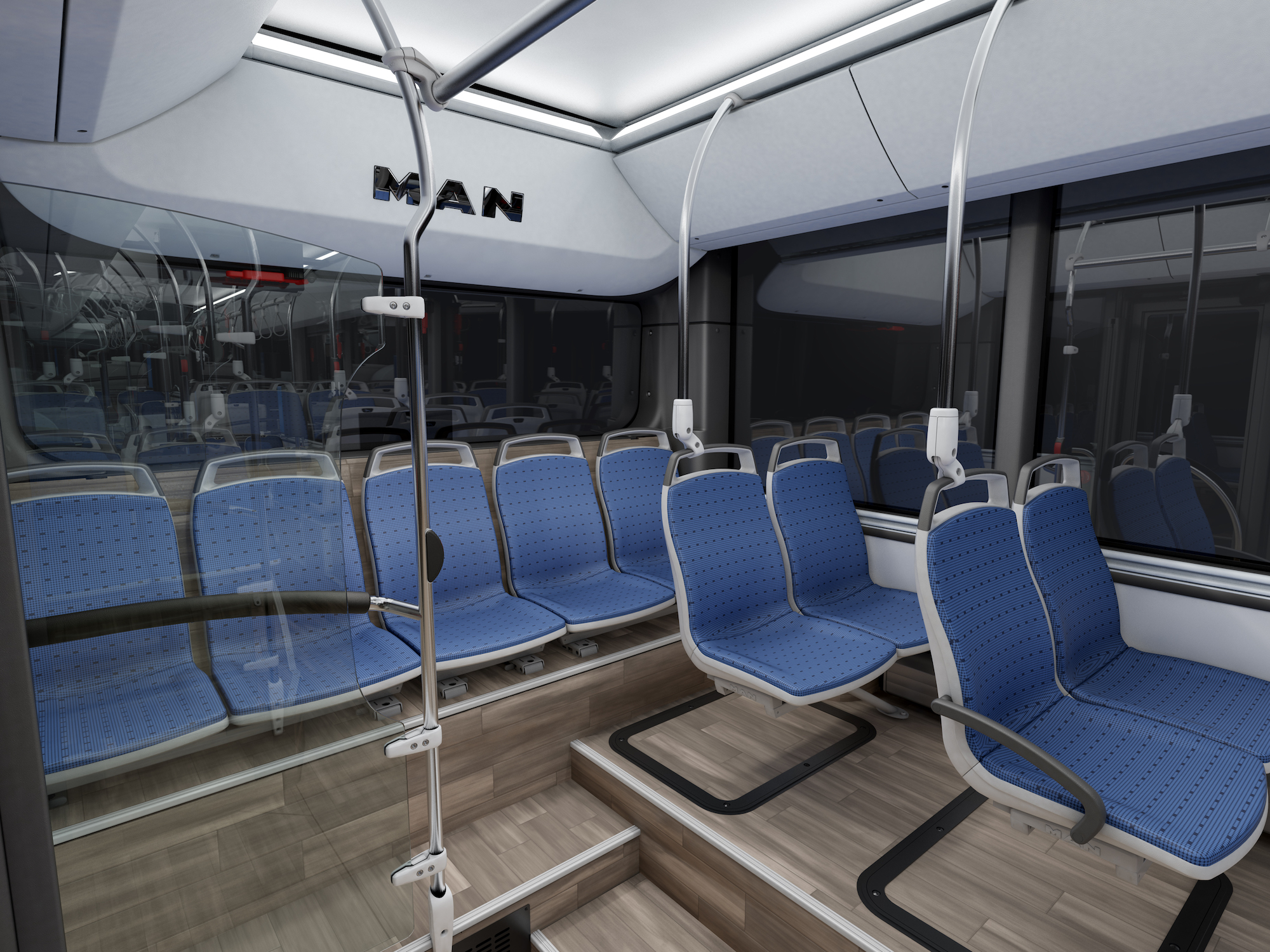 MAN electric bus with central motor
MAN has opted for one central motor to power its electric bus (on the second driven axle), then two to power its articulated bus (on the second and third driven axles). These, according to MAN, are easier to access and more simply designed than motors in close proximity to the wheels (that is a widespread choice: the electric axle Ave130 by ZF has been adopted both by Solaris Urbino electric and Mercedes Citaro electric). In particular, the articulated bus benefits in terms of its handling. The two driven axles increase its driving stability and, in turn, its safety, as well as providing maximum energy recovery when braking.
Huge batteries for MAN electric bus
The fully electric driveline of MAN electric bus, ready for launch, produces 160 to 270 kW in the solobus. The power used for this comes from the modular batteries with 480 kWh capacity (Solo) or 640 kWh (articulated). In selecting these, MAN decided to take advantage of precision-engineered battery technology from the company's existing range. These batteries' sophisticated temperature management guarantees especially strong availability, regardless of the time of year. This way, the Lion's City eBus can reliably ensure their 200 km range in realistic conditions and over their batteries' full life cycles.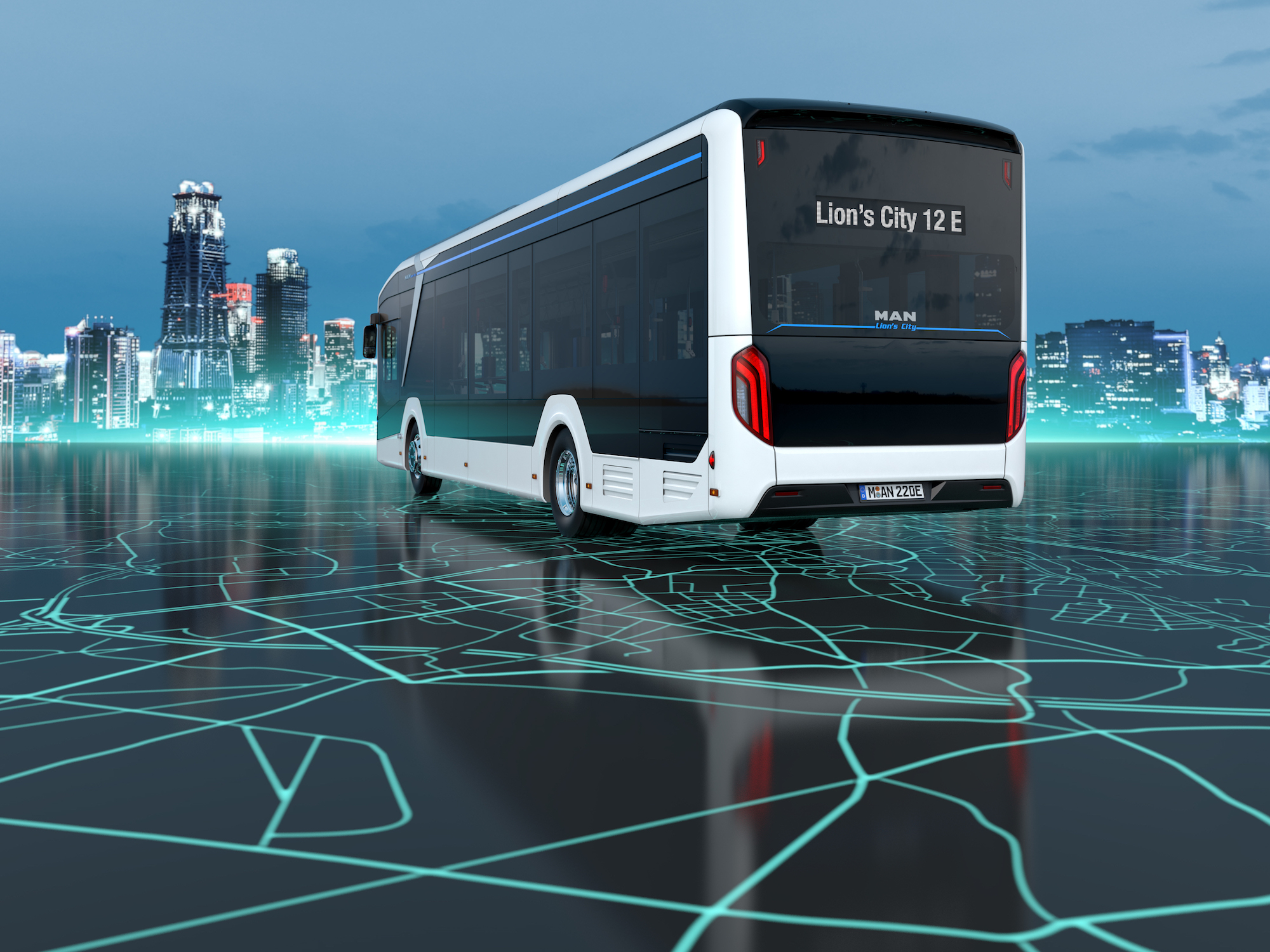 MAN, a survey revealed preference for depot charging
The batteries are plugged into a CCS and charged at the depot, which can fully charge Solobuses in under three hours and articulated buses in under four with an average charging power of 100 kW. This length of time falls accordingly when the maximum charging power of 150 kW is supplied. MAN surveyed close to 200 customers throughout Europe and received feedback from several cities. It concluded that, for the sake of routine operations later in the day, flexible and uninterrupted service (without opportunity charging) is more important than an unlimited range. Especially since battery technology is developing at a rapid pace. The Lion's City E will remain at the cutting edge in this regard, as it will be possible to upgrade the current battery modules to the next generation. Charging outside of peak hours will also enable operators to tap into smart charge management and benefit from lower electricity rates, further adding to the electric buses' cost effectiveness.
MAN's plan for e-mobility
As part of MAN's plan for electric vehicles (known as the eMobility Roadmap), a demo fleet will be tested to establish its suitability for everyday use in a series of field trials in mid-2020, partnering with various European operators. To this end, MAN has entered into several innovation partnerships with mass transit operators from Hamburg (Hamburger Hochbahn and Verkehrsbetriebe Hamburg-Holstein), Munich (Stadtwerke München and Münchner Verkehrs Gesellschaft) and Wolfsburg (Stadtwerke Wolfsburg and Wolfsburger Verkehrs-GmbH). The latest partnership MAN has agreed is with two companies from Luxembourg: Voyages Emile Weber and Losch Luxembourg, a Volkswagen Group importer and the largest dealership group in the country. The MAN Lion's City eBuses will then go into mass production in 2020, which will incrementally increase over time.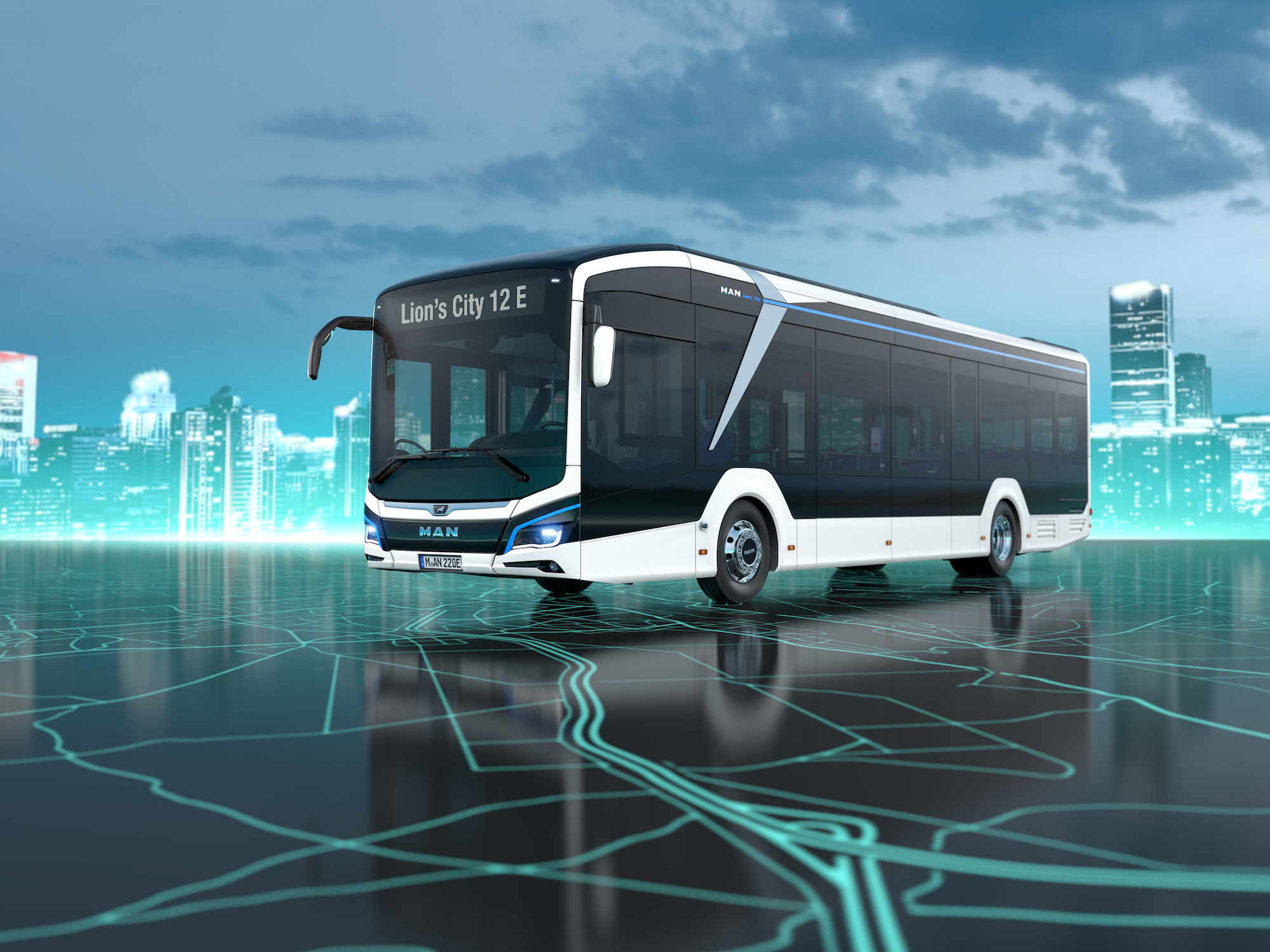 A whole consultation team beyond the transition
MAN Truck & Bus, states a press release from the company, recognises that transport companies and fleet operators face a number of challenges beyond straightforward vehicle considerations when transitioning from "low emissions" to "no emissions". As a result, it has established a specialised consultation team called MAN Transport Solutions for custom transport solutions that deliver maximum cost effectiveness. Drawing on a wealth of experience, the highly-skilled consultants are not limited to providing advice regarding the vehicle itself. They can also cover issues relating to infrastructure and energy demand, as well as maintenance concepts and fleet design, providing the best possible support to the operators. HERE and below you can see our interview to Stefan Sahlmann, head of Transport Solutions Man Truck & Buses.