45 MAN Lion's City E are on their way to Copenhagen
Beside the order for 31 Mercedes eCitaro announced in early November, Danish operator Vikingbus has also landed an order for 45 MAN Lion's City 12 E. They'll be deployed on routes in Greater Copenhagen. Deliveries are set to happen from spring 2023. Movia's 21st tender for bus routes in Copenhagen and on Zealand, also known […]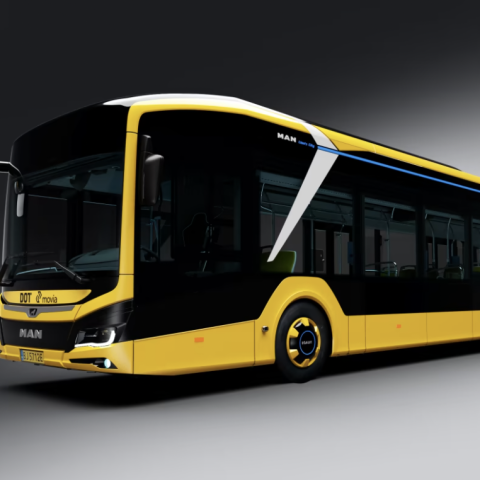 Beside the order for 31 Mercedes eCitaro announced in early November, Danish operator Vikingbus has also landed an order for 45 MAN Lion's City 12 E. They'll be deployed on routes in Greater Copenhagen. Deliveries are set to happen from spring 2023.
Movia's 21st tender for bus routes in Copenhagen and on Zealand, also known as A21, has just been completed, the OEM points out: following this, Vikingbus becomes one of the new players on a number of bus routes in Copenhagen, Frederiksberg and Lyngby, Greve and Høje Taastrup.
The same operator has already gained experience with MAN electric buses when it deployed 12 e-buses on routes in Odder and Skanderborg in 2021 and 2022, MAN notes. And an order for MAN e-buses in Copenhagen has already been landed in April 2021. This bus model has just been voted "Bus of The Year 2023".
A number of e-bus models are operating (or have been contracted) in the Copenhagen region: for instance Yutong, BYD, Ebusco, VDL.
MAN gets new order for e-buses from Vikingbus
The new electric buses will have their own charging spot where "MAN eManager pre condition mode" will be allowed and used: that means – as quite common in the e-bus world segment – the ability of heating or cooling of the driver's seat, passenger cabin and battery pack while the bus is in the charging stand.
Today, the MAN Lions City E is already in operation in Malmö and soon MAN's electric buses will also be running in Gothenburg and Stockholm. "In Norway, some major tenders are just being concluded in the Oslo region, where MAN expects to supply a large number of the e-buses put out to tender", the group says.
Jesper Mathiesen, Fleet & PTA Tender Manager Citybus at MAN Denmark, who was responsible for negotiations and tendering in connection with the order, states: "By concluding the agreement with Vikingbus Danmark, both parties are confirming the long-standing cooperation. It will be incredibly exciting for us to get so many electric buses on the roads in Greater Copenhagen and the adjacent suburban municipalities. So many buses on their way home to Vikingbus: it requires good cooperation and 100 percent focus from both parties to get the vehicles on the road by the agreed deadline."