MAN will not invest in Euro 7 for the city bus segment. Only e-buses to be sold in Europe in 2030
"In 2030 we will not sell any combustion engine city bus in Europe. Euro 7 standards put OEMs in a difficult situation: it's not possible to develop Euro 7 for the whole range, investments for the Class I segment would never been recouped. Looking at the evolution of the city bus market in Europe, we […]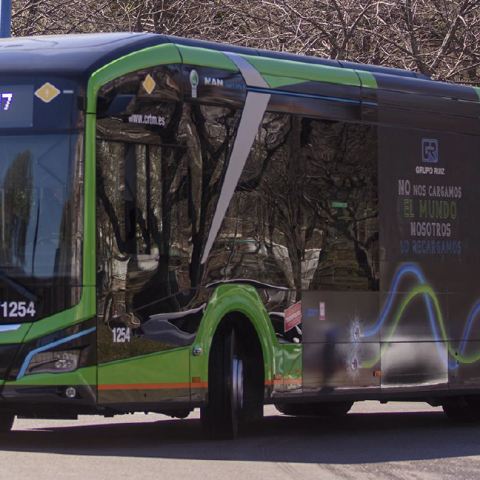 "In 2030 we will not sell any combustion engine city bus in Europe. Euro 7 standards put OEMs in a difficult situation: it's not possible to develop Euro 7 for the whole range, investments for the Class I segment would never been recouped. Looking at the evolution of the city bus market in Europe, we don't see gas drivetrains to have a market in the future. We see room for fuel cell buses but no more than 10 per cent of the bus market" stated Heinz Kiess, Head of Product Marketing Bus, MAN Truck & Bus, during a press conference held today, 4th June, in Barcelona, prior to UITP Summit kick-off.
What about MAN roadmap for zero-emission? Next step will be the electrification of Low Entry products in Class I and Class II. With news coming by end of the year (read: Busworld).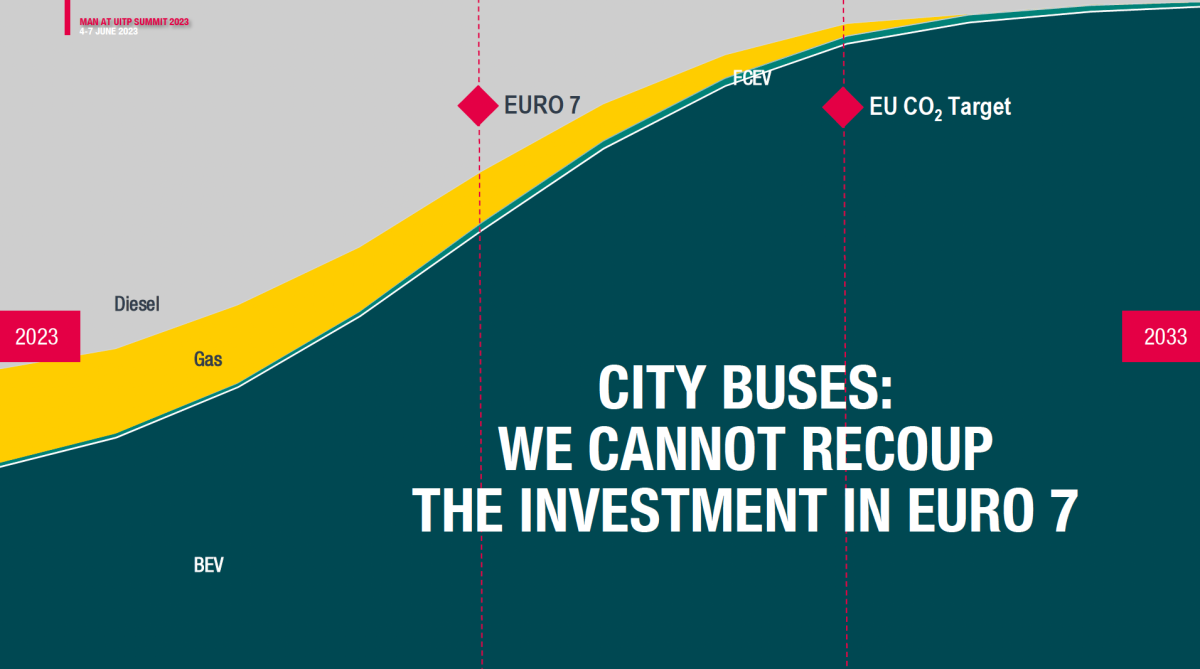 MAN, focus on battery – not on hydrogen
It is worth mentioning that such an announcement follows a similar one from Daimler Buses in May 2022: also the Stuttgart-based group is not investing in Euro 7 for Class I buses.
450 Lion's City E have been delivered so far (with over 1,000 in the orders book). In 2025 new battery generation will allow +25% range for MAN e-buses. And also pantograph-charging solution are to be launched in the next couple of year, the brand announces, with the Spanish city of San Sebastian as first customer of MAN Lion's City E with inverted pantograph.
«Battery technology has more room for improvements in energy density and charging power than hydrogen technology. Therefore we are not focusing on fuel cell buses», Kiess stresses.
MAN is also focusing on global markets, with the chassis applications announced in 2022. Still Kiess: "We developed a chassis for Asia, with target our markets in Hong Kong and Singapore, built in Turkey with bodywork from a local partner. Another version has been developed for the market of South Africa (high-floor, commuter bus)".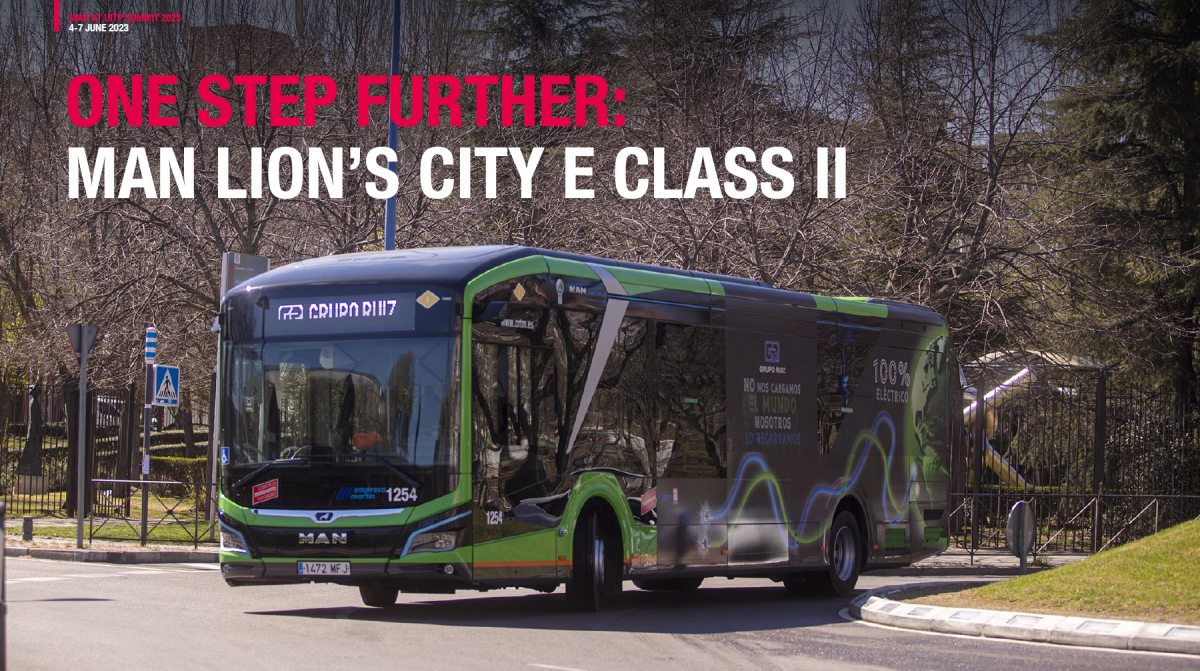 Spanish bus market: Class II Lion's City E!
The Spanish bus market counts on more than 7,000 city buses operating in 27 major cities and a total of 12,000 city and intercity buses in key areas. The average age of city buses stands at 9.3 years, highlighting the need for modernization and fleet renewal. Furthermore, the Spanish market has seen significant investments in electric buses, with 650 e-buses financed through Next Gen EU funds since 2022.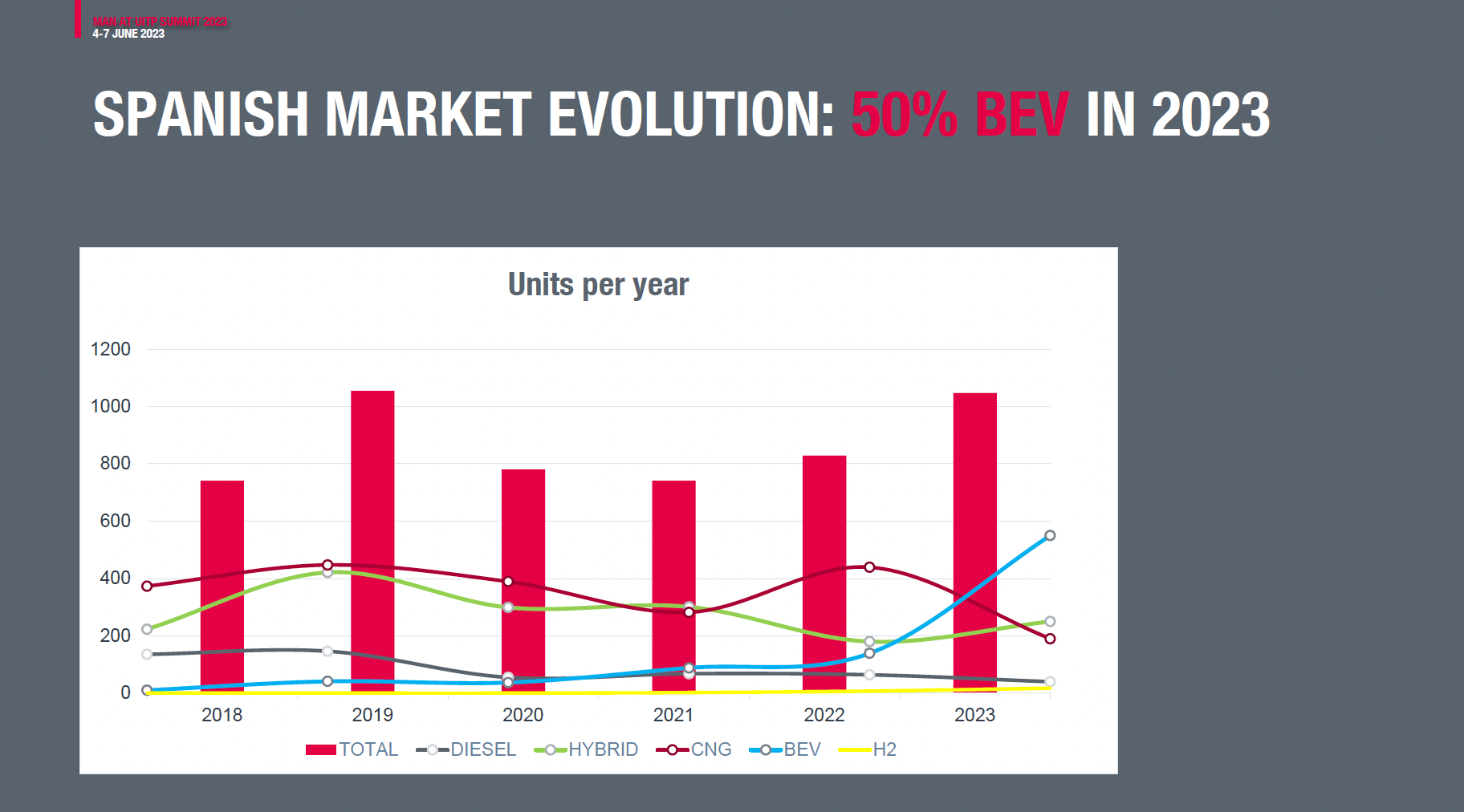 "And we expect other over 400 units to be financed", added Manuel Fraile, Head of Sales Bus, MAN Truck & Bus Iberia. "Over 175 e-buses have been awarded so far, counting together running and ordered units. And in Spain we are moving forward: we electrified the first Lion's City E in Class II segment".