*REPLAY AVAILABLE* for the webinar "MaaS and the future of urban mobility" broadcasted on December 6th
Smart ticketing. Contactless paying. Dematerialized ticketing. Seamless mobility. Intermodal travels. In one acronym: MaaS, i.e. Mobility as a Service. In broader sense: increasing the appeal of public transport by making traveling on buses, trams, trains and shared mobility vehicles easier. Yes, but how? Mobility-as-a-Service has been in the spotlight of our next Sustainable Bus Tour […]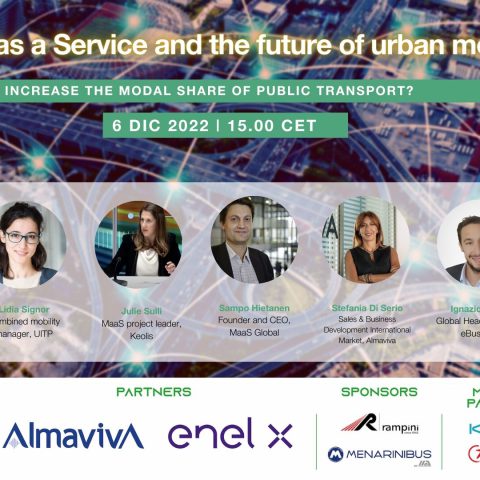 Smart ticketing. Contactless paying. Dematerialized ticketing. Seamless mobility. Intermodal travels. In one acronym: MaaS, i.e. Mobility as a Service. In broader sense: increasing the appeal of public transport by making traveling on buses, trams, trains and shared mobility vehicles easier. Yes, but how?
Mobility-as-a-Service has been in the spotlight of our next Sustainable Bus Tour web event 2022 – the last for this year. It has been broadcasted on Tuesday 6th December at 15.00 CET.
Title? "Mobility as a Service and the future of urban mobility. How to increase the modal share of public transport?"
The agenda:
Lidia Signor, Combined Mobility Manager, UITP
Julie Sulli, MaaS project leader, Keolis
Sampo Hietanen, Founder and CEO, MaaS Global
Ignazio Cordella, Global Head of Marketing eBus, Enel X
Stefania Di Serio, Sales & Business Development International Market, Almaviva
MaaS, digitalization, post Covid times
The framework is clear: along with the challenge of energy transition, digitalization is the other key trend affecting the strategies of public transport companies and authorities nowadays. Especially in a post-pandemic framework that sees transit providers striving to get users back: improving user experience and offering easy access to public transport becomes instrumental in order to increase the share of public transport journeys, with cities such as Barcelona – for instance – aiming at a 65% modal share by 2025.