650 e-buses launched in Moscow so far. Drive Electro to supply further 200 e-bus batteries within 2021
A total of 650 e-buses have been launched in Moscow so far. This was reported, as reported in a press note released by state-owned operator Mosgortrans, by the Department of Transport and development of road transport infrastructure of Moscow with reference to the Deputy Mayor for Transport Maksim Liksutov: «Today, the electric bus is the […]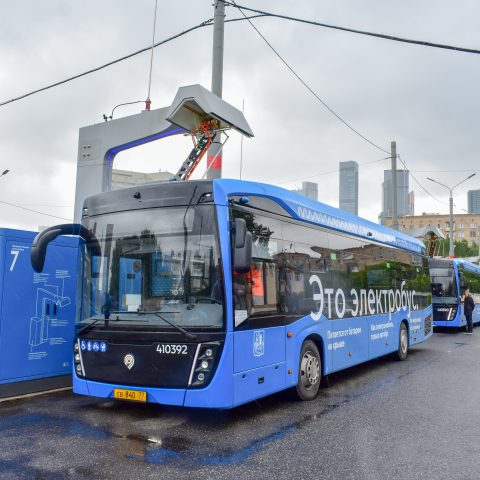 A total of 650 e-buses have been launched in Moscow so far. This was reported, as reported in a press note released by state-owned operator Mosgortrans, by the Department of Transport and development of road transport infrastructure of Moscow with reference to the Deputy Mayor for Transport Maksim Liksutov: «Today, the electric bus is the most modern surface urban transport that meets all the needs of residents. In three years, 650 eco-friendly buses have appeared in Moscow – they operate on 49 routes of the city. During this time, electric buses have proved that they can work smoothly in any weather conditions – abnormal heat or cold does not affect the quality of innovative transport» – he said.
Moscow, no more new diesel buses
Just a few days ago LIksutov itself announced that: «Starting this year, by the decision of the Mayor of Moscow, we will not buy diesel buses, except for transportation in a special mode. Only electric buses. We will also install about 200 electric charging spots a year for the development of personal electric transport».
Electric bus production has increased revenues to the budget of Moscow, Mosgortrans says. The eco-plant will provide about 100 million rubles of tax revenues per year. This year, more than 60% of electric buses from the new delivery will be built in Moscow already. At the same time, the Department noted that the use of electric buses reduced the emissions of pollutants into the air of Moscow by 40 thousand tons in 2020.
Drive Electro, batteries for further 200 e-buses
Most of the batteries and propulsion equipment for the Russian capital's electric buses are made by Drive Electro, which has manufactured and supplied components for 400 of the city's electric vehicles. This year, Drive Electro will supply Moscow with batteries for a further 200 electric buses.
The company uses lithium titanate batteries for the electric buses, giving them a range of 350-400 km and requiring just 6-20 minutes to recharge. Besides manufacturing and supplying components, Drive Electro has been responsible for the full range of maintenance work on the buses' propulsion equipment and batteries since the operational launch of the first model in 2019.
Drive Electro has previously announced plans to expand its manufacturing facilities. In the first quarter of 2022, the company plans to open its own plant to manufacture batteries for electric buses and to set up serial production of electric trucks. Up to 5.2 mln USD will be invested in the plant, which will have a maximum capacity of 1,000 battery sets and 500 electric trucks per year.
In late 2020, Drive Electro also presented Russia's first electric truck, known as the 'Moskva'. It was handed over to Russia's largest retail network Magnit for trial operation. If the trial is successful, Drive Electro plans to produce a further 200 electric trucks for Magnit at its own plant.