NewMAN strategy launched, MAN focuses on ZE, autonomous and digital mobility (and announces a new battery option for e-bus)
MAN Truck & Bus launches NewMAN strategy, a corporate plan focused on zero emission mobility, autonomous vehicles and digital solutions. In a press note, the Munich-based group underlines that the company «is focusing on zero-emission technologies in its role as a "smart innovator", with a particular focus on e-mobility and hydrogen as an alternative. Autonomous […]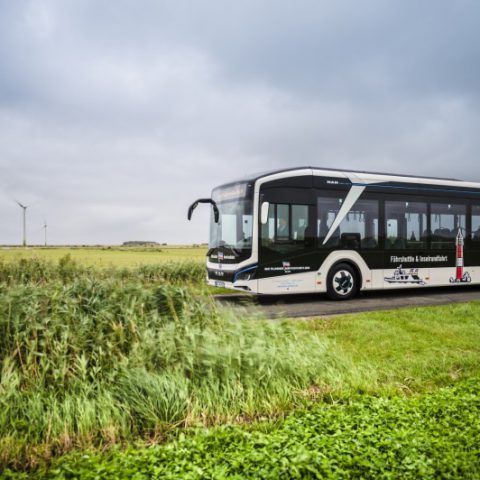 MAN Truck & Bus launches NewMAN strategy, a corporate plan focused on zero emission mobility, autonomous vehicles and digital solutions.
In a press note, the Munich-based group underlines that the company «is focusing on zero-emission technologies in its role as a "smart innovator", with a particular focus on e-mobility and hydrogen as an alternative. Autonomous vehicles and a digital product portfolio that will facilitate new business models while playing a decisive role in improving the customer experience will also be key areas of focus».
Two battery strategies for the Lion's City E
News are expected in the electric bus range, today made of the Lion's City E in 12-meter and articulated versions (a latest major order was signed in Sweden). To help public transport operators adapt their electric bus perfectly to the specific deployment, «MAN is offering two different battery usage strategies for the Lion's City E: alongside the tried-and-tested "Reliable Range" strategy, there is now also the "Maximum Range" strategy, which offers an even greater daily range», the company says, without offering at the moment further information.
MAN also announces it has recently restructured its MAN eManager services so that fleet managers can manage their electric vehicles in an optimum manner. With the aid of the digital tool on the RIO platform, TRATON's cloud-based platform, the battery, room temperature and many other vehicle parameters can be conveniently controlled from operator's desk.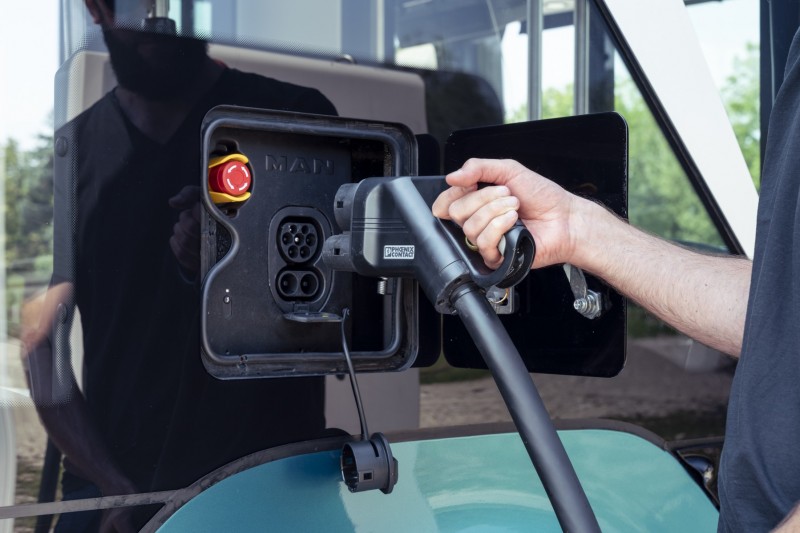 MAN Lion's Intercity LE: also mild hybrid from 2023
This week MAN Truck & Bus is unveiling to press representatives the new MAN Lion's Intercity LE. «It combines an optimised seating layout with low- floor genes and intercity design concepts in a modern, attractive vehicle. This means that the MAN Lion's Intercity LE can be used in a versatile manner for both city and intercity transport services», MAN says.
Starting in 2023, the MAN Lion's Intercity LE will also be fitted with the MAN EfficientHybrid drive of the new Lion's City generation, therefore a mild hybrid option will be offered. The two intercity versions, namely the Lion's Intercity LE 12 and Lion's Intercity LE 13, will be launched first. Production will start at the beginning of 2022.
As a matter of fact, in an interview with Sustainable Bus, the head of the business unit bus Rudi Kuchta answered to a questions regarding the possible introduction of gas engine in the intercity segment: "We are quite successful with our gas engine in the city bus business. On the other hand, due to the investment we would have to do, we must be very careful: we see that it will be an increasing segment for a few years, then it'll go down as it'll be taken by electromobility. We have to decide if going for gas or directly for battery-electric or even hydrogen". Mild hybrid steps in as an intermediate technologies towards zero emission products.
"Buses are already considered the most environmentally friendly and cost-effective mode of transport. However, it is up to public transport operators and local authorities to cut CO2 emissions even further and thus contribute to climate protection. More and more public transport companies are taking this on board and putting their faith exclusively in battery-powered city buses when purchasing new buses. Either that or they are setting clear target dates for converting their entire fleet to emission-free drives."

Rudi Kuchta, Head of Business Unit Bus at MAN Truck & Bus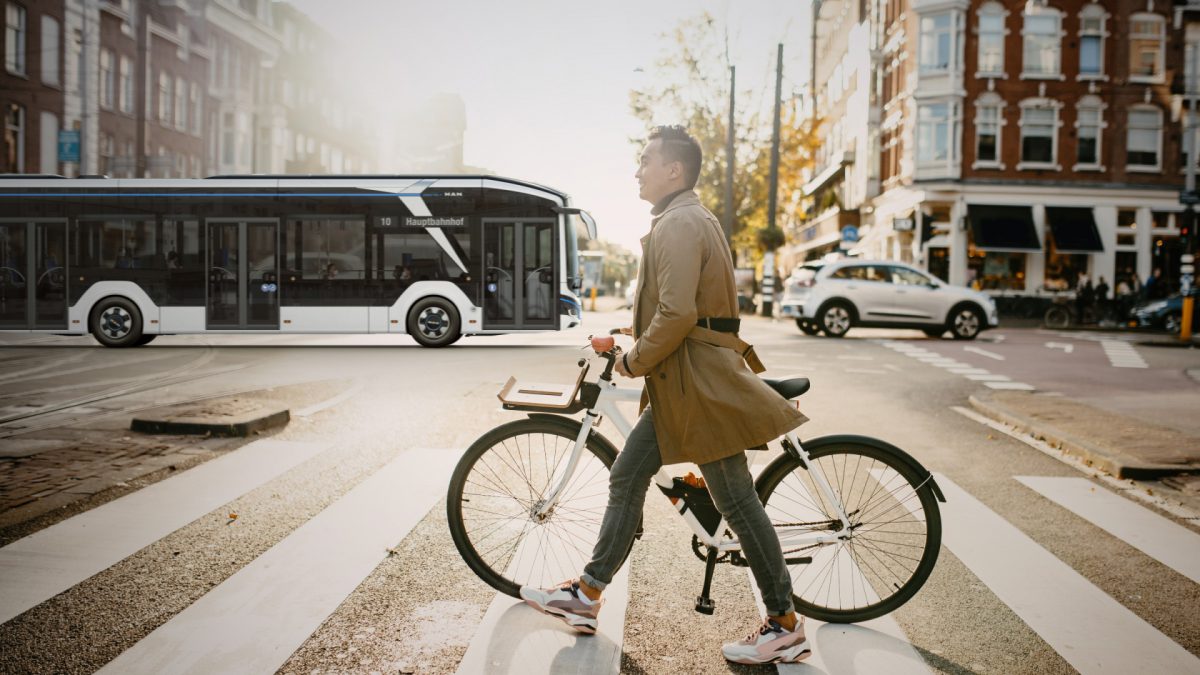 MAN launched NewMAN strategy
"Despite these challenging circumstances, our buses have performed excellently on the market," says Andreas Tostmann, CEO of MAN Truck & Bus, referring to the Covid-19 earthquake. "This is also down to the broad and future-oriented portfolio of city buses, intercity buses, coaches and minibuses we can offer. Demand for these vehicles is constantly increasing. We are very proud of this. We are, however, fully aware that we need to put the future at the forefront of what we do at all times in order to stay relevant. After all, the megatrends of zero-emission mobility, digitalisation and automation are changing the face of the world we know at a rapid pace. Our NewMAN strategy provides the basis for a comprehensive reorientation of the MAN brand. With the strong team we have, we are fully committed to embracing this period of change at MAN and together we will lead the company towards a successful future!"
"Buses are already considered the most environmentally friendly and cost-effective mode of transport. However, it is up to public transport operators and local authorities to cut CO2 emissions even further and thus contribute to climate protection," says Rudi Kuchta, Head of Business Unit Bus at MAN Truck & Bus, before adding: "More and more public transport companies are taking this on board and putting their faith exclusively in battery-powered city buses when purchasing new buses. Either that or they are setting clear target dates for converting their entire fleet to emission-free drives."