A smart bus garage dedicated to ebuses in London for RATP Dev. Thanks to BYD – ADL – SSE
BYD and ADL delivered a few days ago a 36 vehicles electric bus order in London. But the big news is not necessarily this one. What is also very interesting is that the companies, together with the strategic partner SSE, transformed the historic and land-locked RATP Dev Shepherd's Bush garage in West London into an advanced, […]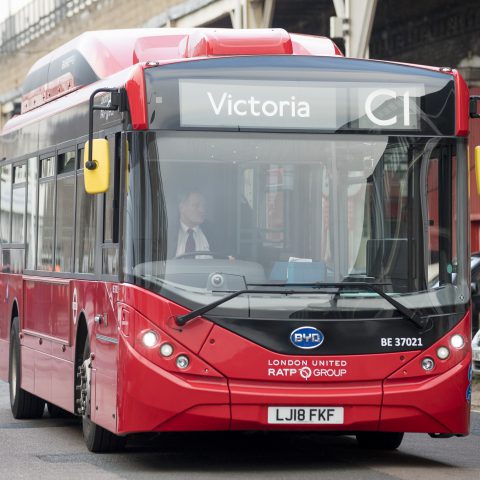 BYD and ADL delivered a few days ago a 36 vehicles electric bus order in London. But the big news is not necessarily this one. What is also very interesting is that the companies, together with the strategic partner SSE, transformed the historic and land-locked RATP Dev Shepherd's Bush garage in West London into an advanced, smart electric bus operating centre, that is expected to become the company's first zero emission bus garage in London. According to the plans, by 2037 all buses in London (about 8,000) will be zero-emission.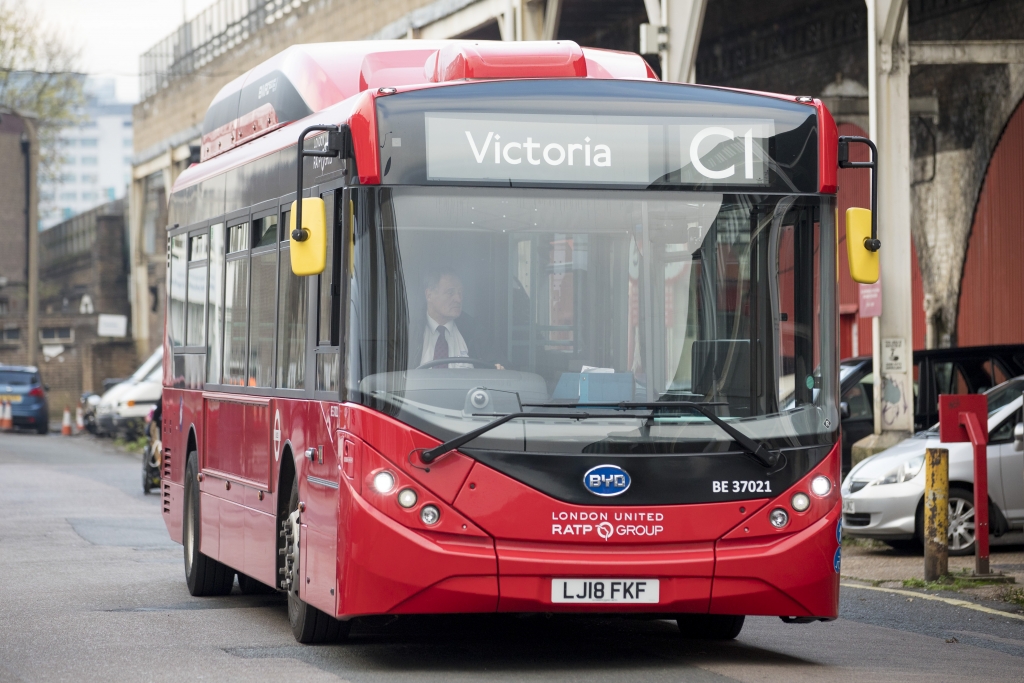 36 Enviro200EV in operation
The vehicles delivered to London are 36 Enviro200EV jointly realized by Chinese manufacturer BYD and UK partner ADL (Alexander Dennis Limited), 10.8m long. The contract includes the installation of 37 charging units (80 kW output) and associated charging infrastructure. With a fleet of some 1,200 buses, RATP Dev London operates 70 bus routes across the London network. The Shepherd's Bush depot house the 36 buses for Transport for London routes C1 and 70, which are being converted to full electric operation following the company's success in winning these routes through TfL's tendering process. RATP Dev aims to progressively turn Shepherd's Bush into a depot with an all-electric fleet, to make it the company's first zero-emissions bus garage in London. RATP Dev already operates four all-electric buses out of Hounslow, and operates 246 hybrid buses within London.
SSE and London transport green transition
Preparing Shepherds Bush bus garage for the electric buses involved a further collaboration, beyond UK Power Networks, with BYD and ADL's strategic partner, the power company SSE, to ensure the installation of the electric vehicle infrastructure. SSE installed vital electric power and data cables and wiring at the garage. The company has also already installed over 600 charging points for electric cars across London, as well as five facilities where it has designed, installed and maintains the infrastructure for large scale electric bus fleets in London, including the landmark fully electrified depot  in Waterloo.
BYD's charging management system
BYD's role included installing BYD's Smart Charging Management System, which introduced an automatic charging system which allows the bus depot to simultaneously charge all the depot's buses over night with minimal supervision. The BYD system removes the risks associated with manually charging buses and also cuts down on the manpower required over a night shift, in turn reducing operating costs, ADL points out in a press release. The renewed Shepherd's Bush facility was officially opened by Catherine Guillouard, Chairwoman and CEO of RATP Group, Laurence Batlle, CEO of RATP Dev and TfL Commissioner Mike Brown.
Simplifying electric bus operations
Frank Thorpe, BYD UK Country Manager, said: "This highly complex project at Shepherd's Bush is one of the best examples so far of how the in-depth experience of BYD in electric bus operation and infrastructure installation – coupled with the input of our strategic partners such as ADL and SSE – can simplify the task of getting electric bus fleets up and running in a short time. This is far from a simple task and there are many pitfalls as can be seen from another project in the UK where new electric buses are having to be recharged by a diesel generator". He clearly refers to Harrogate Bus Company electric bus fleet (8 units), since August powered by a diesel generator because of red-tape troubles with infrastructures.
215 ebuses delivered or on order
Arthur Whiteside, ADL's Managing Director for UK Sales, commented: "We're delighted that the electric bus partnership between ourselves and BYD continues to lead the charge in the UK.  With over 215 BYD ADL EnviroEV buses delivered or on order and well in excess of 1.5 million electric miles clocked up in the UK, it is clear that operators appreciate not only the vehicles we supply, but also the full infrastructure support from route analysis to site surveys which can be delivered.  It demonstrates our commitment to seeing our customers as partners – we're with them every step of the way."