Solaris wins 130 articulated ebuses for MZA Warsaw
Today MZA Warsaw, in Poland, signed a contract for the purchase of 130 electric articulated buses Solaris Urbino 18 Electric. The news is reported on the Polish magazine InfoBus. The order will allow Warsaw to eliminate diesel powered buses from the so called "Royal route", in the center of the Polish capital city. Recently, Solaris […]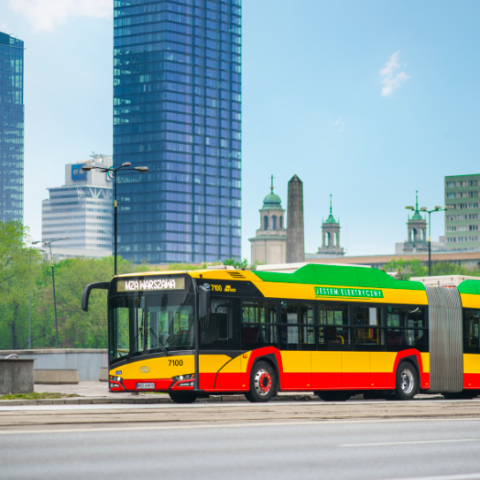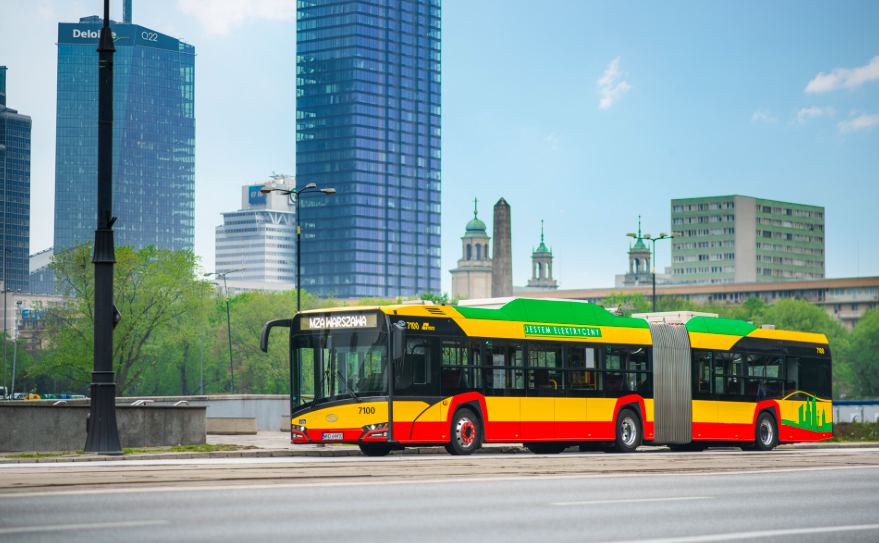 Today MZA Warsaw, in Poland, signed a contract for the purchase of 130 electric articulated buses Solaris Urbino 18 Electric. The news is reported on the Polish magazine InfoBus.
The order will allow Warsaw to eliminate diesel powered buses from the so called "Royal route", in the center of the Polish capital city. Recently, Solaris won a tender for up to 250 electric buses in Milan (Italy).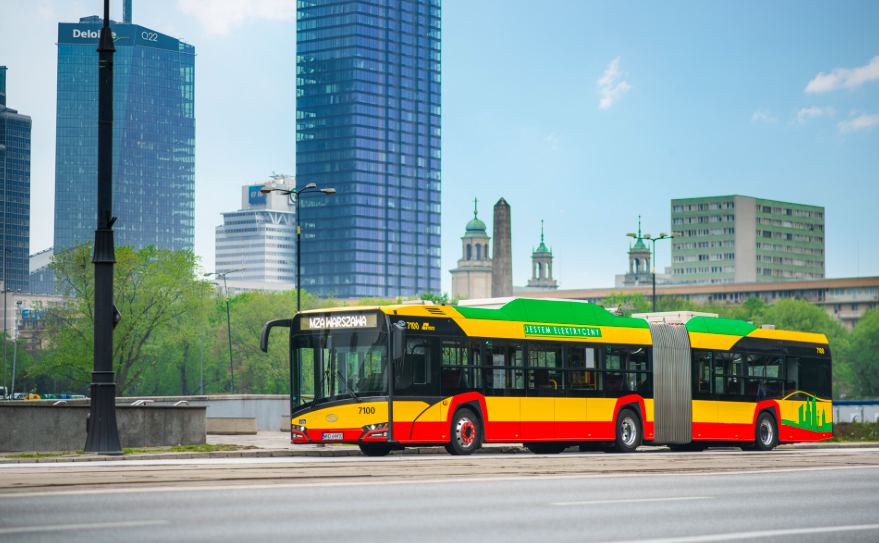 A EU funded project
The contract for 130 electric buses for Warsaw is one of the largest so far in Europe. Delivery will begin within one year. The buses will be equipped with air conditioning system, passenger information system and usb ports sockets. The investment is of PLN 399 590 100.00 (some 94 million euros), and is co-finance with around 42 million euros of European funds. Polish company Ekoenergetyka will be responsible of the charging infrastructure, that includes 20 fast rapid charging stations in 9 locations, still according to the news on InfoBus.
To date in Warsaw there are over 215 zero- and low-emission buses. That's 31 electric vehicles, 70 hybrid vehicles and 115 gas vehicles (with 54 Solaris CNG powered buses to come).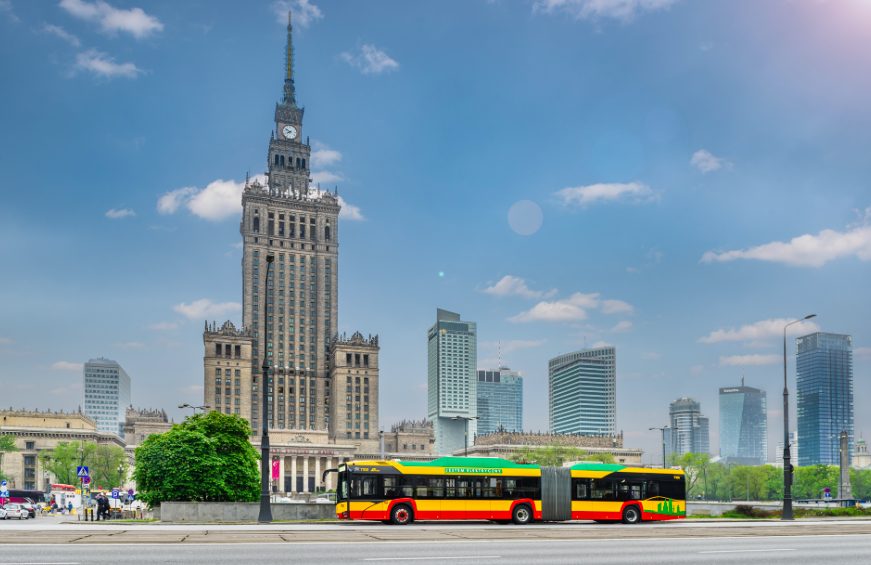 Seven years warranty on the bus batteries
The 130 articulated electric Urbinos for MZA will be fitted with Solaris High Power batteries with a capacity of 150 kWh, and for which the producer grants a seven-year warranty, as per requirement of the awarding authority, Solaris points out. The bus will feature two charging sockets: one above the right wheel arch and the other placed behind the last door, whereas the pantograph will be mounted on the roof.
The drive unit of the electric articulated buses for Warsaw will consist of an axle with two electric engines of 110 kW each. The vehicles for operator MZA are getting also a voltage converter for the traction motor, produced in SiC technology, which will help to additionally reduce energy consumption.
Solaris: we are leader in electromobility
"We are converting our declarations into actions and buying zero-emission vehicles, which we do for the sake of air quality and climate. Thanks to this order, traditional buses powered by combustion engines will completely disappear from the most representative artery of the capital – the Royal Route – only vehicles powered by gas or electricity, or low or zero-emission ones, will meet here"- says Rafał Trzaskowski, president of the Capital City of Warsaw, as reported on InfoBus.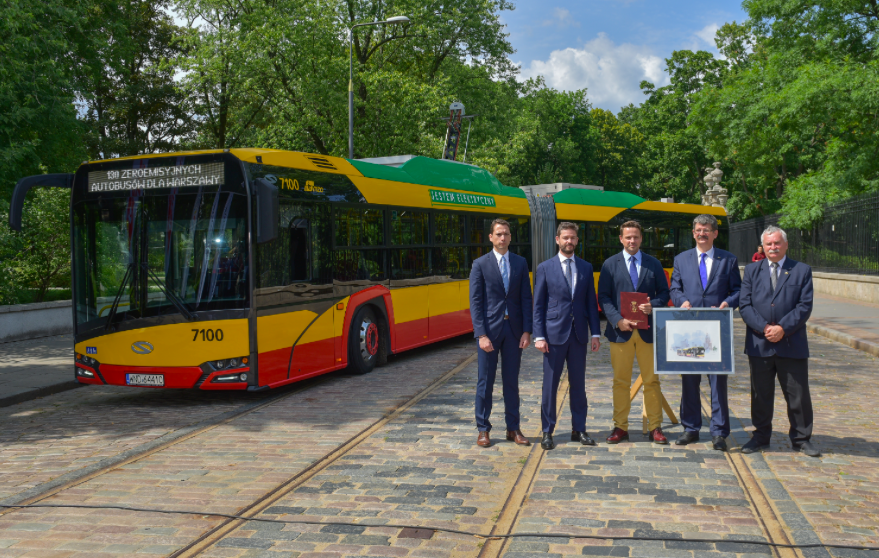 "Our project to purchase 130 electric articulated buses, supported by European funds, is one of the largest e-mobility investments in Europe. We are glad that we are one of the leaders in the implementation of environmentally friendly solutions for transport, according to our plans, in two years' time, we will have a fleet of nearly 400 zero and low-emission buses. MZA ecological buses are a sign of hope for clean air in the capital" says Jan Kuźmiński, president of the board of Miejskie Zakładów Autobusowych Sp. z o.o.
"Solaris takes huge pride in winning such a large tender for the delivery of electric buses. We have been consistently pursuing our strategy, grounded in the development of zero-emission vehicles, for many years now. Thanks to the huge order of MZA we are able to solidify our position as European leader of electromobility. However, what makes us glad above all else is that our company, which pays great attention to the development of sustainable transport, contributes to the improvement of the life comfort of the residents of Warsaw"- says Javier Calleja, CEO of Solaris Bus & Coach.