Sales of electric city buses to overtake those of vehicles running on diesel this year, Rabobank study finds
Across the EU, "the sales of electric city buses should overtake those of vehicles running on diesel this year". It's the prediction contained in the study "City Buses in the EU: Electricity Is Overtaking Diesel", by Rabobank, authored by Pablo Ruiz, Gijs Hoogeveen, Erwin de Kok. The importance of public transport in the European mobility […]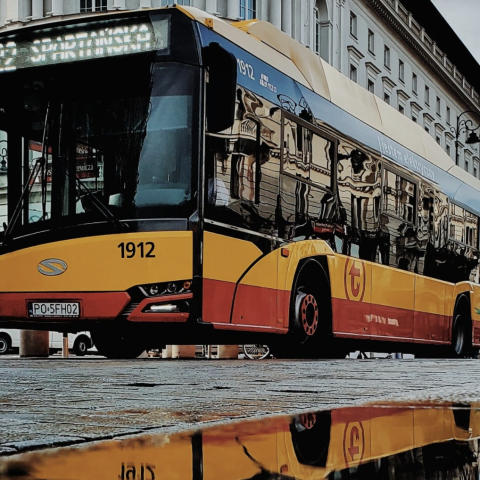 Across the EU, "the sales of electric city buses should overtake those of vehicles running on diesel this year". It's the prediction contained in the study "City Buses in the EU: Electricity Is Overtaking Diesel", by Rabobank, authored by Pablo Ruiz, Gijs Hoogeveen, Erwin de Kok.
The importance of public transport in the European mobility mix is highlighted by ACEA figures: EU buses represent 55.7% of public transport journeys in Europe. This sector sustains a market of close to 30,000 new vehicles per year, supplied by 66 bus assembly plants across Europe.
The study carried out by the Dutch banking and financial services company shows that "Poland, Italy, France, Germany, Spain, and Romania combined are home to more than 80% of the EU's 750,000-vehicle fleet. It is estimated that 214,000 of them were city buses in 2022, close to 30% of the total".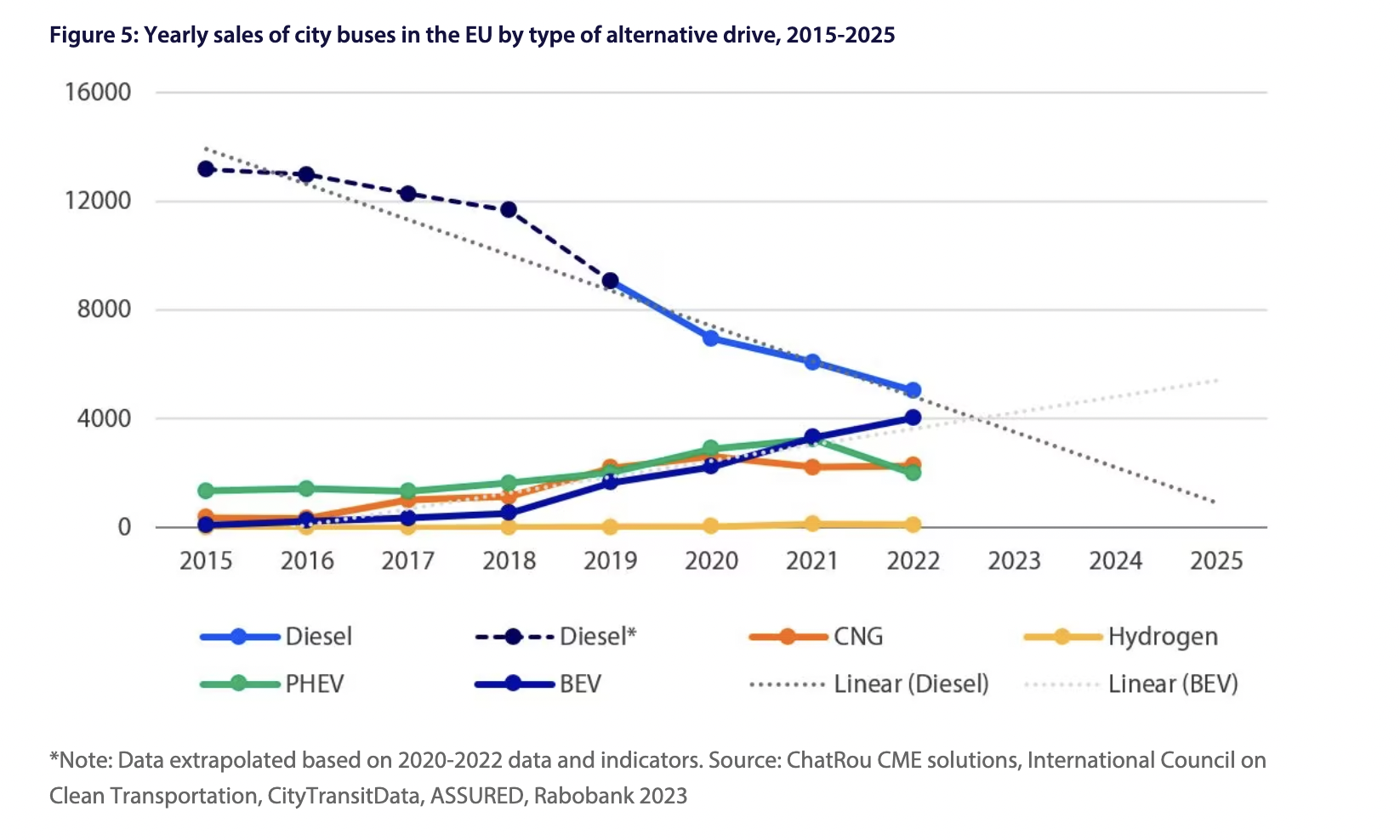 Rabobank study on electric bus market in Europe
The authors expect that this year, EU sales for electric city buses will surpass those of diesel-fueled ones for the first time ever. And adds: "Although it is pure extrapolation, should the current trend persist, we could expect to stop seeing sales of diesel city buses from 2027 onward".
What about the recently proposed EU target for 100% of all new city bus sales to be zero emission by 2030? The study, largely based on Chatrou CME Solutions' registration data, underlines that "From 2020 to 2022, despite being influenced by the Covid-19 crisis, the market averaged 34% annual growth. A 100% net-zero city bus fleet by 2030 may seem very ambitious, but it turns out that just sustaining 18% annual market growth for electric city buses in the next seven years could get us there. Compared to the recent years' 35% market growth, the required 18% growth suggests that a fully electric market by 2030 could be feasible".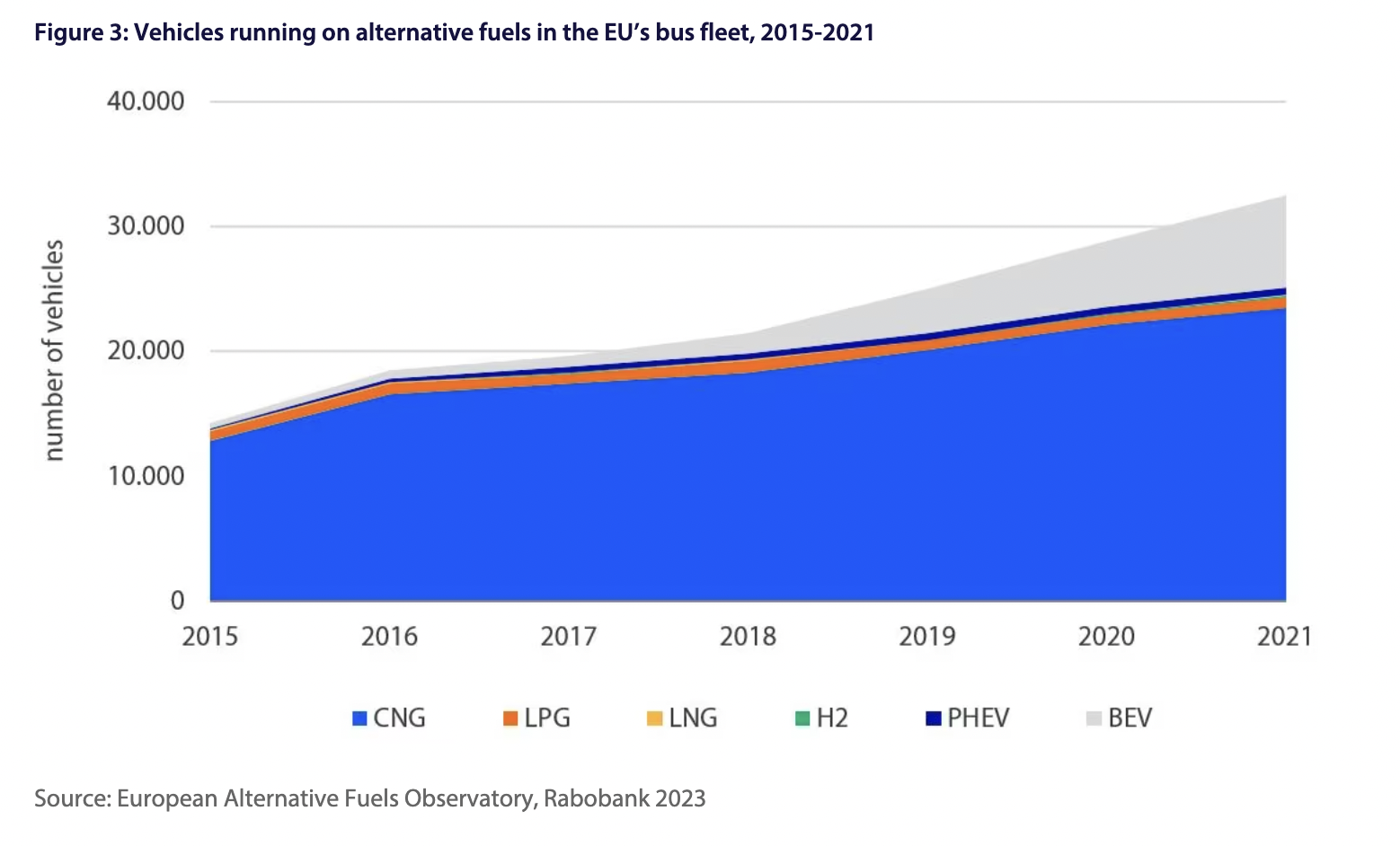 What is interesting, "If the yearly market for new city buses becomes fully net zero by 2030, the replacement rate of buses in the fleet will lead to it being fully decarbonized by 2038 (assuming that the fleet size remains at its historical number of 215,000 vehicles)".
Concerning OEMs, the study shows how the "early years were dominated by BYD, Solaris, and VDL. Combined, these manufacturers supplied more than 60% of the EU market by 2015. After 2018, their joint share dropped below 50% due to the significant market entrance of traditional car and truck OEMs like Mercedes, Volvo, and Iveco. Today, the share of the three early entrants is reduced to 36% (including BYD + ADL joint units), highlighting the dynamics of a very active and growing market".