Switch Mobility to showcase Metrocity at BUS2BUS in Berlin (and new 12m e-bus at European Mobility Expo in Paris)
Switch Mobility will showcase its new Metrocity electric bus at BUS2BUS in Berlin and, most important, its new 12-meter vehicle at Euro Mobility Expo in Paris, two of the main public transport exhibitions scheduled for 2022 in Europe. Switch Mobility new manufacturing and technology centre will be built on a greenfield site in the Soto […]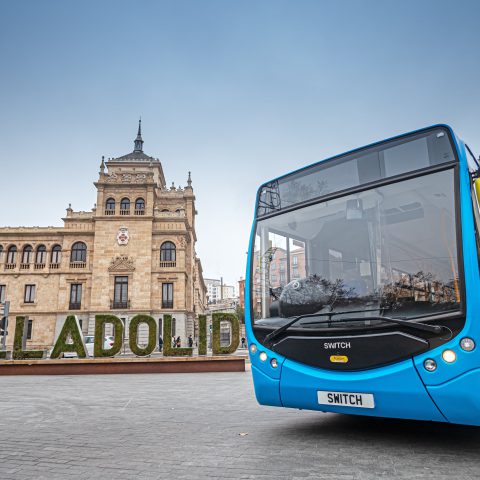 Switch Mobility will showcase its new Metrocity electric bus at BUS2BUS in Berlin and, most important, its new 12-meter vehicle at Euro Mobility Expo in Paris, two of the main public transport exhibitions scheduled for 2022 in Europe. Switch Mobility new manufacturing and technology centre will be built on a greenfield site in the Soto de Medinilla area of Valladolid.
From 27th to 28th April, at BUS2BUS 2022, Switch Mobility will exhibit two Metrocity buses alongside providing attendees with a digital preview of Switch's upcoming, cutting-edge, 12m zero carbon bus.
The Metrocity – Switch's agile, low-weight, midi-bus, renowned for its maneuverability and efficiency – will be present at BUS2BUS in its 8.7m and 10.8m configurations. It is notable for being the first British-built, pure electric bus to enter service on London's roads.
Switch Mobility at BUS2BUS
Europe is a key market for Switch and the company's first facility in mainland Europe, where construction began last month, will focus on the production of Switch's new 12m bus, designed for the European market. Based on a unique monocoque design to reduce weight and increase efficiency, it is expected to be the lightest widely available 12m bus in the market and will boast the latest NMC battery technology. In combination with Switch's data analytics and digital twin approach which enable routes to be mapped and optimised.
Attendees of BUS2BUS are invited to visit Switch at the show on stand 101, hall 21 and have a preview of the next generation zero carbon vehicle, prior to its official launch on June 7th.
Peter Freedman, Chief Marketing and Sustainability Officer at Switch Mobility Ltd, said: "We are delighted to be present at such a prominent event as BUS2BUS to showcase our Metrocity bus and preview our exciting, next generation 12m vehicle. Breaking ground on our first site in mainland Europe last month was a key milestone in our growth story and Europe is a significant market for Switch. I'm confident that Switch will play an important role in supporting Europe's charge to green mobility, using advanced technology to make travel easier, cleaner and more efficient. Our upcoming 12m bus is a significant next step in this endeavour and I am incredibly excited for its formal launch in June."