VDL Bus & Coach has delivered the first Citea Electric for Postbus Switzerland, part of a pilot that will allow the company to gain experience with electric operation. Recently, VDL has also announced the delivery of a VDL Citea SLFA-181 Electric in Brt version for another pilot developed by the transport company of Basel Basler Verkehrs-Betriebe (BVB), and expected to begin at the end of this year.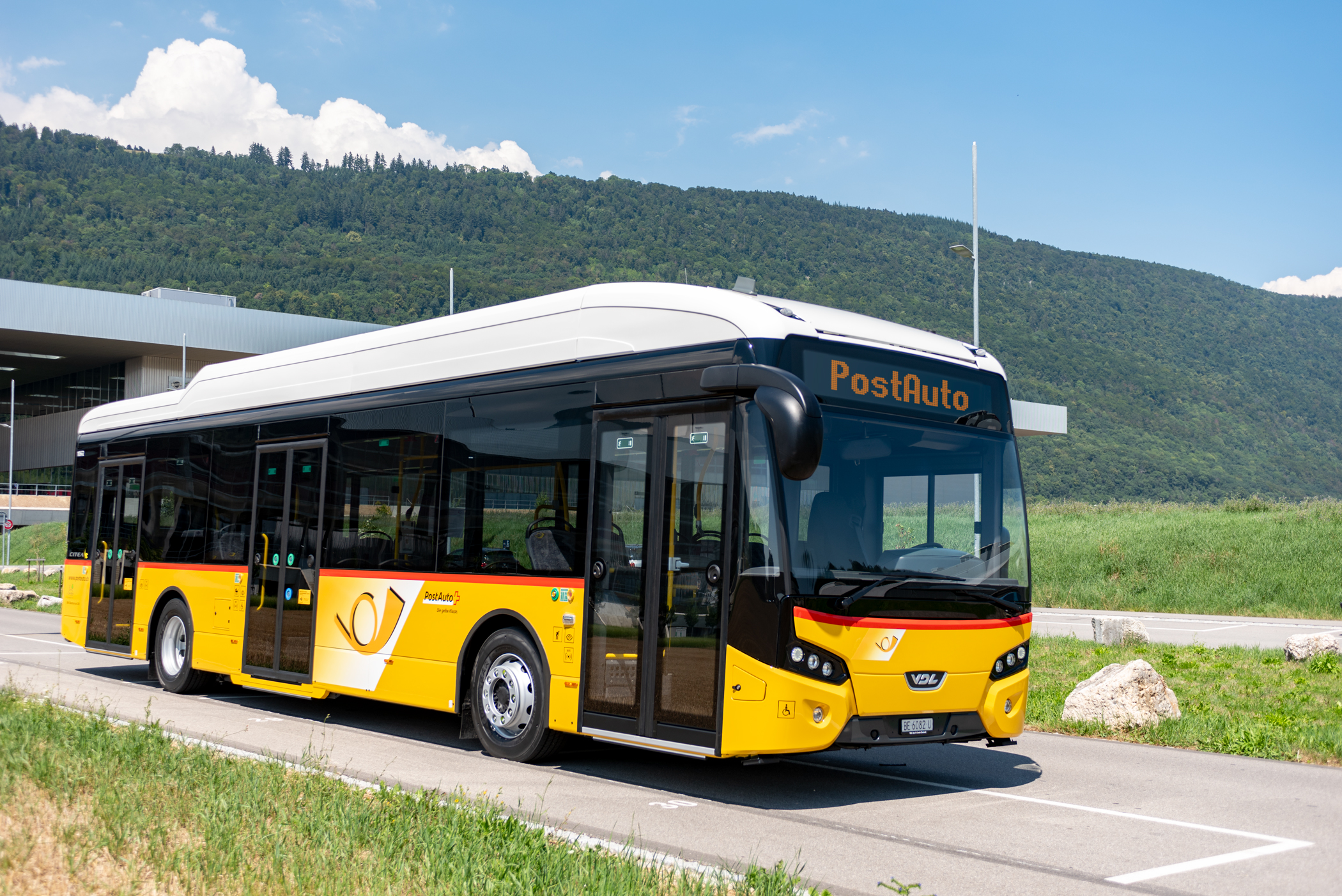 The electric pilot is starting today
The electric bus Citea Electric just received by Postbus Switzlerland, in its iconic yellow color, is part of a pilot project and is deployed on line 342 between Sarnen Bahnhof and Alpnach Dorf Bahnhof from today, 10 September. In addition to the electric bus, VDL Bus & Coach will also supply the charging stations. "With numerous E-Mobility projects in the Netherlands, Luxembourg, Germany, Sweden and Norway and more than 200 electric buses on the road, VDL is an experienced partner for the implementation of efficient, emission-free public transport," says Alex de Jong, business manager public transport for VDL Bus & Coach bv (click HERE for our interview about VDL electric strategy). "We are delighted to have had this opportunity to put our experience to good use for the implementation of electric buses in Switzerland."
VDL will not only be bus supplier for this order but system supplier as well. The Citea SLF-120 Electric, equipped with a 180 kWh battery pack, is slow-charged both during the night at the depot in Sarnen and during the day at the Alpnach Dorf Bahnhof train station by means of plugs (150 kW). Alpnach Dorf Bahnhof Station is the last stop on the route, where the bus stops for an average of 15 minutes to be charged. This allows the bus to be in service throughout the day.
VDL Citea SLF-120 Electric as Postbus
The Citea SLF-120 Electric for PostBus is a 12-metre-long bus with a low floor and a 3-door configuration. This, VDL reports in a press release, allows the ebus to maintain optimum passenger flow and makes it suitable for the busier city and regional transport routes. Due to the lightweight concept of the Citea Electric, operating costs are very low and maximum 'Profit of Ownership' is guaranteed. Recently, VDL has been awarded with a 55 electric buses contract by Rotterdam public transport operator RET.
Postbus Switzerland is market leader in the field of public transport in Switzerland and Liechtenstein. With more than 4,000 employees and 2,200 vehicles at their disposal, they carry over 152 million passengers per year. Its trademark – the three-tone horn and the yellow Postbuses – are part of Switzerland's cultural identity. The company works daily on the further expansion of their public transport network, which covers over 12,000 kilometres.
VDL and BVB: the other Swiss electric pilot
As mentioned before, VDL, still in Switzerland, is also cooperating with BVB on another pilot with an articulated VDL Citea SLFA-181 Electric in the role of main actor. The bus was awarded with the Sustainable Bus of the Year 2018 in Urban category, and is a low floor bus with a length of 18.1 metres, equipped with an electric powertrain by Siemens. The same bus runs in 43 units in Eindhoven. The vehicle for BVB is equipped with a 248 kWh battery pack and a 450 kW rapid charger. During the pilot period, the rapid charging will take place at the BVB depot. The electric bus is charged in about 50 minutes. Looking widely on the whole market of electric vehicles in Switzlerland, the EVs share on new vehicle registration is 2.7 %. As mentioned on Electrive.com, the country aims to increase this to 15% by 2022. Representatives from politics and industry have agreed to cooperate on a road map to help facilitate the undertaking.