Trolleybuses to play a major role in Genoa. A plan for 145 new vehicles
by Stefano Alfano Trolleybuses have been chosen to play a major role in the future organization of Genoa public transport network. In fact, they are at the heart of the Italian city government's projects. The city will soon receive 14 battery-electric buses, and in the meanwhile is planning a massive trolleybus network development that would require […]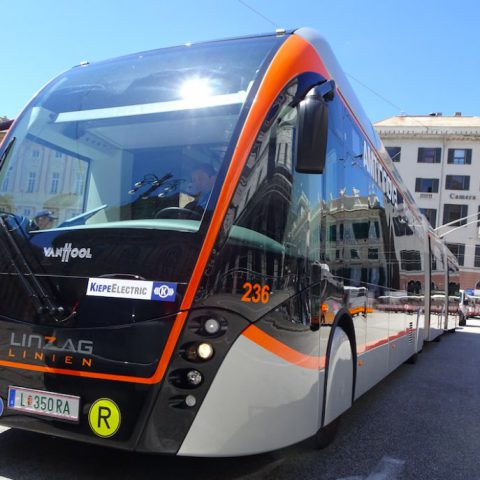 by Stefano Alfano
Trolleybuses have been chosen to play a major role in the future organization of Genoa public transport network. In fact, they are at the heart of the Italian city government's projects. The city will soon receive 14 battery-electric buses, and in the meanwhile is planning a massive trolleybus network development that would require the purchase of as many as 145 trolleybus vehicles. End of the works is expected in 2025.
The city administration is about to present the new feasibility and technical study at the government, with a request for 471 million euros (after a first project worth 578 was rejected, while first talks were about a 650 million euros project). According to the plan, trolleybuses will be deployed on a system of four axes (Levante, Centro, Ponente, Valbisagno), with a total lenght of 96 km.
145 trolleybuses in Genoa's future
The backbone of the new network would be made of high capacity, battery-electric trolleybuses on mainly reserved lanes.
Of the 471 million requested, 123 million euros would be used for the purchase of trolleybuses, 98 million would be used for road works, 72 million for the new two-wire line, substations and installations (new depot, upgrading of some existing depots), and urban restyling works.
Genoa bets on trolleybuses against cars
The goal of the plan is a 8.1 % reduction in journeys by private vehicles, and a 24.3 % increase in journeys by public transport. In the city center, commercial speed is bound to increase at 14 km/h, while today it is 10.8 km/h.
24-meter trolleybuses are waited, in Genoa…
The purchase of 145 articulated trolleybuses with a maximum capacity of 155 people is planned; however, the (planned) modification of the Italian legislation, which today doesn't allow the circulation of 24-meter vehicles, is expected. In fact, in May 2019, a 24-meter trolleybus with double articulation, built by Van Hool and lent by the Linz network, was tested.
The vehicle, tested on the section of the trolleybus line 20 from Foce to Principe (which would naturally be included in the new network) has shown excellent manoeuvrability. Depending on the equipment, a 24-metre trolleybus can carry from 180 to 200 people. It should be remembered that 24-metre trolleybuses account today for one third of the entire Swiss trolleybus fleet and are running since a couple of years in Linz (Austria).
Battery-operated trolleybuses for Genoa
The new trolleybuses in Genoa will be of course fully electric models equipped with battery packs and IMC technology, which will allow operation without an overhead line for more than 10 km, allowing for a definitely greater flexibility of operation.
According to the plans, a new depot will be built in Quarto district. The 10,000-square-metre facility would house 30 18-metre and 20 12-metre vehicles and would have an interchange car park with 230 parking spaces. The historic depot of Staglieno, on the other hand, would be demolished and replaced with a parking lot with 700 parking spaces. Gavette depot would be updated. Finally, the Sampierdarena depot should be able to accommodate up to 150 trolleybuses after renewal works.
If the plan will be approved, the start of the first batch of works would be scheduled by September 2021.