Heliox to provide charging infrastructures for future Wiesbaden's 56 eCitaro
Heliox is taking responsibility of Wiesbaden charging infrastructure's network, where 56 Mercedes eCitaro will be deployed (the larger order for Mercedes electric bus so far). Heliox will provide the charging infrastructure (for overnight charging) and will be responsible for the electrical installation and medium voltage grid connection. Construction works will be finished by 2021. Heliox […]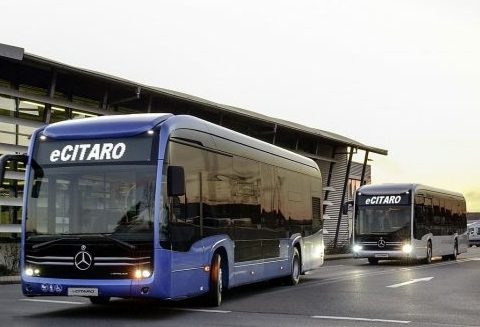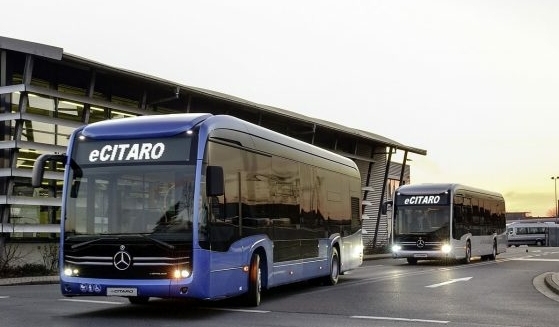 Heliox is taking responsibility of Wiesbaden charging infrastructure's network, where 56 Mercedes eCitaro will be deployed (the larger order for Mercedes electric bus so far). Heliox will provide the charging infrastructure (for overnight charging) and will be responsible for the electrical installation and medium voltage grid connection. Construction works will be finished by 2021.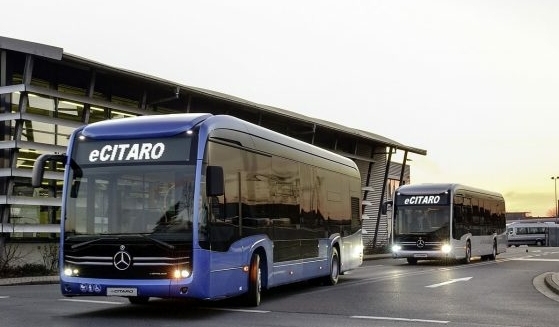 Heliox to supply charging infastructures for eCitaro
The scope of Heliox's contract stretches further than the delivery of the overnight chargers, but is to be regarded as a complete turnkey project, Heliox points out. It includes full installation and service: charging stations, medium voltage connection and a full service and maintenance contract. Heliox charging infrastructure will be compatible with the fleet management system used, which facilitates monitoring of buses and the charging infrastructure in order to enable smart charge management.

The first Heliox chargers operational in 2020
The construction work will start at the end of 2019, the first chargers will be operational in 2020. The charging infrastructure will be fully operational in 2021.
Koen van Haperen, Director Strategic Accounts at Heliox, commented about winning this project: "First of all we would like to thank the ESWE Verkehr and Daimler Buses for granting us the trust and confidence to make ESWE Verkehr ready for emission free transport. We are delighted that the close cooperation with Daimler Buses is paying off. And we are fortunate to be able to work together with partners who are doing their utmost to make this possible. From Heliox point of view, we are looking forward to make the implementation work and will further proof the cost effectiveness of the overnight charging solution."
10 eCitaro to be delivered by the end of 2019
Wiesbaden, the state capital of Hesse will receive the first ten eCitaro buses this year, while the remaining buses will be delivered in 2020. The first 15 eCitaro for Wiesbaden will be equipped with current-generation lithium-ion batteries (NMC). Each eCitaro is equipped with twelve battery packs with a total capacity of 292 kWh, the maximum available to date on the vehicle (a specification ordered for the first time by VHH Hamburg a few days ago).
Solid-state batteries for 41 eCitaro
The remaining 41 eCitaro will be equipped with solid-state batteries (a technology supplied by French company Bolloré Blue Solutions) Daimler pointed out in a press release. Solid-state batteries have a very high energy density. In this case, according to Daimler, seven battery packs are sufficient in order to provide a battery capacity of 441 kWh. Even in winter when faced with the difficult demands of using all-electric heating, the eCitaro equipped with solid-state battery will cover more than 200 km according to the SORT 2 testing method, Daimler states.
Heliox to use second life batteries for charging stations
Recently, at UITP Summit 2019, Heliox and InvertedPower announced their collaboration to bring to market a new generation of battery buffered high power charging stations. That is to say, charging stations where the energy provided to the vehicle comes both from the grid and from an energy storage system, in order to enable the high power "sprints" of charging power required for opportunity charging.
Heliox, many projects in the NL
After having powered numerous battery electric bus systems in the Dutch cities of Rotterdam, the Hague, Groningen, Amsterdam Schiphol Airport area, Maastricht, Venlo and Eindhoven (without forgetting Oslo in Norway and Luxembourg), Heliox has also become the fast charging partner in the further electrification of Amsterdam as a city. The awarding of the contract was announced in April 2019.
The company will deliver a combination of opportunity and overnight charging with a total power of 8 MW. This order comprises of 31 Heliox DC chargers, which are placed in the bus depot and 7 Heliox OC 450 kW chargers placed en route.
More recently, Heliox signed a service contract with SPIE for installation, service and maintenance of charging infrastructure, after two years working together.