Newly refurbished Scania battery lab in Södertälje is up and running
The newly refurbished Scania battery lab in Södertälje is up and running. It is quite an important facility within the company's headquarters in Sweden, alongside the new battery assembly plant (equipped with ABB robots), as well as the test track optimised for electric and autonomous vehicles that will be ready in the coming years. The investment (quantified in over […]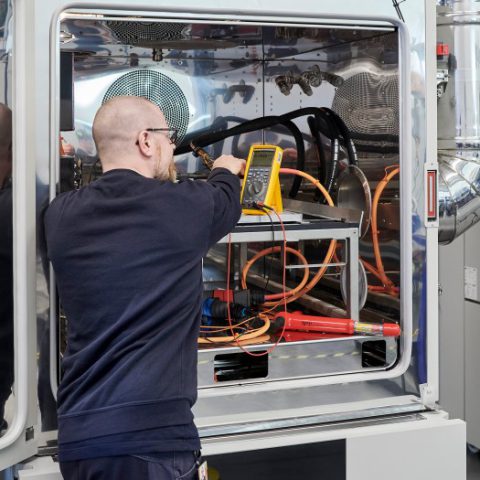 The newly refurbished Scania battery lab in Södertälje is up and running. It is quite an important facility within the company's headquarters in Sweden, alongside the new battery assembly plant (equipped with ABB robots), as well as the test track optimised for electric and autonomous vehicles that will be ready in the coming years.
The investment (quantified in over 100 million euros) was announced in late 2020. The move will get along with the expansion of Scania's electrified range of trucks, buses and engines. Just a few days ago, during a two-day event in Södertälje, the group has made available for a test drive its new 100 per cent electric Citywide, showed for the first time at Busworld in 2019.
What is odd, Scania is today the only big brand in the bus segment missing a share in the growing (although still nascent) electric bus market. Scania established trial electric bus operation in Sweden in 2018, mostly in Östersund in northern Sweden, where the buses have pantograph charging. In September 2021, it has been awarded a 6-units fleet, also in the domestic market.
Inside on Scania battery lab in Södertälje
Scania battery lab in consists of three 250-square metre test halls for battery cells, modules and packs, and each area is its own fire compartment for safety. The increase in capacity compared to the "old" laboratory is huge. And it is called for, as before, a battery could perform 1kWh, and soon Scania will be able to offer vehicles with batteries capable of 1,000 kWh. About 20 test rigs are currently in the lab.
With this lab, Scania can test the performance of battery packs on operational electric trucks and buses without removing batteries. Vehicles are parked close to the lab and connected to testing equipment.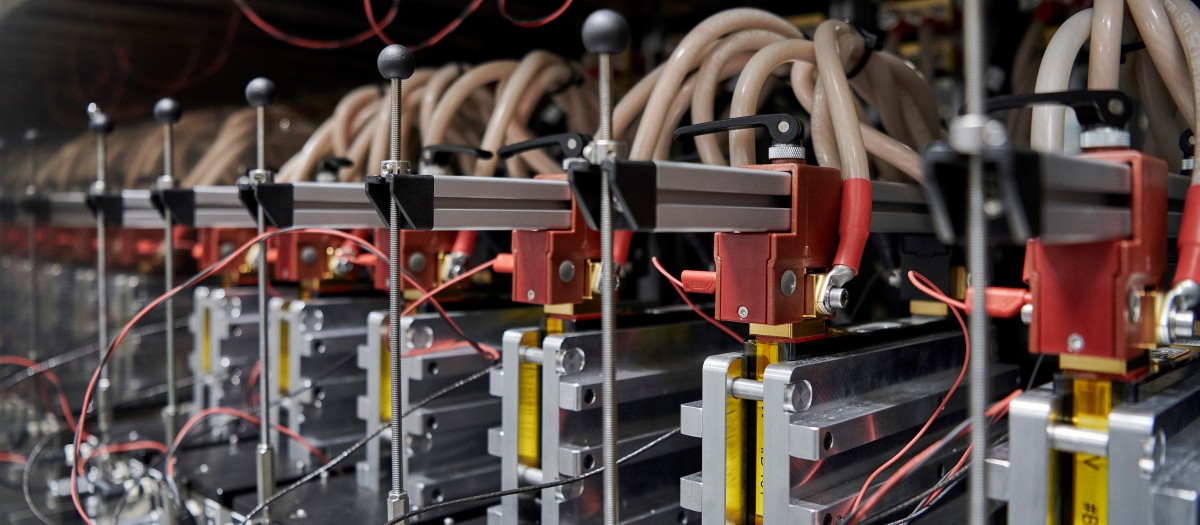 The test equipment is delivered by Keysight, a leading test and measurement equipment provider for e-mobility among other things. Keysight has delivered a holistic solution with products for testing batteries at cell level, but also at module and pack level, including the software to control the test stands as well as program and monitor battery tests.
Testing batteries? It takes time (even in Scania battery lab in Södertälje)
Scania battery lab lab can carry out tests on 170 objects simultaneously. The thing with testing batteries is that it takes time. "A lifespan test takes two years. It is the equivalent to seven years on the road. We also have this enormous chamber where we can put a whole power train, if we want to. If we use that instead of real-life winter tests, we save a lot of money", Scania states. The lab primarily focuses on battery performance and lifespan evaluation in varying climate conditions from -40°C to 70°C. Scania's engineers examine and identify the best operational conditions for the battery, considering things such as temperature setpoint, state of charge window and charging power profile for tailored utilization in optimizing battery life and customer needs.
"It was truly demanding to try and specify the needs we have today when the construction began a few years back. Some things weren't even in people's minds back then. But we see a need to intensify battery testing and tailored deployment. That is why we invest EUR 15,5 million in this new battery laboratory", said Håkan Örnhed, Head of Test Cell Operation Battery/E-components.
"We have trained for this massive transformation and industrial upscale for some years, now it is time to show it", concluded Öman. And more is to come. A place to prepare, where we add sensors and similar equipment, is on its way. "We also try tear-down, where we dismantle the cell into pieces. I wouldn't be surprised if we need even more space in a few years. It's mostly about how fast we can build new facilities".