Copenhagen pushes on the bus electrification roadmap. All lines to be zero emissions by 2025
All bus operation in Copenhagen will be electric by the end of 2025. On Friday, the municipalities of Copenhagen and Frederiksberg reached an agreement that the last five diesel-powered bus lines in the Danish capital will be electric, as reported on the trade media Bussmagasinet.se. That specifies: "To accelerate the transition, the PTA will cancel […]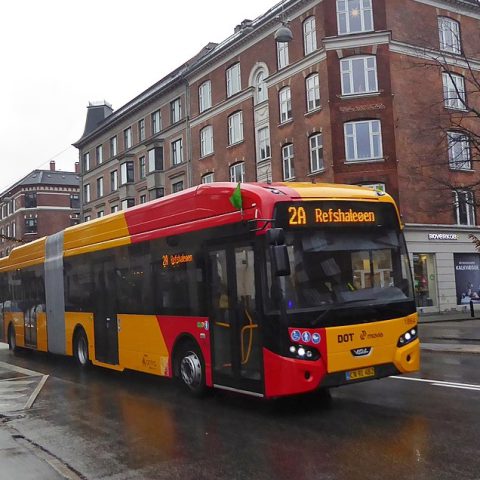 All bus operation in Copenhagen will be electric by the end of 2025. On Friday, the municipalities of Copenhagen and Frederiksberg reached an agreement that the last five diesel-powered bus lines in the Danish capital will be electric, as reported on the trade media Bussmagasinet.se.
That specifies: "To accelerate the transition, the PTA will cancel several agreements and compensate the operators for this". In June 2021, the six largest Danish municipalities (of course including the capital) have set a commitment to buy only zero emission buses from 2021 on.
Copenhagen accelerates e-bus deployment
Today, thirteen lines in Copenhagen are emission-free, and by the end of this year, 22 lines will be, Bussmagasinet.se says. This represents 57 percent of bus operations. Another twelve lines can be converted by the end of 2025, so that 34 lines or about 90 percent of bus traffic in the municipality of Copenhagen will be electric. In 2018, the goal was stated as being zero emission operations by 2030.
Beside the order for 31 Mercedes eCitaro announced in early November, Danish operator Vikingbus has also landed in late 2022 an order for 45 MAN Lion's City 12 E. They'll be deployed on routes in Greater Copenhagen. Deliveries are set to happen from spring 2023.
The five bus lines 12, 21, 33, 37, and 78 were set to be the only ones not powered by electricity by 2025. The new agreement between Copenhagen and Frederiksberg will change that. The concession for those lines expire in 2026 and 2029. But to make the transition to electricity possible, Copenhagen and Frederiksberg have decided to ask Movia to terminate the agreements early and compensate the operators for this. This will allow Movia to re-tender the operations with a zero-emission requirement and start in 2025.