Ebusco lands a new order in Munich: 14 articulated Ebusco 2.2 to join MVG fleet in 2023
Ebusco has received a follow on order from Stadtwerke München. It concerns an order for 14 Ebusco 2.2 18-metre buses. The delivery is scheduled for the first half of 2023. Stadtwerke München already has extensive experience with Ebusco buses. There are currently 12 Ebusco 2.2 12-metre buses in operation in the inner city of Munich, […]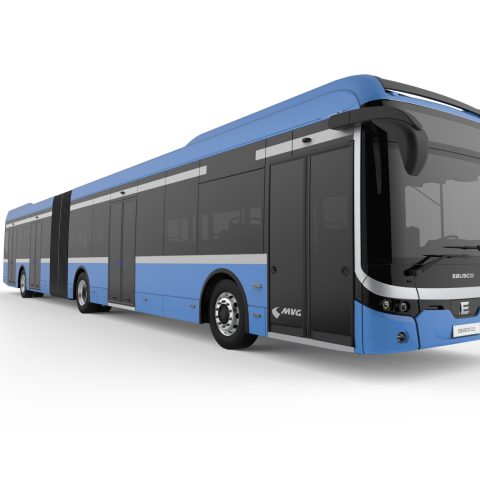 Ebusco has received a follow on order from Stadtwerke München. It concerns an order for 14 Ebusco 2.2 18-metre buses. The delivery is scheduled for the first half of 2023.
Stadtwerke München already has extensive experience with Ebusco buses. There are currently 12 Ebusco 2.2 12-metre buses in operation in the inner city of Munich, and two Ebusco 3.0 buses, which had their world debut in Munich.
Ebusco in Munich, the cooperation continues
Ebusco has been working as an innovation partner with Stadtwerke München and its subsidiary Münchner Verkehrsgesellschaft (MVG) for several years. This new order is a further consolidation of this partnership, the Dutch bus builder points out.
Peter Bijvelds, CEO Ebusco, comments: "We are delighted that Stadtwerke München has once again opted for Ebusco. Besides the 12-metre 2.2 bus and our new generation Ebusco 3.0 bus, our 18-metre 2.2 buses will also be seen on the streets of Munich. Stadtwerke München has been at the forefront of energy transition from the very beginning. We are proud to partner with Stadtwerke München in contributing to our shared goal of introducing zero emission transport as soon as possible".
Veit Bodenschatz, Managing Director and Head of Bus Operations at Münchner Verkehrsgesellschaft (MVG): "After the 12-metre buses from Ebusco met the range expectation, we are looking forward to taking its big brother on the road. By gradually switching to e-buses, we want to achieve the climate targets in transport and make public transport in Munich even more sustainable."