Electric buses in New York, the first articulated hits the road
The debut of electric articulated buses in New York. On Sunday, the first 18-meter zero emission bus (from New Flyer) was deployed by MTA on one of the city's busiest crosstown routes – the 14th Street busway – as part of the agency's plan to enhance and modernize the bus fleet. 15 articulated electric buses […]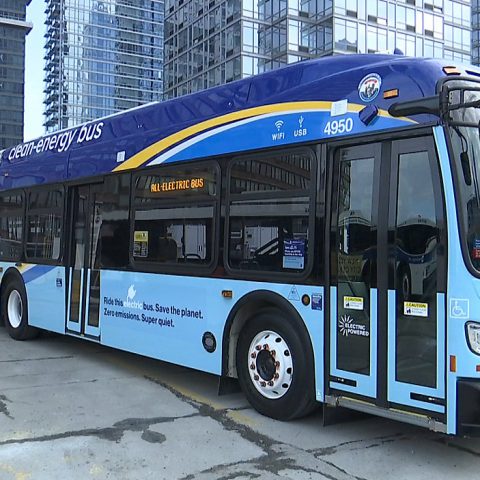 The debut of electric articulated buses in New York. On Sunday, the first 18-meter zero emission bus (from New Flyer) was deployed by MTA on one of the city's busiest crosstown routes – the 14th Street busway – as part of the agency's plan to enhance and modernize the bus fleet. 15 articulated electric buses are bound to hit New York roads, according to the order signed in March 2019.
The all-electric articulated bus represents the first of approximately 500 electric buses that will be purchased as part of the historic 2020-2024 Capital Plan and will serve all five boroughs.
New York airports are planning a transition to ebuses as well: 18 Proterra Catalyst E2 electric buses are deployed for shuttle service at John F. Kennedy International Airport (JFK), Newark Liberty International Airport (EWR) and LaGuardia Airport (LGA).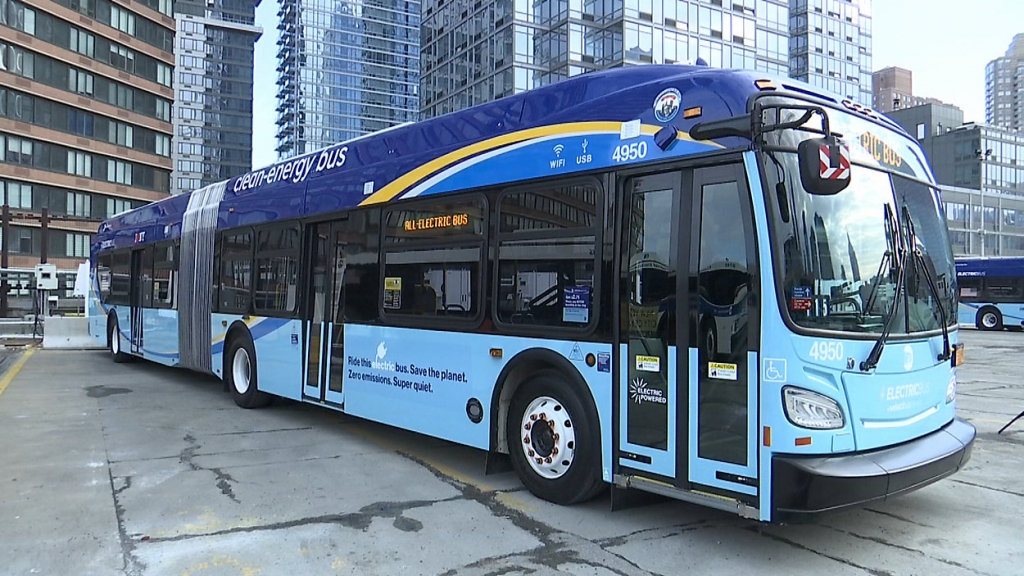 10 electric buses today operating in New York
The new electric articulated buses represent the next generation of MTA buses as the first to be delivered of the MTA's own electric fleet, just months after its iconic blue-and-white RTS buses were retired from service after nearly 40 years as a workhorse of the industry. MTA currently operates a fleet of 10 electric standard buses, which are leased for a 3-year pilot program to test the all-electric technology for capability and durability of around-the-clock four-season usage.
In January 2019, the MTA Board approved the purchase of 15 all-electric articulated buses, 16 in-depot chargers and one mobile charging unit from New Flyer. The delivery of the first wave of the 15 buses is scheduled for completion in March 2020 with an incentive for earlier delivery, MTA points out. These 15 buses will be deployed on the crosstown M14 route SBS, which serves more than 30,000 weekday customers and provides a crucial transit link and alternate.
Battery supplier? XALT Energy
The 60-foot New Flyer Xcelsior Charge features lithium-ion batteries. New Flyer batteries are designed specifically for rigorous 24/7/365 transit demands of New York City, utilizing American-based battery technology and American-based manufacturing supplied by XALT Energy.
As mentioned, contact includes New Flyer providing 16 Siemens 150 kW direct current interoperable chargers. Installation, testing and commissioning are to be performed by New Flyer Infrastructure Solutions: a service in charge of supporting mobility projects from start to finish, focusing on energy management optimization as well as infrastructure planning and development.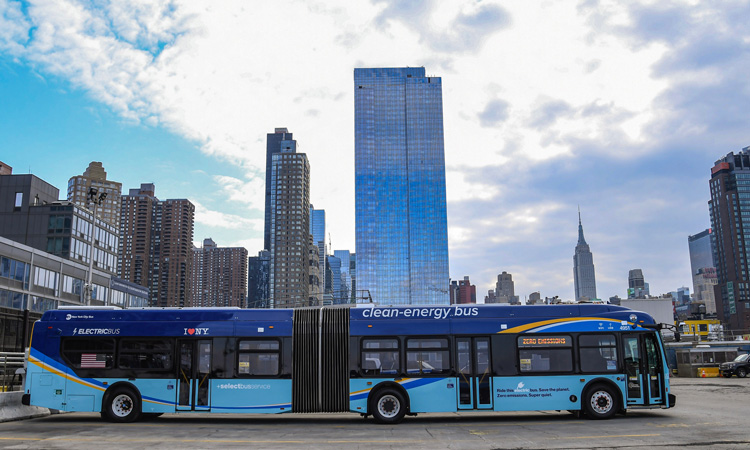 New York: a plan for the transition to zero emission buses
The just mentioned 2020-2024 Capital Plan accelerates the transition to a fleet composed fully of zero-emissions electric buses. The MTA plans to invest $1.1 billion to modify depots for electric bus operations, and to purchase 500 electric buses, including replacement buses and some additional buses. The program enables the MTA to acquire only electric buses beginning in 2029. Future all-electric buses will be deployed in neighborhoods across the five boroughs, after depots are upgraded to accommodate the new technology.
Electric buses represent the future of New York
"We are committed to a state-of-the-art bus fleet across the entire city that is green and sustainable, and that means moving toward all-electric technology," said NYC Transit President Andy Byford. "Our Fast Forward plan provides a blueprint on how we can work with vendors and other stakeholders to achieve that goal in all five boroughs. We're also thrilled about the popularity of the M14 and the busway that's helping to enable its success."
"Our first all-electric articulated fleet represents the future of MTA bus service and I'm excited for our customers to see and experience the difference," said Craig Cipriano, Acting President of MTA Bus Company and Senior Vice President of NYC Transit's Department of Buses. "This is a historic day for MTA buses and the start of our journey to a zero-emissions fleet that will set the standard for the rest of the nation as its largest public bus system."