ESWE takes delivery of the 100th eCitaro bus in Wiesbaden
Three years ago, ESWE Verkehr in Wiesbaden placed its first order for 56 Mercedes eCitaro buses. In February 2021 the first unit hit the road. In all, 120 electric buses have now been ordered. The 100th eCitaro from this overall package has now been delivered to the Hessian state capital. With the introduction of the […]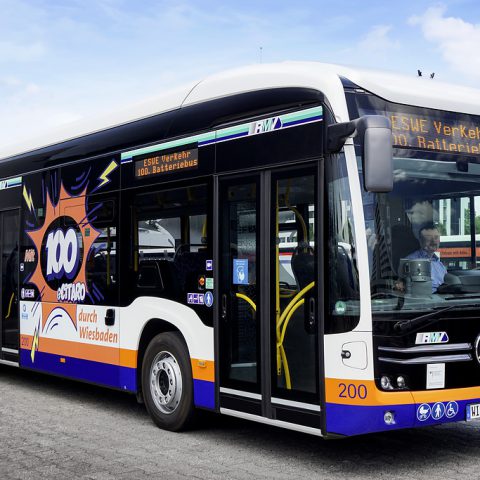 Three years ago, ESWE Verkehr in Wiesbaden placed its first order for 56 Mercedes eCitaro buses. In February 2021 the first unit hit the road. In all, 120 electric buses have now been ordered. The 100th eCitaro from this overall package has now been delivered to the Hessian state capital.
With the introduction of the eCitaro, ESWE Verkehr is implementing an ambitious plan: within just three years, the company has converted more than a third of its bus fleet to fully electric vehicles.
A few weeks after the first delivery, the first units of Mercedes eCitaro with solid-state battery were taken out of service and recalled by the manufacturer for checks on a potential insulation fault that could lead to short circuit. Nevertheless, it looks like the issue has been then fixed.
ESWE Wiesbaden with Daimler: e-mobility system from a single source
ESWE was the first transportation company in Germany to order an overall system consisting of city buses along with an entire infrastructure: the eCitaro buses themselves, replanning and reconstruction of the depot, fitting with charging station overlays, building the transformer station to convert electricity from medium to low voltage, and the installation of wiring on site. Daimler Buses took over the general contractorship so that the Hessians could then receive their e‑mobility solution from a single source. Three years ago it still represented a pioneering achievement. Chargers were provided by Dutch Heliox.
Charging management was also part of the order. This will be provided in collaboration with Daimler Buses partner company IVU Traffic Technologies from Berlin.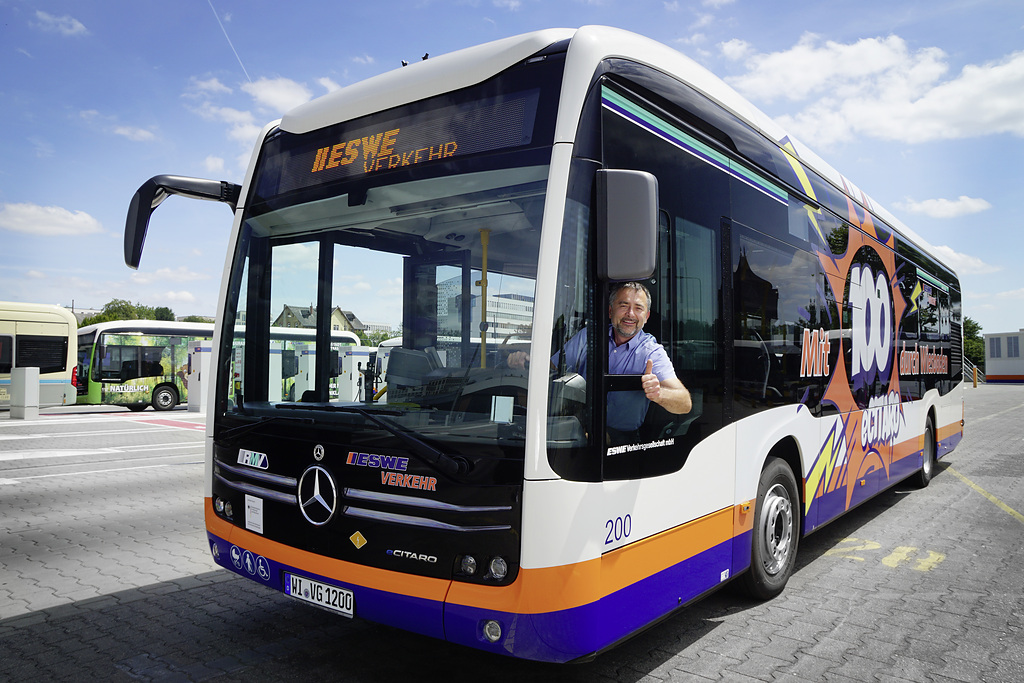 Anniversary eCitaro bus for ESWE
The anniversary bus is an eCitaro as a two-door solo bus and is part of the second delivery batch. Comprehensive equipment levels are typical for the Wiesbaden eCitaro. It features wood look floor and side wall trim in needle-punched nonwoven fabric. Seats and backrests of the passenger seats are covered with fabric, a WiFi router enables passengers to access the Internet, and USB sockets provide power for devices that they bring with them. A monitor is installed at the front behind the rear access area for the on-board infotainment system.
The driver is supported by the Preventive Brake Assist active brake assistant and the Sideguard Assist turning assistant – the two assistance systems protect vulnerable road users such as pedestrians and cyclists in particular. A pedestrian warning bell draws the attention of passers-by to the approach of the silent electric bus. The door to the driver's cab has a glass partition across its entire width. In addition to the usual mirrors, a video monitoring system provides an overview of whatever is happening on board. The energy capacity of the solid-state batteries amounts to 441 kWh, allowing a long range even in demanding topography. In Wiesbaden, certified and sustainable green electricity is generally used to charge the battery-driven buses.
"It is a special pleasure for me to be able to hand over the key to the 100th eCitaro to ESWE Verkehrsgesellschaft today," explained Rüdiger Kappel, Head of Sales, public transport Germany at Daimler Buses on the day of the ceremonial handover. "ESWE Verkehr is a long-standing customer with whom we have raised our partnership as a bus manufacturer to a new level."