Keolis Canada orders 12 electric school buses from Lion Electric
Keolis Canada has ordered 12 electric school buses Type C from the Quebec-based manufacturer Lion Electric. This transaction, Keolis points out, is on track with public opinion, as 92% of Quebeckers want school boards and schools to increase their use of electric buses. With this order, Keolis Canada will become the operator of the most […]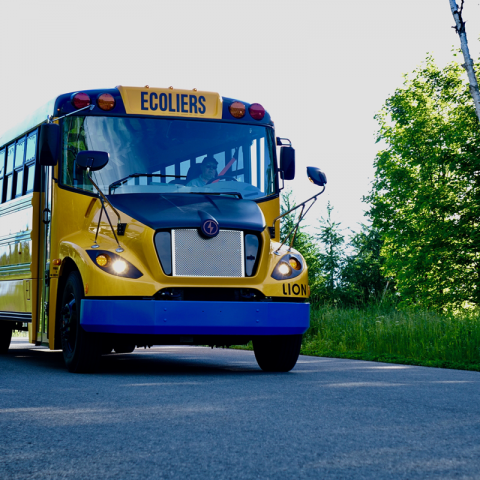 Keolis Canada has ordered 12 electric school buses Type C from the Quebec-based manufacturer Lion Electric. This transaction, Keolis points out, is on track with public opinion, as 92% of Quebeckers want school boards and schools to increase their use of electric buses. With this order, Keolis Canada will become the operator of the most Type C electric school buses. A few weeks ago, New York State has launched an electric school bus test fleet thanks to five LionC units.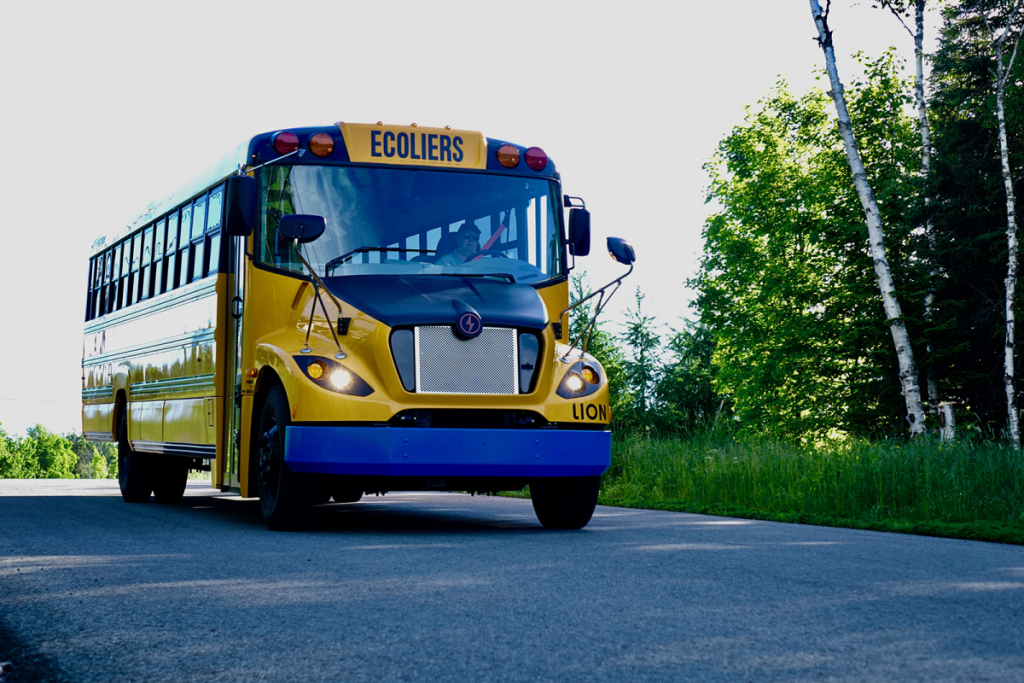 Keolis Canada will have 14 electric school buses
Type C is the standard school-bus model in North America with a 72-seat capacity. This new order follows the one signed in 2016, when Keolis Canada purchased two LionC electric school buses. After two years of successful operation, Keolis Canada has renewed its confidence in the Quebec manufacturer by purchasing 12 new electric school buses. The vehicles will be deployed starting in 2019 on Montreal's North Shore, specifically in the territory of the Commission scolaire des Affluents.
250 kW output for the electric school bus LionC
The LionC electric buses and their recognizable blue bumpers are manufactured and fully assembled in Quebec, in Saint-Jérôme. The bus model can develop up to 250 kW and 2,200 Nm. The LionC, formerly known as eLion, is based on the same body as the diesel schoolbus Lion 360. The Cummins engine is replaced with a TM4 SUMO MD electric motor. TM4 is also based in Canada, and has recently become part of Dana group. The charging time is between 4 and 6 hours, at 19.2 kW.
Dramatic cut in CO2 emission
Keolis Canada's 14 electric school buses with a 72-passenger capacity will travel 448,000 kilometres a year and transport 770 students from the Commission scolaire des Affluents school board, the company highlights in a press release. Their range is up to 250 km per charge. Overall, these 14 buses will allow the company to cut 3,864 tonnes of CO2 over the vehicles' lifetimes.
Keolis Canada: the future of public transit is electric
Patrick Gilloux, President and Chief Operating Officer of Keolis Canada, says: "We are very excited to transport a new generation of Quebec children in the Lanaudière region with these electric school buses. Keolis is actively engaged in promoting better living in the territories it serves and puts a lot of energy into developing and deploying new electric transportation methods because, for us, they represent the future of public transit and our vision of the transportation of tomorrow."
"We are very pleased to work with Keolis Canada on its commitment to sustainable transportation – Marc Bédard, President-Founder of Lion Electric – . We hope that this transaction inspires anyone looking for an economical, sustainable and environmentally friendly transportation solution to turn to electrification."
Daimler and Proterra jointly developing electric school buses
In North America there is a strong focus on electrification of school bus fleets. In September 2018 Daimler announced the beginning of the cooperation with Proterra. The launch of the first electric school bus realized by Proterra and Thomas Built Buses (subsidiary of Daimler Trucks North America) together was officially announced by Proterra in the end of October during the 44th Annual National Association of Pupil Transportation (NAPT) Conference. The Saf-T-Liner eC2 became then available in a version featuring Proterra battery systems. The supplier of the electric motor has not been mentioned.