India, TSRTC awards Olectra Greentech a major order for 550 e-buses (including electric coaches)
Olectra Greentech Limited has been awarded a major e-bus order by TSRTC. The manufacturer, a subsidiary of Megha Engineering & Infrastructures Limited, has received a massive order of 550 electric buses, the largest single order for electric buses in south India. The company will supply these buses to the Telangana State Road Transport Corporation (TSRTC), […]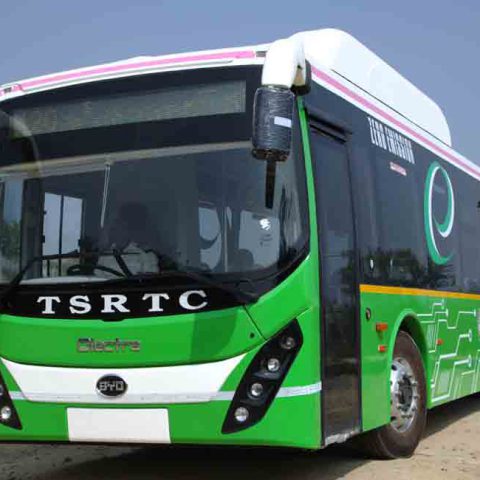 Olectra Greentech Limited has been awarded a major e-bus order by TSRTC. The manufacturer, a subsidiary of Megha Engineering & Infrastructures Limited, has received a massive order of 550 electric buses, the largest single order for electric buses in south India. The company will supply these buses to the Telangana State Road Transport Corporation (TSRTC), reads an article by the Indian media The Hindu.
The electric market in India is growing in a major way: according to the study of carried out by Ev Reporter during 2022, sales of electric vehicles in the Asian country exceeded one million units for the first time, touching 1,054,938, effectively tripling the sales recorded in 2021. The e-bus market in India has grown 65% in 2022.
One year ago OIectra Greentech has delivered 150 e-buses in Pune. The company has in force a deal with Chinese BYD with goal (stated back in 2019) of scaling up production up to 5,000 units per year.
550 electric buses by Olectra Greentech for TSRTC
The order includes 50 standard floor 12-metre intercity electric coaches and 500 low-floor 12-metre intracity e-buses, which will be delivered in several steps. The intercity e-coaches will operate between Hyderabad and Vijayawada and can travel over 325 km on a single charge, while the other 500 e-buses will run within the city and can travel over 225 km on a single charge, according to the information provided by The indu.
K.V. Pradeep, Chairman and Managing Director of Olectra Greentech Limited, said that the electric buses would lower operating costs for the state-owned transport corporation and will be charged at fast-charging stations.
TSRTC Managing Director V C Sajjanar stated that they hope to make electric buses available across Hyderabad by March 2025, and in the first phase, they are going to deploy all 550 Olectra e-buses, which will come into use in stages.