The Jouley by Thomas Built Buses (and Proterra) wins the first large order
Thomas Built Buses and Proterra welcome the first large order for the jointly developed electric school bus Jouley. The subsidiary of Daimler Buses, in fact, has been selected as the provider of all 50 electric school buses allocated for the initial phase of Dominion Energy's electric school bus replacement program in Virginia. The program represents the largest […]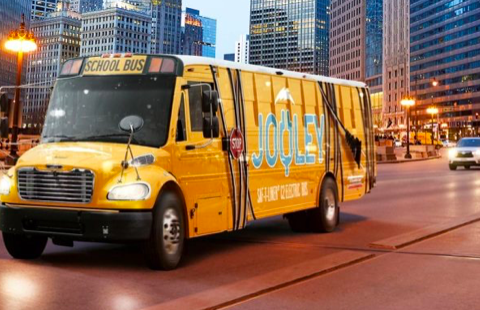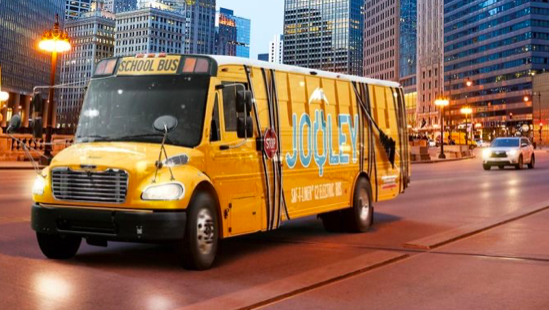 Thomas Built Buses and Proterra welcome the first large order for the jointly developed electric school bus Jouley. The subsidiary of Daimler Buses, in fact, has been selected as the provider of all 50 electric school buses allocated for the initial phase of Dominion Energy's electric school bus replacement program in Virginia. The program represents the largest deployment of electric school buses in the United States.
The Saf-T-Liner C2 Jouley lately joined the Saf-T-Liner C2 (which is diesel powered) in the portfolio of Thomas Built Buses. Mass production will begin in 2020. Jouley is powered by Proterra electric vehicle technology and configured with 220 kWh of total energy capacity, a two-speed transmission and a TBB-estimated operating range of up to 134 miles.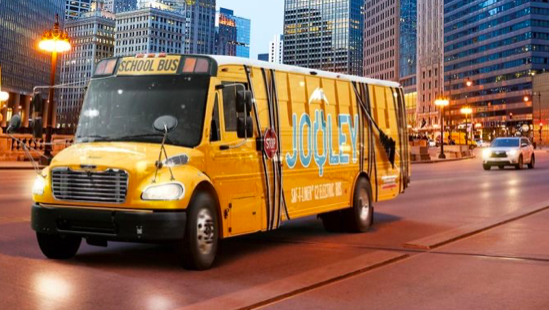 Proterra technology of electric school bus Jouley
Jouley can charge in about three hours with the Proterra 60kW DC fast charging system and can supply power back to the power grid using vehicle to grid (V2G) technology.
The vehicle has been developed through the partnership with Daimler, Daimler Trucks North America LLC and Proterra. The cooperation was announced at IAA Commercial Vehicles in Germany in September 2018 and is focused on the topic of school bus electrification, which is highly relevant for North American market. Then, the launch of the first Jouley was officially announced by Proterra in the end of October 2018 during the 44th Annual National Association of Pupil Transportation (NAPT) Conference.
In June 2019 the Jouley received full CARB and HVIP Certifications and was elected eligibile for funding from the California Energy Commission (CEC).
Electric buses to be the future of pupil transportation
"We are thrilled to lead the way in this groundbreaking initiative that is paving the way for a cleaner future and setting the bar for future electric vehicle conversions across the country," said Caley Edgerly, president and CEO of Thomas Built Buses. "We believe electric school buses to be the future of pupil transportation. They offer quieter operation, lower operating costs and zero emissions to the benefit of students, parents, school districts and local communities."
"As Virginia's exclusive Thomas Built Buses dealer, Sonny Merryman is thrilled with the opportunity to partner with Dominion Energy," said Floyd Merryman, president and CEO of Sonny Merryman. "Our team has always prided ourselves as innovation leaders in pupil transportation. This particular initiative is especially exciting not just for us but also for Virginia's students and our many loyal partners across the Commonwealth's public education community. Electric vehicles are the wave of the future, and we anxiously look forward to bringing this transformative project to a successful reality."
"Electric school buses remain one of the best applications for electric vehicle technology," said Proterra CEO Ryan Popple. "The all-electric Jouley incorporates Proterra's highest standards of battery safety and validation along with industry-leading onboard energy storage for electric school bus fleets."