Van Hool at Busworld 2019 with hydrogen bus and e-coach featuring Proterra batteries
Hydrogen BRT bus and an electric coach for US market. These are the main premieres Van Hool is going to showcase at Busworld 2019, together with a new variant of the EX coach that features a lenght of 11 meter (the shorter in the gamma). The articulated Exqui.City hydrogen powered is almost ready to start […]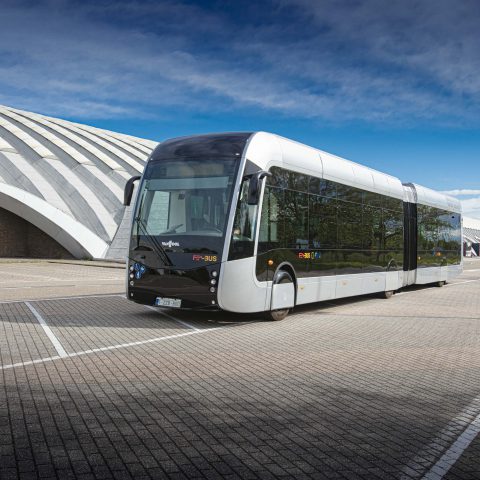 Hydrogen BRT bus and an electric coach for US market. These are the main premieres Van Hool is going to showcase at Busworld 2019, together with a new variant of the EX coach that features a lenght of 11 meter (the shorter in the gamma).
The articulated Exqui.City hydrogen powered is almost ready to start operations in the French city of Pau as part of the first hydrogen BRT line in the world.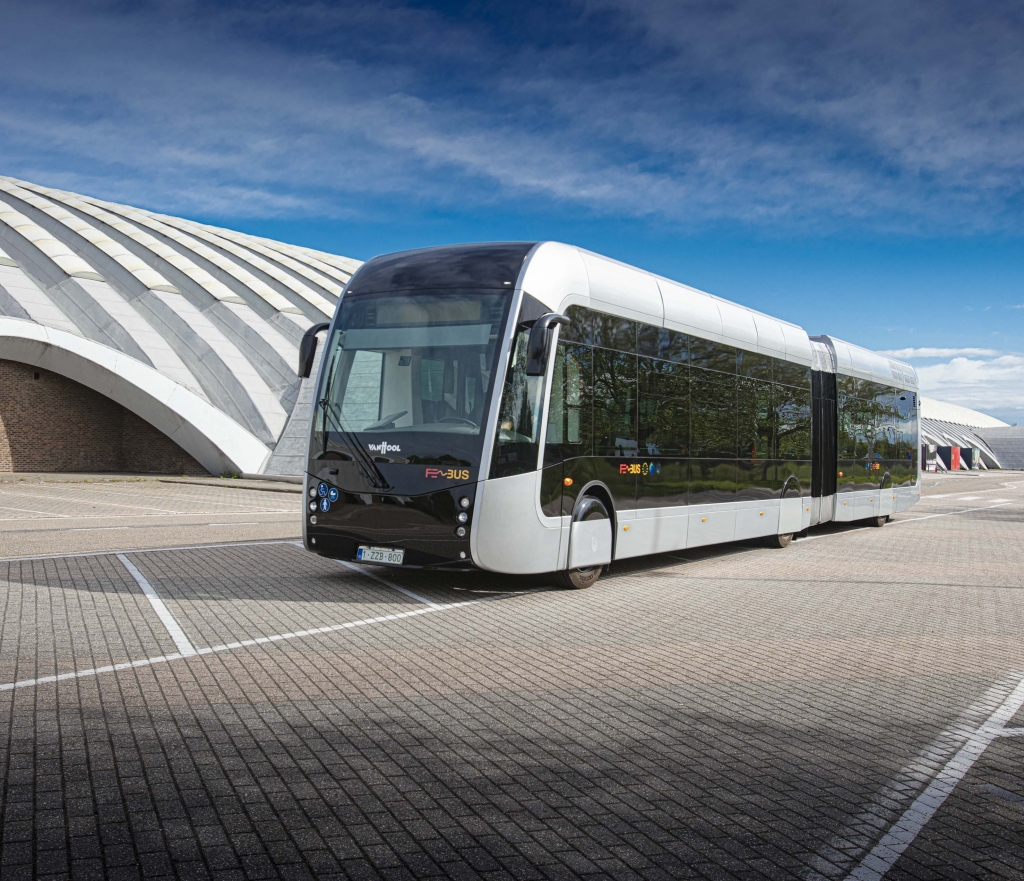 Van Hool runs on hydrogen: ready for Pau
In 2017, the French city of Pau ordered a total of 8 Exqui.City18 FC hydrogen tram buses from Van Hool. The fuel cell system, provided by Ballard Power Systems, converts hydrogen and oxygen into electricity used to power the ebus. Furthermore, part of the energy is stored in the lithium batteries to be used when needed, for example when the bus leaves the bus stop.
The Exqui.City18 FC, design Pau, can carry 125 passengers. The vehicle needs 10 minutes to refuel, and has a range of 300 km, says the manufacturer.
CX45E: Van Hool coach becomes electric (with Proterra)
At Busworld 2019 Van Hool will also present the CX45E, an electric coach for the North American market. As a supplier of battery modules, Van Hool has chosen Proterra, a US based manufacturer of battery technology for heavy vehicles (as well as complete buses).
A few weeks ago the company launched the Proterra Powered project, a new initiative that see the Californian manufacturer ready to make its electric vehicle platform available for the needs of OEMs, thus opening the way to a new series of partnerships on the development of heavy duty commercial vehicles. The partnership with Van Hool is one of those.
The Van Hool CX45E, which is 100% electrically driven, will have a declared range of approximately 300 km.
Van Hool at Busworld, here's the short coach
Van Hool will take the opportunity of Busworld 2019 also to launch the new shorter coach in its portfolio. The Van Hool EX11 (announced in May 2019) is the fourth model in the coach range (besides the EX15, EX16 and EX17). It is Van Hool's answer to the growing market demand for a comfortable and well-equipped vehicle in the "11-metre class".
With the L and H low access and standard variants, the Van Hool EX range includes now as many as 10 versions. Like all versions, the EX11 can be ordered now and all models are available with the latest generation "NG" Daf engines, combined with a wide range of manual, automated and automatic transmissions.