Sustainability Award at the BUS2BUS exhibition. Solaris, Iveco and many more awarded
The Sustainability Award held by the German magazine Busplaner has been handed over yesterday at the digital edition 2021 of BUS2BUS exhibition. 13 companies were crowned in 13 categories. Among the winners, the Solaris Urbino 15 LE electric, the natural gas bus Iveco Bus Crossway Natural Power, the premium double-decker Volvo 9700 DD and the […]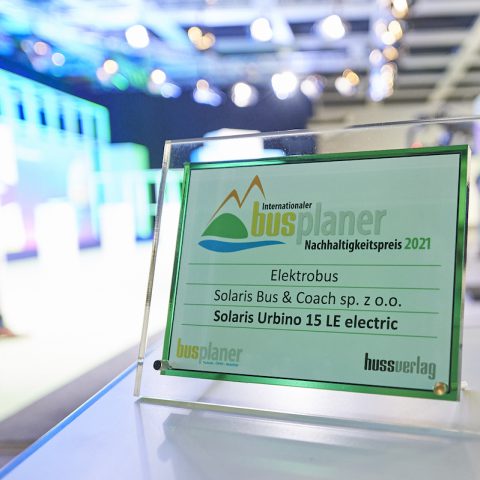 The Sustainability Award held by the German magazine Busplaner has been handed over yesterday at the digital edition 2021 of BUS2BUS exhibition. 13 companies were crowned in 13 categories.
Among the winners, the Solaris Urbino 15 LE electric, the natural gas bus Iveco Bus Crossway Natural Power, the premium double-decker Volvo 9700 DD and the minibus MAN eTGE Kombi. But also the thermal management system EmCO2s system by Konvekta for e-buses was awarded, as well as the two IT applications RoadbookMobile and FeederFlex by Voyages Emile Weber or the e-bus tyre Michelin X Incity EV Z. Finally, the UV purifier system from Valeo was also awarded.
Below, categories and winners:
Electric bus: Solaris Bus & Coach – Solaris Urbino 15 LE electric
Natural gas bus: Iveco Bus – Crossway LE Natural Power (CNG)
Hybrid bus: CM Fluids AG – CMF Bus
Minibus and midibus: MAN Truck & Bus Germany – MAN eTGE Kombi
Coach: Volvo Buses – Volvo 9700 DD
Intercity bus: MAN Truck & Bus – MAN Lion's Intercity
Hydrogen bus: Proton Motor Fuel Cell – HyRange® fuel cell range extender
Vehicle equipment: Valeo Thermal Commercial Vehicles Germany – UV purifer
Vehicle components: Konvekta AG – EmCO2s – Ecological CO2 System
Fleet management and telematics: Voyages Emile Weber – RoadbookMobile
Infrastructure: Nexxtlab & Voyages Emile Weber – FeederFLEX
Tyres and tyre management: Michelin – MICHELIN X® INCITY™ EV Z
Service, maintenance and parts trade: Werbas – WERBAS-Nfz for bus and coach workshops
Iveco Crossway Natural Power crowned
Equipped with the 360 hp IVECO Cursor 9 NP, the Crossway and Crossway Low Entry Natural Power offer high performance in terms of autonomy with a range of up to 600 km and in terms of pollutant and sound emissions reduction. They perfectly meet the growing needs for an environmentally friendly passenger transport in urban, peri-urban or interurban areas. With natural gas, fine particles emissions levels are reduced to nearly zero, and nitrogen oxide emissions are reduced by more than one third. The noise level is also reduced by half, offering exceptional operating silence for the driver, passengers and people nearby.
Of course, the Crossway and Crossway Low Entry Natural Power buses also help to save natural resources, as they are 100% compatible with biomethane, produced from organic waste. The vehicles thus have an excellent carbon balance and make a concrete contribution to the energy transition in local public transport. The environmental benefit is a reduction in greenhouse gas production of up to 95%.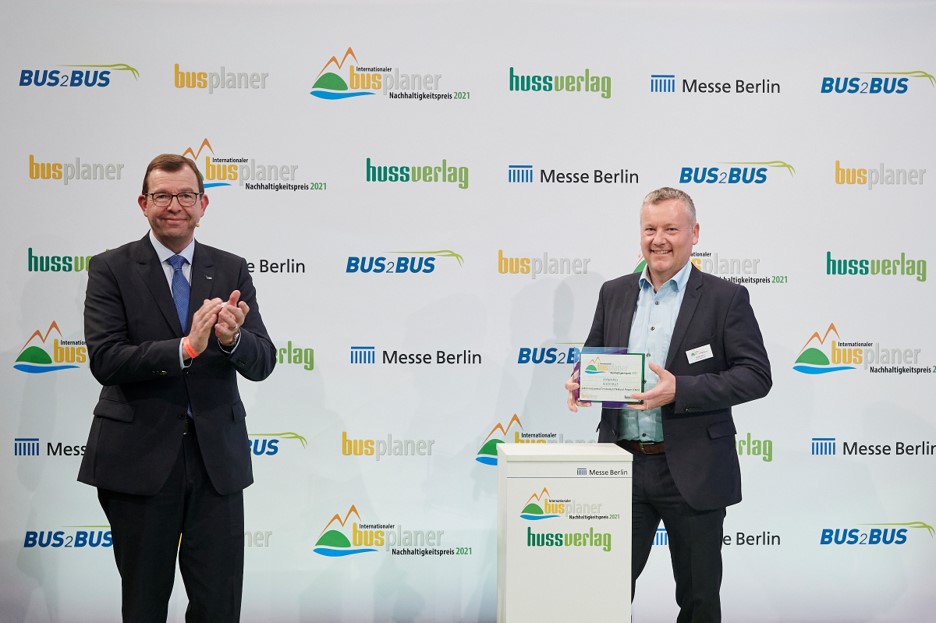 Solaris gets a Sustainability Award
"We are very happy that the contribution of Solaris to sustainable transport in Europe has been acknowledged. The expansion of emission-free technologies is crucial to reach climate neutrality. Our latest electric bus model marks yet another step towards helping decision-makers in cities and operators to shift towards environmentally-friendly mobility," said Christian Goll, the Managing Director of Solaris Deutschland GbmH while receiving the award.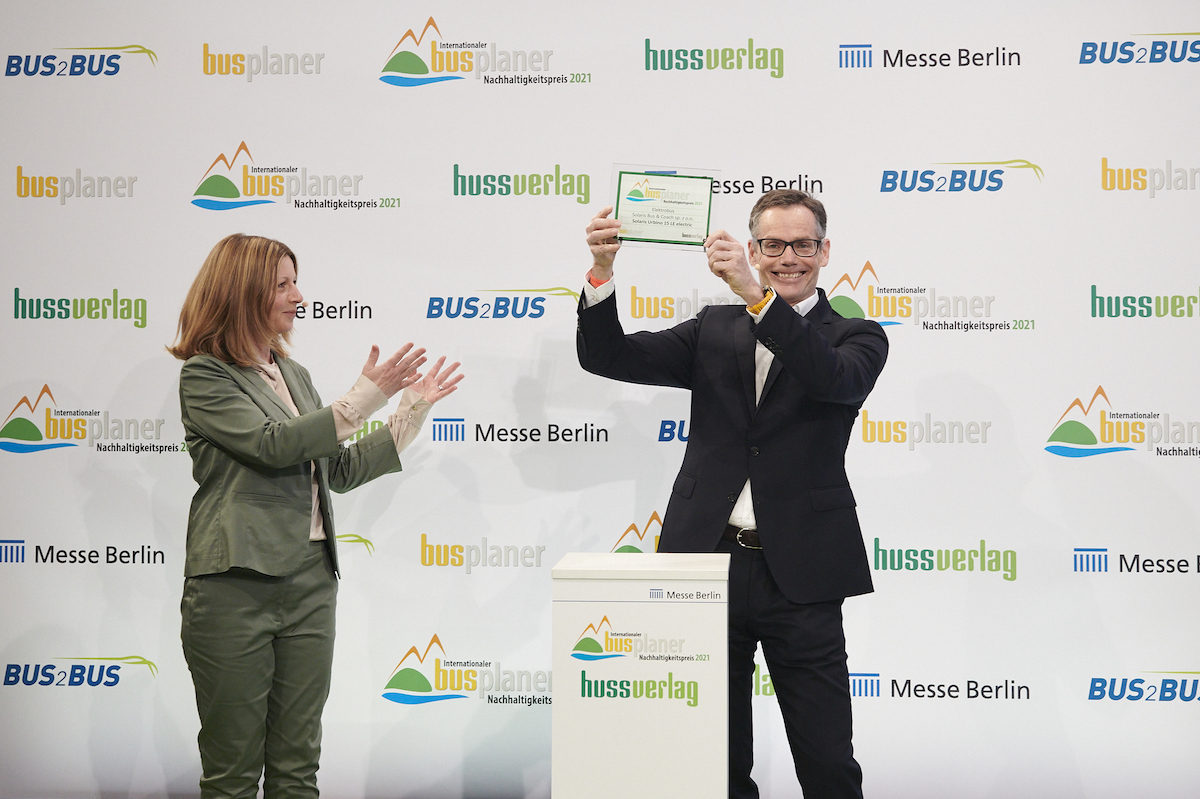 Launched in late 2020, the Urbino 15 LE electric is the first electric bus made by Solaris designed both for city and intercity routes. Marking a highly important step towards zero-emission transport, this feature became a key argument for the jury in support of awarding the firm. This bus is an excellent, ecological alternative for diesel models currently prevailing in the segment of intercity transport vehicles. This comes as a response to the needs of European carriers, and it makes for a completely emission-free alternative in this class for CNG-fuelled buses.