Hamburg to test the eCitaro with fuel cell range extender in 2021
Hamburg will be the first city to test the Mercedes eCitaro with fuel cell range extender. The public transport company Hamburger Hochbahn is going to purchase 530 electric buses between 2021 and 2025. Also hydrogen applications will be in the spotlight. Starting in 2021, the operator will be field-testing the new  vehicle, in the articulated […]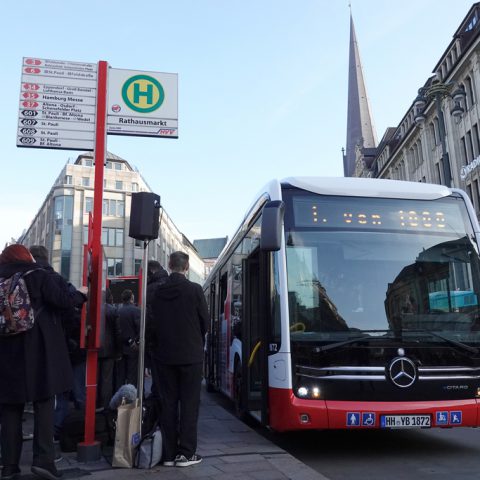 Hamburg will be the first city to test the Mercedes eCitaro with fuel cell range extender. The public transport company Hamburger Hochbahn is going to purchase 530 electric buses between 2021 and 2025. Also hydrogen applications will be in the spotlight. Starting in 2021, the operator will be field-testing the new  vehicle, in the articulated version. Two units will be involved in the pilot.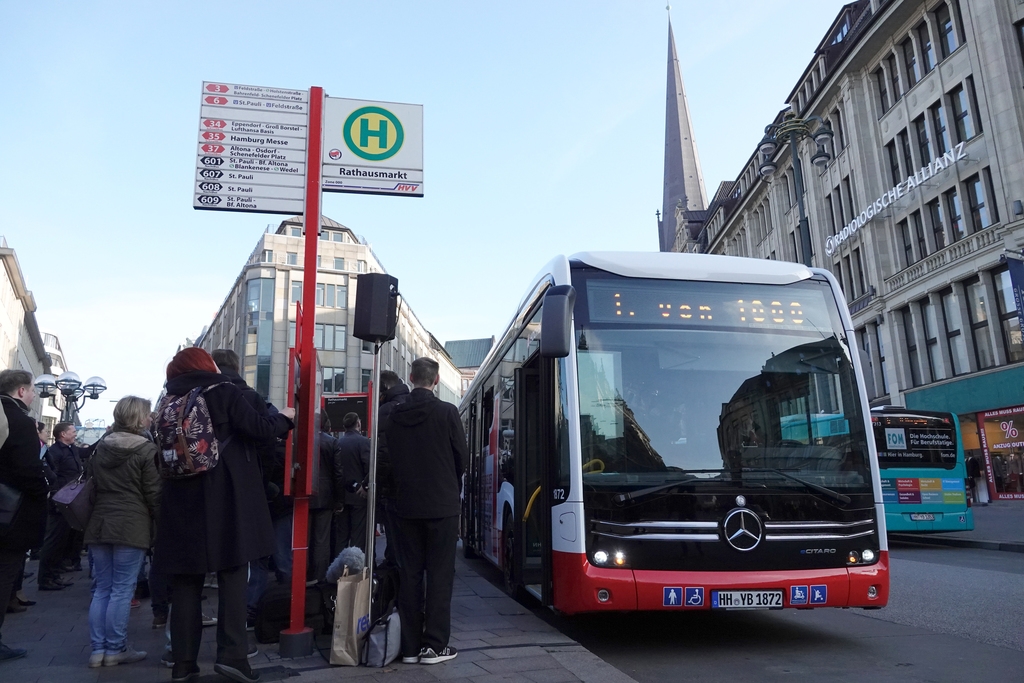 Hamburg to test fuel cell range extender on the eCitaro
"As soon as our partner Daimler or other bus manufacturers start mass production of electric buses with fuel cells in addition to battery buses, we will also test them for regular service," had said Henrik Falk, CEO of Hamburger Hochbahn, with regards to the tender for 530 electric buses, as reported to Electrive. It was just a few days ago. The road was paved for further news. That has already come. The letter of intent between carrier and manufacturer was signed today by Henrik Falk, Chair of the Board of Hamburger Hochbahn AG and Till Oberwörder, Head of Daimler Buses.
The evolution of Mercedes eCitaro
As already announced, the electric bus will be equipped, since next year, with a new battery generation (solid state batteries) that is expected to bring a significant increase in capacity and therefore range. Then the eCitaro G articulated bus will also be rolled out. The next step will be the eCitaro G with a fuel cell as a range extender.
The fuel cell range extender, in Daimler's plans, will allow the eCitaro to fulfill nearly 100 percent of all requirements on city buses. This technology eliminates the need for intermediate charging and the complex infrastructure required for it in almost all cases: the eCitaro will be able to replace combustion engine-powered city buses virtually one to one, Daimler claims.
With the fuel cell as a range extender, the eCitaro is anticipated to achieve, according to Daimler, a range of up to 400 km depending on the vehicle configuration and equipment.
Fuel cell range extender for higher range
Henrik Falk, Chair of the Board of Hamburger Hochbahn AG: "We anticipate a number of advantages to arise from the new development of the fuel-cell bus based on the purely electric vehicle, especially when it comes to covering greater ranges. And following the world premiere of the electric bus in Hamburg, the 2021 launch of this latest development in Hamburg highlights our pioneering role in operating emission-free buses. Now, it's all about getting those vehicles on our roads as fast as possible". Indeed, Mercedes delivered the first all-electric eCitaro to Hamburger Hochbahn in November 2018. It was part of an order for 20 eCitaro. For 2020, Hamburger Hochbahn has already ordered another 25 eCitaro.
With around a thousand city buses, Hamburger Hochbahn operates 113 lines with 1353 stops. These buses carry around 214 million passengers a year. The close cooperation between Mercedes and Hamburger Hochbahn has a long tradition. In 1997, the company from Hamburg was among the first customers of first-generation Citaro buses. Since then, Mercedes-Benz has delivered over 1,500 Citaro and CapaCity buses to the company.
Till Oberwörder, Head of Daimler Buses: "We've already implemented many ambitious projects with Hamburger Hochbahn AG. And the eCitaro G with range-extending fuel cell is one the decisive steps on the road to locally emission-free and extremely quiet public transport using city buses."