CaetanoBus sells the very first fuel cell buses in Portugal
CaetanoBus sells its first two fuel cell buses for the domestic market. These are the first hydrogen vehicles ever ordered in Portugal. Cascais Municipality announced yesterday, 31th May, the purchase of two Caetano H2.CityGold. The bus has been recently tested in Spain by ALSA. Still in Spain, eight vehicles are headed to Barcelona. These buses […]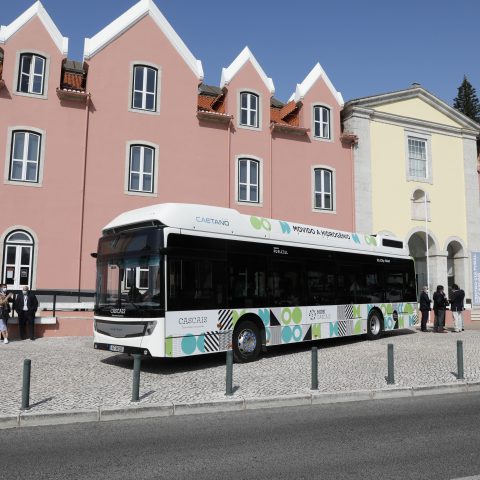 CaetanoBus sells its first two fuel cell buses for the domestic market. These are the first hydrogen vehicles ever ordered in Portugal. Cascais Municipality announced yesterday, 31th May, the purchase of two Caetano H2.CityGold. The bus has been recently tested in Spain by ALSA. Still in Spain, eight vehicles are headed to Barcelona.
These buses will join more than 30 units already ordered by carriers located in Germany, Spain, France and Denmark, reinforcing Caetano's international presence. What is more, In December 2020 a strategic alliance was announced between Toyota Europe, CaetanoBus and Finlogin an effort dedicated to the development and production of fuel buses in Europe.
The first fuel cell buses in Portugal
Both zero emission buses will be equipped with Toyota's fuel cell. This bus will be able to offer a range of 400 km which guarantees the flexibility of the operation for its operators, CaetanoBus says. The components such as hydrogen tanks, batteries and fuel cells, placed on the roof, allow a low-floor and an optimization of the vehicle's interior making it more spacious and providing a more comfortable experience for all passengers.
José Ramos, President of CaetanoBus, highlighted the role of the municipality, which he classified as an "ambassador of this solution" and guaranteed that the decarbonization "is not a trend, but a need".
Carlos Carreiras, Mayor of Cascais, highlighted the role of Caetano and the national industry in the decarbonisation journey, a "responsibility that belongs to everyone".