Solaris delivers three articulated Urbino electric to TMB Barcelona
Solaris electric buses are now running in 38 cities in 13 European countries. The last delivery, a few days before the end of 2018, took place in Barcelona, where the Polish manufacturer supplied 3 electric articulated buses to Transports Metropolitans de Barcelona (TMB). The delivery marks the completion of a contract signed in July 2017. In the Spanish city […]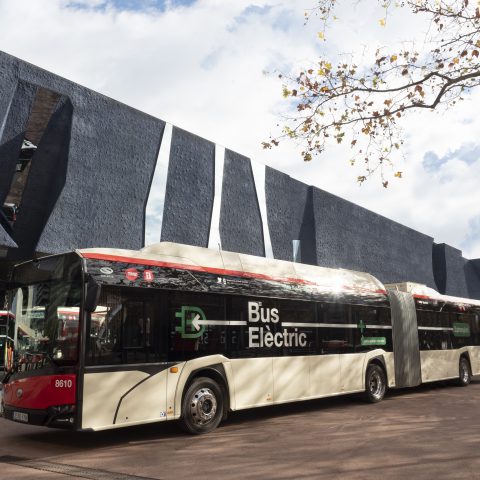 Solaris electric buses are now running in 38 cities in 13 European countries. The last delivery, a few days before the end of 2018, took place in Barcelona, where the Polish manufacturer supplied 3 electric articulated buses to Transports Metropolitans de Barcelona (TMB). The delivery marks the completion of a contract signed in July 2017. In the Spanish city there are already nearly 60 Urbino 18 hybrid buses cruising the streets. TMB bought also four battery electric articulated bus Irizar ie tram, that started operation in December.
Pantograph charging for TMB's electric Urbino
The zero emission Urbino delivered to TMB is fitted with a central electric motor with a rated power of 240 kW, as well as 5 sets of lithium-ion traction batteries with a total capacity of 146 kWh. The vehicles can be charged in two ways: by plug-in or via a roof-mounted pantograph placed above the first axle, with the latter charging mode enabling fast charging of up to 400 kW, states Solaris in a press release. The manufacturer was taken over by the Spanish group CAF during 2018. The supplied buses feature a range of improvements raising the comfort of use from the point of view of passengers, the bus driver and also the operator managing the bus fleet. The vehicles feature among others a system of sound alerts warning pedestrians of the approaching vehicle.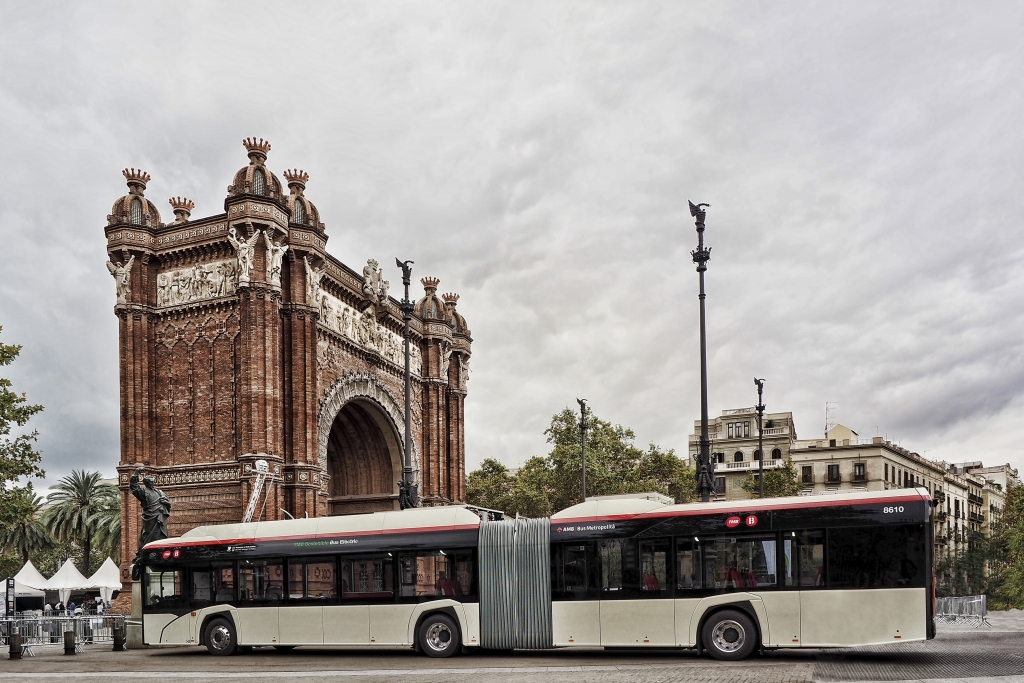 Smart video system helps the driver
Meanwhile drivers will benefit from the 270° peripheral system, i.e. a smart video surveillance system which – thanks to ultra-wide angle cameras installed on the sides and in the back of the vehicle – shows the driver in real time an extended view of the bus and its surrounding taking into account also "blind spots". Solaris has included thermal pre-conditioning in the Urbino 18 electric buses for Barcelona. As part of the ZeEUS project, TMB Barcelona already had the opportunity to test the Urbino electric for a period of two years. In Spain, states Solaris, nearly 200 Urbino electric are currently in use in cities such as Castellón de la Plana, Pamplona, Las Palmas de Gran Canaria, Sevilla or San Sebastian. Three Urbino 12 buses carry passengers at the Palma de Mallorca airport.
Over 10 million green kilometres
"The delivery of Solaris' electric buses to Barcelona is an extremely important event; the order placed by the customer is a proof of the customer's satisfaction with the vehicles of our brand. I am convinced that our experience in the production of green urban transport vehicles, counted in over 10 million kilometres driven by these, will translate to an improved travel comfort in the articulated Urbino electric buses for TMB in Barcelona," assures Javier Calleja, CEO of Solaris Bus & Coach.