New Flyer awarded up to 565 hybrid buses in Toronto
TTC Toronto has contracted up to 565 buses with New Flyer. The contract includes 134 Xcelsior forty-foot hybrid-electric buses, and 68 Xcelsior sixty-foot hybrid-electric buses (136 equivalent units) for a total of 270 EUs. The two four-year contracts include options for up to additional 263 forty-foot hybrid-electric buses and 100 sixty-foot buses, respectively. In 2018 […]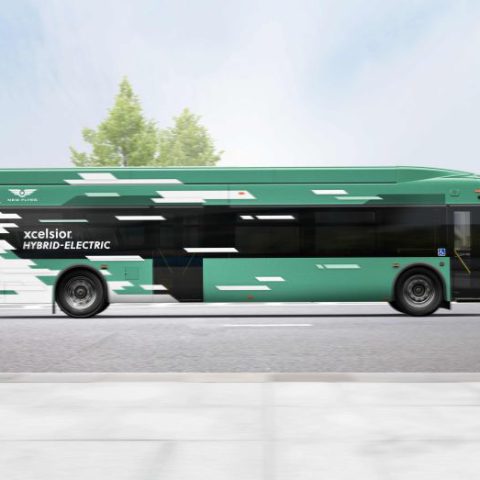 TTC Toronto has contracted up to 565 buses with New Flyer. The contract includes 134 Xcelsior forty-foot hybrid-electric buses, and 68 Xcelsior sixty-foot hybrid-electric buses (136 equivalent units) for a total of 270 EUs. The two four-year contracts include options for up to additional 263 forty-foot hybrid-electric buses and 100 sixty-foot buses, respectively.
In 2018 the same TTC Toronto received 55 hybrid buses from Volvo's company Nova Bus. New Flyer has already been delivering e-buses in the city. In September 2020 TTC had 35 e-buses in operation, with 25 to come as a result of a 60-units electric bus tender.
All 202 of the buses will be equipped with BAE Systems' next-generation Modular Accessory Power System. The buses are also configured with intelligent geo-fencing technology, that through GPS navigation, will turn off the diesel engine and operate in zero-emission electric mode when entering designated areas.
New Flyer hybrid buses for TTC Toronto
TTC is the third-largest transit system in North America, delivering more than 526 million annual passenger trips through its bus, subway, streetcar, and paratransit services in Toronto, Ontario. TTC currently operates the largest fleet of battery-electric buses in North America.
The buses modernize TTC's fleet and propel the agency's 5-Year Service Plan and 10-Year Outlook, designed to meet the growing demand for transportation in Toronto.
In addition to the awards received and added to backlog, NFI group says that «the forty-foot hybrid-electric heavy-duty transit bus contract also includes 600 options made available to other Ontario-based transit agencies. Agencies can use these additional options to make their own hybrid electric bus purchases, often in a more expedited manner than traditional procurements. As there are no defined quantities allocated to NFI, or any other original equipment manufacturer, from these additional options they are not included in backlog, and will be once a customer purchases a bus under the agreement». 
"NFI's leadership in hybrid-electric mobility spans 20 years, supplying more hybrid buses in North America than any other manufacturer," said Chris Stoddart, President, North American Bus and Coach. "Our partnership with TTC started 55 years ago. Since 1968, we have delivered nearly 1,000 vehicles, including 25 battery-electric buses – making New Flyer the only provider of both hybrid-electric and battery-electric buses to TTC. With these new buses, NFI adds the ability to meet green zone regulations through intermittent zero-emission operation, and ultimately, is helping accelerate TTC's transition to zero-emission and building a more livable GTA."