Works have been completed to house 22 e-buses in Glasgow
Four hours are enough to charge the vehicles in UK's largest e-bus depot, managed by First Glasgow. The operator announces it has completed Phase One of its green transformation with installation of state-of-the-art rapid charging units. 22 new electric buses are to arrive on site ahead of COP26. Phase Two of major works at Caledonia […]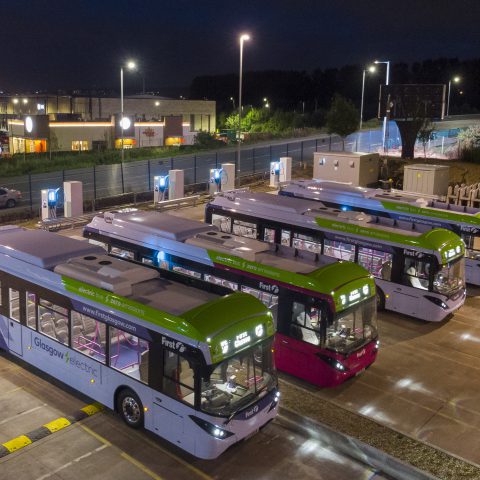 Four hours are enough to charge the vehicles in UK's largest e-bus depot, managed by First Glasgow. The operator announces it has completed Phase One of its green transformation with installation of state-of-the-art rapid charging units.
22 new electric buses are to arrive on site ahead of COP26. Phase Two of major works at Caledonia depot is due for completion in summer 2022 to support 150 fully electric vehicles being built by Falkirk-based manufacturer Alexander Dennis. They are expected at the newly transformed depot in batches over the next 18 months with the final buses entering service early in 2023 (35 single deck and 91 double deck are expected to run over 100,000 miles per week and replace the most polluting Euro III vehicles from the fleet).
With phased completion for the remainder of the work scheduled to take place across the next 12 months, the depot has been designed to accommodate and charge up to 300 EV buses on site – and will see the introduction of 150 electric buses over the next 18 months.
As we have seen, the future of e-mobility is built on rapid charging, and ensuring the charging infrastructure is in place to make this a possibility must be a priority. Our partnership with First Bus to bring versatile, convenient charging to the city of Glasgow puts us in a unique position ahead of COP26 later this year, to make a significant contribution to the discussions at the event, as well as positively impacting fleet owners across the UK. Our unique charging offering ensures fleet owners are able to effectively deploy and manage their e-fleets while serving cities of the future.

Michael Colijn, Chief Executive Officer at Heliox Group said
First Glasgow: a depot for e-buses
The depot transformation is being delivered thanks to over £63m of funding: First Bus is investing £35.6m into the project, while the Scottish Government's Scottish Ultra Low Bus Scheme (SULEB) is funding a further £28.2m.
Glasgow's Caledonia bus depot has reached a key milestone in its green transformation plans with the installation of 11 advanced rapid 150kW dual cable charging units. This first phase of work has been completed ahead of a new batch of 22 electric buses arriving at the depot ahead of COP26, and marks a significant step forward in First Bus' plans to have a zero-emission fleet by 2035.
The state-of-the-art dual cable direct current rapid charging units have been supplied by Dutch rapid charging business Heliox and installed by Powersystems UK.
Each rapid charging station will be controlled via smart charging software to ensure that power is used in the most efficient way. This approach will help minimize the draw down from the national grid at peak times. The digital programming will also mean that each vehicle is fully charged, and the bus interiors are preheated, ready for drivers and customers from the moment the vehicles leave the depot. With an additional 69 rapid chargers to be installed in Phase Two, Caledonia depot will soon be able to charge 162 vehicles at one time.
Following completion, the adapted depot will have the capability to charge 89% of the depot's electric bus fleet at the same time using smart charging software. First Bus' long-term objective is to ensure that the site is fully prepared for the transition to a 100% zero-emission fleet. This will include opportunities for further on-site renewable energy generation and storage.
«Future of e-mobility relies on rapid charging»
Janette Bell, Managing Director for First Bus UK said: «Innovative technology and electric infrastructure are key to minimising the UK's carbon emissions, and so it's fantastic to see this first step of our vision for the UK's largest EV bus depot come to fruition. Our transition to a zero-emission fleet is a bold ambition, and at every stage First Bus is committed to transforming our business for the good of the environment. We're proud to be putting our weight behind Scotland's green ambitions and the completion of this first phase of works at Caledonia depot give us an exciting glimpse into the future of bus. To see this first EV charging station site completed and ready to go in Glasgow, just as the city prepares to host COP26 later this year, is a brilliant achievement».
Michael Colijn, Chief Executive Officer at Heliox Group said: "As we have seen, the future of e-mobility is built on rapid charging, and ensuring the charging infrastructure is in place to make this a possibility must be a priority. Our partnership with First Bus to bring versatile, convenient charging to the city of Glasgow puts us in a unique position ahead of COP26 later this year, to make a significant contribution to the discussions at the event, as well as positively impacting fleet owners across the UK. Our unique charging offering ensures fleet owners are able to effectively deploy and manage their e-fleets while serving cities of the future."