Karin Rådström: Scania, the electric bus, the LNG coach
Karin Rådström, Scania Vice President, Head of Buses and Coaches, outlines the strategy of the group with regards to electromobility and sustainability solutions. The electric city bus, the choices about battery technology, the LNG coach. Scania, electric bus toward serial production Electric bus by Scania is moving forward toward serial production. Three Citywide LF electric […]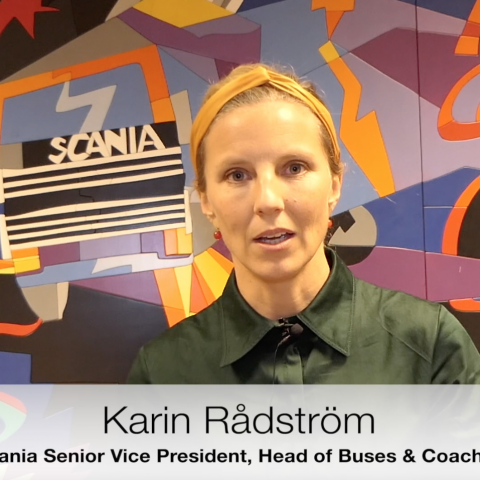 Karin Rådström, Scania Vice President, Head of Buses and Coaches, outlines the strategy of the group with regards to electromobility and sustainability solutions. The electric city bus, the choices about battery technology, the LNG coach.
Scania, electric bus toward serial production
Electric bus by Scania is moving forward toward serial production. Three Citywide LF electric have been tested since the end of 2017 in the Swedish northern city of Östersund on a 14 km line equipped with two charging stations at both ends of the line. The electric bus has been shown at IAA in Hannover. Following six-month trials of the battery electric Scania Citywide in the northern Swedish city of Östersund, results are encouraging and Scania is moving forward toward serial production, Scania reports in a press release. No information are provided regarding the starting moment of serial production. According to the announcements released before the beginning of the pilot, in 2019 other three units of electric bus by Scania will start the operations. The first three vehicles have been deployed on the city main line, with buses running every 15 min, for a total of 100 journeys a day.
The LNG coach: a world premiere
Still in Hannover, Scania unveiled the first LNG coach in the world. The vehicle is expected to cover about 1,000 km. It can also be powered by liquefied biogas, that can reduce carbon emission by up to 90 percent. The tank has a volume of 912 litres. Low decker version of the vehicle (Interlink LD) is already available with CNG engine (280 or 320 hp, 1350 or 1500 Nm of torque respectively), and won Sustainable Bus Award 2017, thanks to the fact that it was the only intercity bus with gas-fuelled available on the market. While electric drives step by step gain ground in urban transport, LNG appears the most suitable type of fuel to meet the growing demand for sustainability from the world of long-distance heavy transport.