GridBeyond: the transition to EV fleets and the issue of charging
Transition to EV fleets is underway: optimization of charging becomes paramount and artificial intelligence is there to help. That's the business where GridBeyond is involved. The company has indeed developed an AI-powered platform which has the goal of accelerating the transition to a net-zero energy sector. Named Point, the platform integrates with and optimises energy […]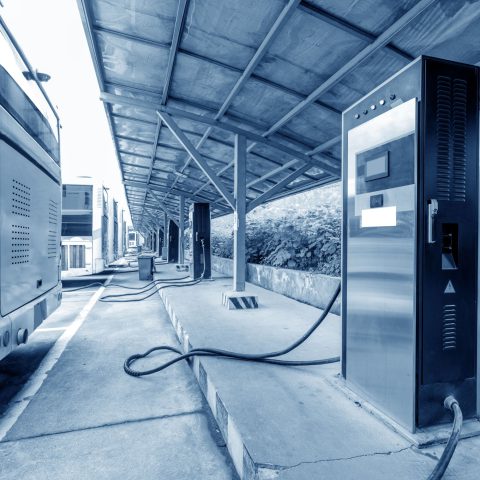 Transition to EV fleets is underway: optimization of charging becomes paramount and artificial intelligence is there to help. That's the business where GridBeyond is involved. The company has indeed developed an AI-powered platform which has the goal of accelerating the transition to a net-zero energy sector.
Named Point, the platform integrates with and optimises energy demand and generation assets of all shapes and sizes, from refrigeration and arc furnaces to batteries and solar PV, supporting customers to make more strategic decisions about the way energy is used, stored and managed, GridBeyond says.
The background of GridBeyond's offer is the following: while charging a single electric vehicle, given the technological maturity nowadays achieved in the industry, implies no problems; charging a fleet of EVs can be a real challenge. Many factors come into play and energy management becomes fundamental.
On the 28th October the company is promoting a webinar focused on "EV Fleets & Energy Markets. How to manage price volatility, boost resilience, generate new revenue, and advance Net Zero".
With challenge comes opportunity. Given EVs are essentially a battery on wheels, they can be utilised as an energy storage system. Price dynamics are already creating an opportunity for EV owners. We are helping some of our customers by finding the optimal tariffs to reduce their charging costs.

Michael Phelan, Co-Founder and Chief Executive, GridBeyond.
GridBeyond: focusing on charging of EV fleets
With offices in Dublin, London, Houston and Tokyo, GridBeyond works together with local authorities, charge point operators, infrastructure providers and fleet operator (bus companies included) to offer a complete energy management system, powered with Artificial Intelligence and machine learning. Such services help customer avoid charging at peak prices' times optimizing demand, generation and storage assets. As a result, fleets can be charged on the cheapest and cleanest energy possible and ready to drive in accordance with operational needs.
What is more, GridBeyond's platform allow the customer to earn revenue from their EV fleet giving back energy to the grid when possible. GridBeyond's activities range from modelling financial benefits to network constraint management and benefits of co-locating on-site generation or battery storage with the fleet.
GridBeyond and EV fleets, the electric car market is rising
In the bus market, electrification is proceeding at a quick pace. In 2020 the battery-electric bus market increased of 22% in Western Europe (with the addition of Poland). 2,062 e-buses (trolleybuses excluded) were registered between 1 January and 31 December 2020, vs the 1,685 that debuted in 2019 (that, it is worth remembering, it has been a truly record year with tripling figures on 2018). As of today, in the area, considering also the promising figures of the first half of 2021, 6.420 e-buses have been delivered since 2012.
A look at the e-car market: in 2020 the global electric car stock hit the 10M mark, a 43% increase over 2019, and representing a 1% stock share. Battery electric vehicles (BEVs) accounted for two-thirds of new electric car registrations and two-thirds of the stock in 2020. This has been driven in part by the falling cost of batteries. According to the BNEF's yearly survey of battery prices, the weighted average cost of automotive batteries declined by 13% in 2020 from 2019.

A white paper by the International Council on Clean Transportation (ICCT) comparing life-cycle greenhouse gas emissions of combustion engine and electric passenger cars found that emissions generated over the lifetime of a mid-sized electric passenger car are between 66%-69% lower than those of a car with a combustion engine, GridBeyond mentions. And the environmental performances of electric vehicles will improve as grids decarbonise as both manufacturing of components and the charging of the vehicles increasingly run on zero emissions power. Regulations that promote electrification are crucial to capturing the future benefits of renewable energy.
EV fleets, the challenge is on volume and time of charging
While many have argued that the power grid cannot cope with significant increases in EVs on the system, the UK's National Grid has estimated that even if there was an overnight switch to EVs, the increase in overall demand would only amount to 10%. "The biggest challenges for the grid with the rise of EVs are around demand volume and time of charging", says Michael Phelan, Co-Founder and Chief Executive, GridBeyond.
He adds: "That amount of new added demand for electricity will by itself become a challenge for grids all around the world, and in particular for grids that are constrained. With charge timing, the challenge is when consumers will charge their vehicles. In most grids, the peak hours are the ones right when people are arriving home from work, so if business fleets finish operations at 5pm and immediately plug their EV fleet in to charge, that is going to be difficult for the grid operator. However, with challenge comes opportunity. Given EVs are essentially a battery on wheels, they can be utilised as an energy storage system. Price dynamics are already creating an opportunity for EV owners. We are helping some of our customers by finding the optimal tariffs to reduce their charging costs. By automating their systems to charge only when the electricity price has fallen to a given level, we are helping to reduce our customers' costs. By going beyond optimisation and enabling bi-directional vehicle to grid (V2G) charging, these customers could send electricity back to the grid at times of peak demand. This creates a new revenue stream, by providing flexibility services when the price is right."