15 BYD e-buses are now part of EMT Madrid's fleet
15 BYD K9UB electric buses are now part of EMT Madrid fleet. Yesterday's handover ceremony marks the first time that BYD has supplied vehicles to EMT Madrid, Spain's largest public transport provider operating 2,100 vehicles. The new electric bus vehicles will be deployed on a new perimeter line that will soon be launched in the framework […]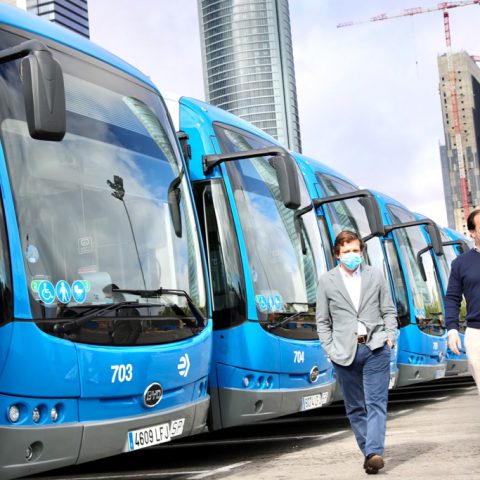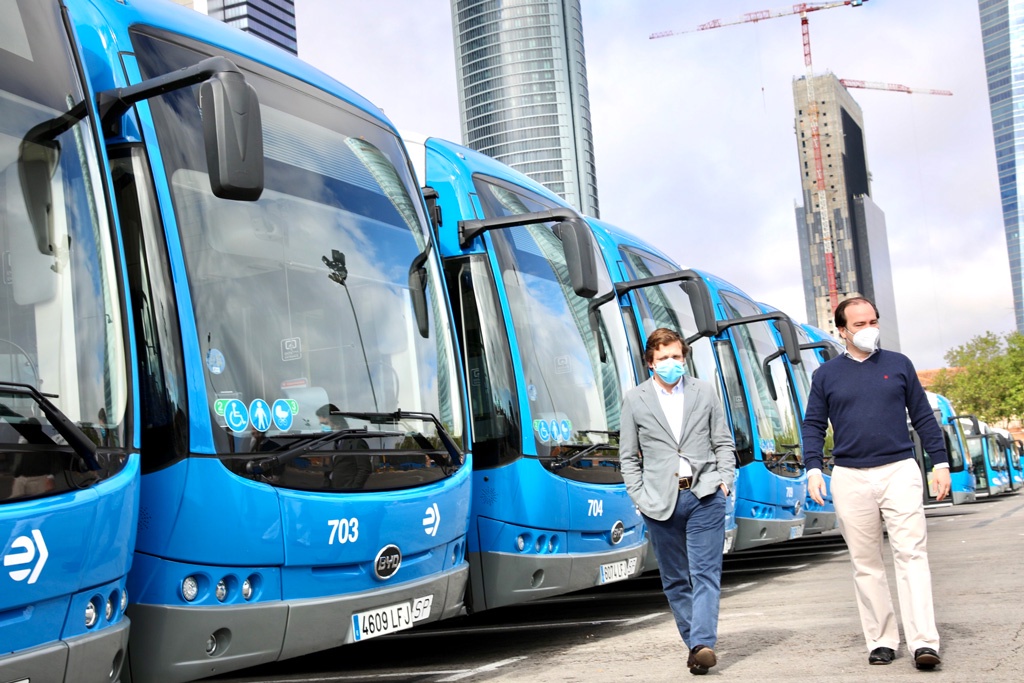 15 BYD K9UB electric buses are now part of EMT Madrid fleet. Yesterday's handover ceremony marks the first time that BYD has supplied vehicles to EMT Madrid, Spain's largest public transport provider operating 2,100 vehicles.
The new electric bus vehicles will be deployed on a new perimeter line that will soon be launched in the framework of Madrid 360 Environmental Sustainability Strategy, as well as on the high-frequency line 52 that links Puerta del Sol with Santamarca.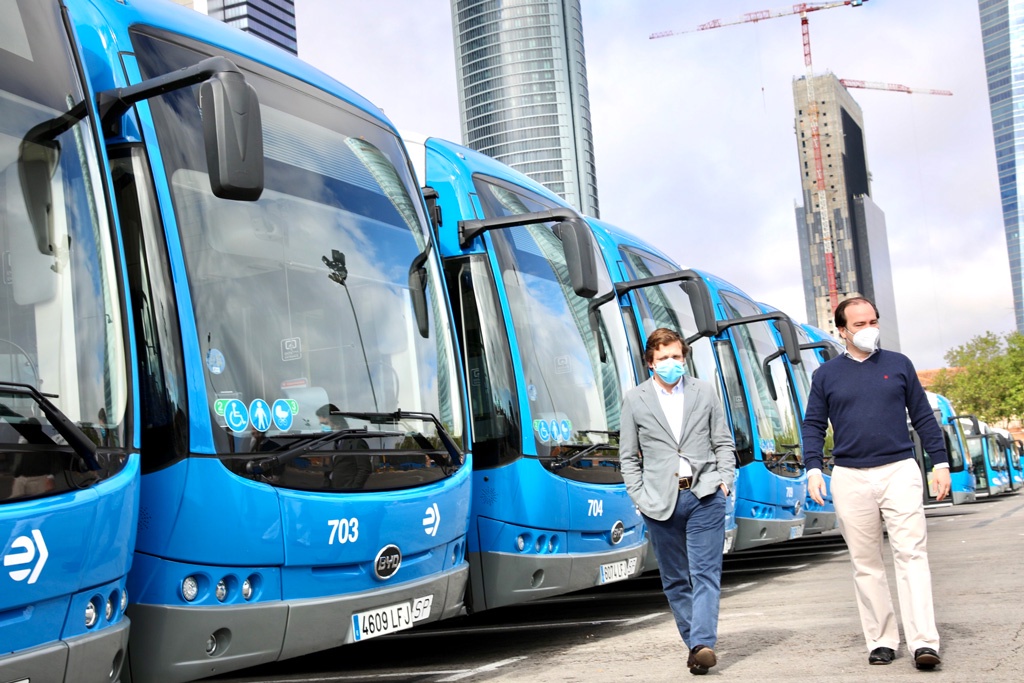 These 15 vehicles bring the total number of electric buses in the EMT fleet to 82 and consolidate the Madrid City Council's commitment to electrification and sustainable mobility. In February 2020 a batch of ten Irizar electric buses debuted on two lines running from north to south and from east to west of the Spanish capital city (EMT has ordered a total of 20 battery-electric buses with Irizar logo). And a call for tenders for as many as 50 e-buses has been published earlier this year.
EMT Madrid is particulary known for the deployment of CNG powered buses: in late 2018 the public transport company ordered 276 units of the Mercedes Citaro NGT and 184 Scania N-280 CNG. In 2027, according to plans, one third of EMT Madrid bus fleet will be electric and the other two thirds will be made of gas-powered buses.
BYD in Spain and Portugal
In the Iberian Peninsula BYD has so far fleets operating in Barcelona, Valencia and Badajoz in Spain, and in Coimbra, Portugal. In 2019, Badajoz, in the southwest of Spain, received the 50,000th e-bus built by BYD.
The BYD K9UB electric model is powered by two motors of 150 kW each, fed by two lithium ferrophosphate battery packs. Charging requires four hours of charging, and the electric bus range stated by the manufacturer is 300 km (specification of battery capacity haven't been released).
15 BYD e-buses for Madrid, the handover ceremony
The Mayor of Madrid, José Luis Martínez-Almeida, together with the Councilor for Mobility, Borja Carabante and Alfonso Sánchez Vicente, Manager at EMT Madrid and Joaquín Bellido, Sales Bus Director for BYD Iberia, visited yesterday morning the Fuencarral operations centre of the Municipal Transport Company (EMT), where he got to know first-hand the characteristics of the new electric buses that have been incorporated into the EMT.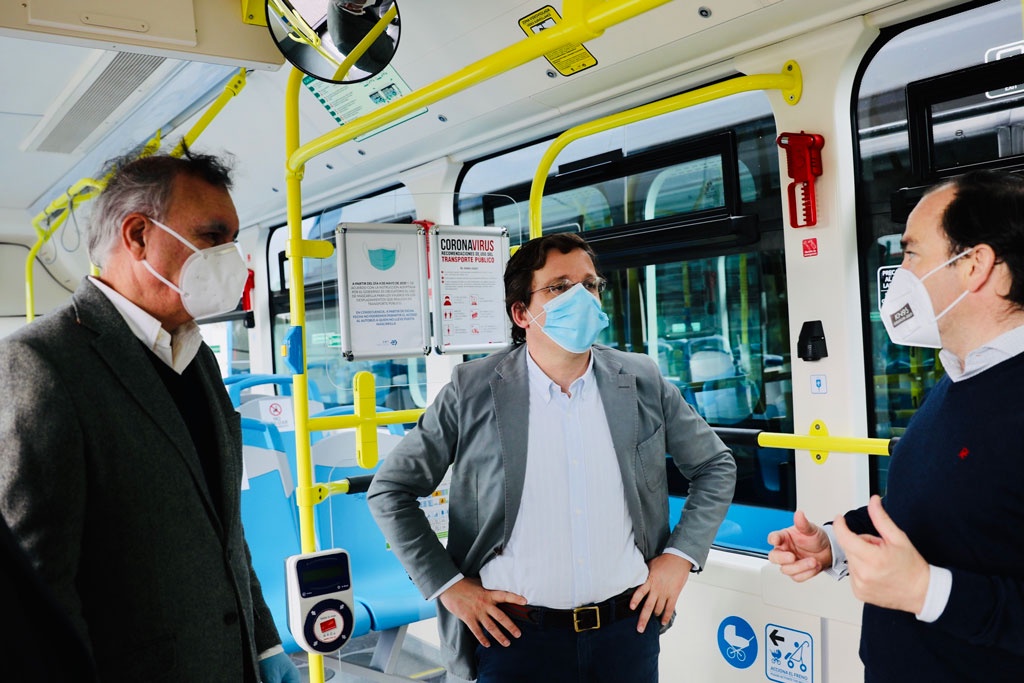 While receiving the new BYD eBuses, Mayor Ameida, said, "The Madrid City Council continues its commitment to sustainable mobility – especially in the aftermath of the coronavirus pandemic. Prevention and safety measures are being adopted for anyone using public transport," he said, "and we encourage all Madrid's residents to use public transport. Today's 15 new electric buses come with great environmental credentials and will join the two first lines where there are zero emissions."
BYD's Joaquín Bellido said in response, "I'm delighted that EMT Madrid is helping to reintroduce a return to normal daily life in Madrid, and with a statement of intent to improve air quality in the city with a fleet of new BYD eBuses. We are very excited too," he said, "at the prospect of seeing BYD eBuses on EMT Madrid's new circular route in the city centre very soon. With the rate of infection of the coronavirus now on a downward curve throughout Europe, we can now start gradually to move forward again with Public Transport Operators and help them deliver safe, comfortable, emissions-free transport for their citizens." he added.
A futuristic depot for EMT electric buses
The general manager of EMT Madrid recently stressed, in an interview to the Spanish specialized magazine Viajeros, the importance that a new EMT depot for electric buses will have. The project for the conversion of La Elipa depot was disclosed in 2019. Madrid City Council approved the plan in April 2019.
The current site will be demolished and a new depot will be built. It'll be a futuristic building of 40,000 square meters (32,000 dedicated to bus parkings) covered with solar panels and enriched by vertical gardens. The City Council announced it will invest nearly 90 million euros in the new infrastructures. Works are expected to be completed in two years.
[fusion_youtube id="https://www.youtube.com/watch?time_continue=5&v=X3w4ldtoHF0&feature=emb_logo" alignment="" width="" height="" autoplay="false" api_params="" hide_on_mobile="small-visibility,medium-visibility,large-visibility" class="" css_id=""][/fusion_youtube]
«La Elipa's depot is going to become a reference center for electromobility, not only in Spain, but in all Europe – Sánchez said to Revista Viajeros -. It will have a capacity for 330 electric buses with roof-pantograph charging system. We know that we will need an important energy supply and we are working with the energy companies. But we must remember that the centre will generate its own photovoltaic energy for self-consumption and that all the vehicles will have intelligent charging systems to make the process as efficient as possible».