50,000 electric buses out of BYD factories in nine years
What we see in the picture is the 50,000th full electric bus produced by BYD. A striking number, if compared to the 2,200 (more or less) electric buses in circulation in Europe and the approximately 400,000 full electric buses in circulation around the world (99 per cent of them in China, as widely known). BYD announced […]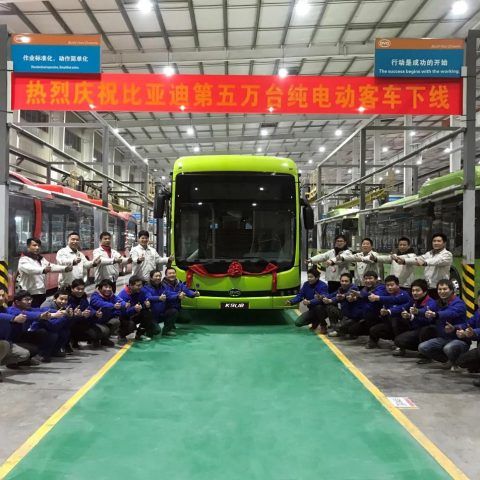 What we see in the picture is the 50,000th full electric bus produced by BYD. A striking number, if compared to the 2,200 (more or less) electric buses in circulation in Europe and the approximately 400,000 full electric buses in circulation around the world (99 per cent of them in China, as widely known). BYD announced the prestigious goal on January 18th.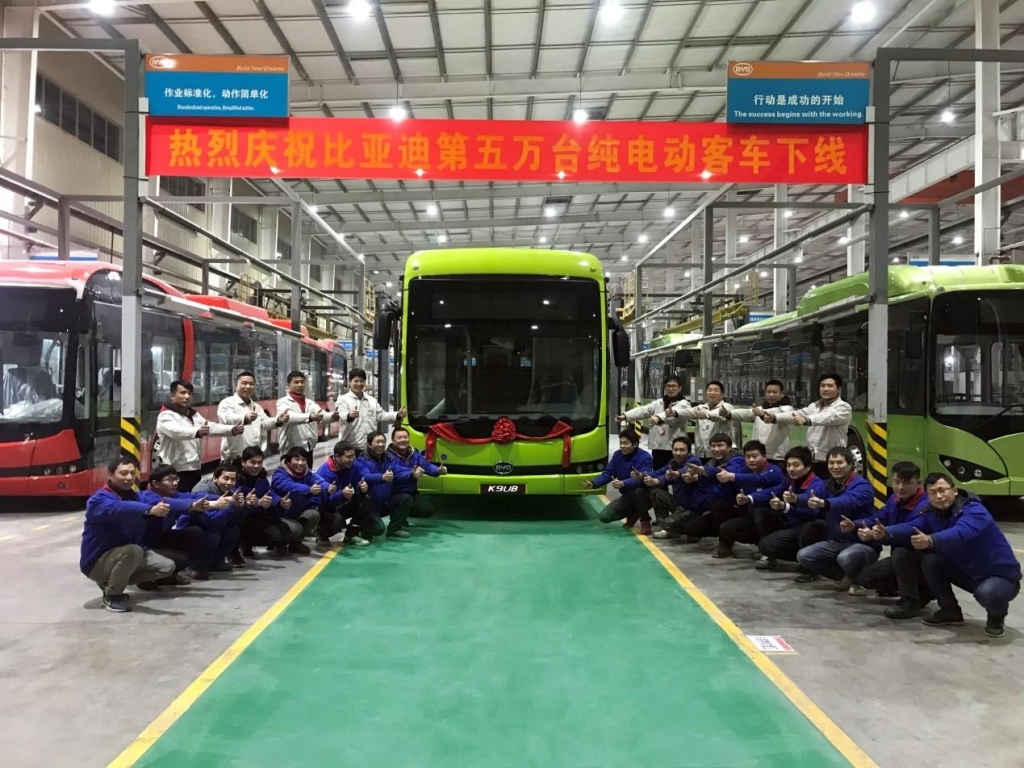 Nine years of electric bus production
The start of BYD electric buses production dates back to 2010. The first K9 pure electric bus was produced in Changsha in that year. The Chinese manufacturer sold its electric buses to around 300 cities in the world so far. With Shenzhen's hosting of the 26th Summer Universiade in 2011 came a turning point, as 200 BYD K9 pure electric buses entered operations in the city. That event saw BYD become the world's first company to commercialize the so called "new energy buses". This definition includes full (or pure) battery electric buses, plugin hybrid buses, and fuel cell buses. Due to China's policy orientation (pure electrification of public transportation systems), pure electric buses occupy more than 80% of the market share (in 2017, this figure was 85%), wrote the Interact Analysis' researcher Maya Xiao.
China, a fragmented market
Today, BYD pure electric buses have not only become commonplace in major Chinese cities but also spread to other medium- to small-sized cities. In 2018 BYD was awarded with a 4,473 electric bus contract in Guangzhou, following a tender for the supply of a total of 4,810 ebuses. Chinese market is very fragmented and populated by a plurality of manufacturers (even a single percentage point worth more than a thousand vehicles per year…) and it is very fluid, as demonstrated by the large share variations occurred between 2015 and 2016, as reported in 'Electric Buses in Cities' report by Bloomberg New Energy Finance, published in spring 2018, that provides interesting figures about global electric bus market, updated at the end of 2017. Yutong grew (between 2015 and 2016) from 15 to 19 percent, BYD from 6 to 13, Zhontong remained around 10, while Nanjing Jinlong fell from 10 to 7.
BYD worldwide
In addition, BYD has also gradually grown its international customer since the first batch of 35 electric buses was exported to Amsterdam Schiphol airport in 2013. These include Transport for London, Sydney Airport, Stanford University and Facebook. The most recent deliveries and orders? As many as 100 electric buses in Santiago de Chile (but it's important to stress that Yutong supplied the same number of vehicles), 64 zero emission buses ordered in Medellin (Colombia),