A fuel cell bus on the RVK line to Cologne airport: Van Hool delivers the first A330 FC
A bus line extended to the airport, by means of a brand new fuel cell bus. Regionalverkehr Köln (RVK), the public transport operator of Cologne, in Germany, has lengthen the bus line 423 to the Cologne-Bonn airport. According to RVK plans, this will increase the number of passengers using public transport to reach the airport […]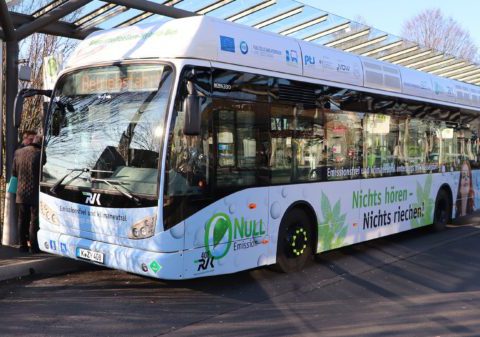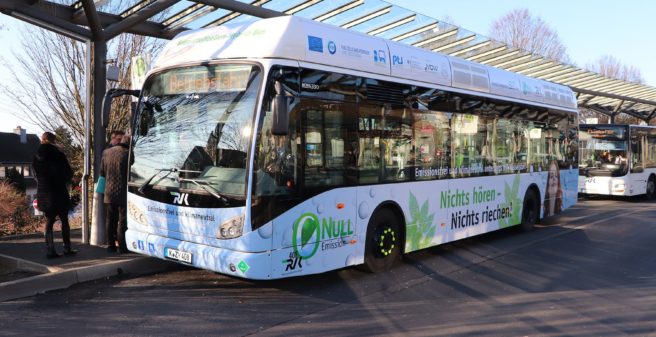 A bus line extended to the airport, by means of a brand new fuel cell bus. Regionalverkehr Köln (RVK), the public transport operator of Cologne, in Germany, has lengthen the bus line 423 to the Cologne-Bonn airport. According to RVK plans, this will increase the number of passengers using public transport to reach the airport (that is reachable also by subway), thus saving emissions from passenger cars use.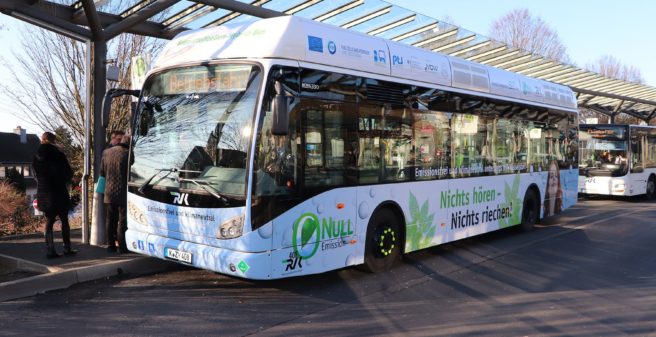 Van Hool to deliver 30 A330 FC to RVK
Totally there will be 30 Van Hool A330 FC (new version) to be delivered in Cologne and further 10 units in Wuppertal (where the first vehicles were supplied a few weeks ago). The 12-meter vehicle, when deployed on flat urban service lines, is equipped with 24 kWh traction battery and 85 kW hydrogen fuel stack. The version of the bus for regional and hilly city services is fitted with a 36 kWh traction battery. The bus can accommodate up to 75 passengers and weighs 14 tons. They are equipped with an 85 kilowatt fuel cell stack (made by Ballard Power Systems) and a LTO battery.
The first fuel cell buses were deployed by RVK in 2011. In 2014 two Van Hool A330 FC were delivered, on a three-axles configuration. The interest of Cologne bus operator for hydrogen technology is connected to the fact that chemical companies around Cologne have an overabundance of waste hydrogen, that can be used to fuel the vehicles with low costs.
RVK Cologne, the passion for hydrogen
Andrea Blome, deputy for mobility and infrastructure in the city of Cologne, said: "Our citizens living  in the Eastern part of Cologne will now be able to reach the airport in 13 minutes. This will represent an attractive alternative to the use of private cars. With the improvement of the public transport offer, we deliver a crucial contribution to make our city more sustainable" .
RVK CEO Eugen Puderbach explained: "We started nearly 10 years ago to develop and test alternative technologies. If we had not deployed our first vehicles back in 2011 via our project "Null Emission" we would not be there today! From now on five fuel cell buses will be put in operation and more fuel cell buses will follow suit. "
Johan Vanneste, CEO of the Cologne-Bon airport company, praised the project in his opening speech at the inauguration:  "At the Cologne-Bonn airport, we have a high interest in the development of innovation and sustainability. We opened the first public hydrogen refuelling station of Cologne at the airport in 2017. We are even more delighted with the new connection established with the fuel cell buses of RVK, that will benefit to all partners. On one hand, the airport is better connected with the district of Rheinisch-Bergischen – which is a real game changer for passengers from Bergisch Gladbach and the surroundings. On the other hand RVK, as operator of the bus line, will be able to easily refuel the buses at the station. This is a win-win situation, a real sustainability signal!"