Arrival launches a Global Service Network Program
Arrival has announced the launch of a Global Service Network Program addressed to customers and aimed at making bus and van repair and maintenance activities simpler and more efficient. The program will be based on Arrival's digital Service Platform to train and certify any technician to service its vehicles. Besides, as stated by the global company, […]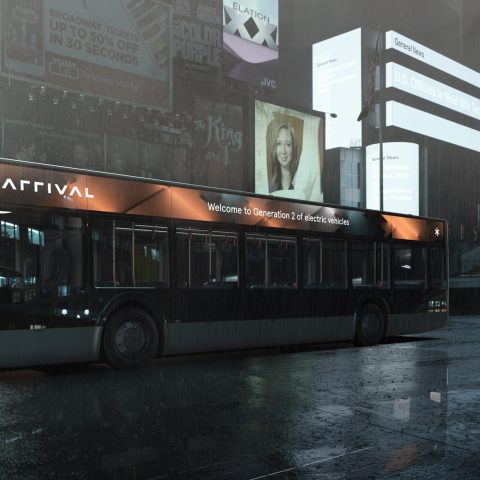 Arrival has announced the launch of a Global Service Network Program addressed to customers and aimed at making bus and van repair and maintenance activities simpler and more efficient. The program will be based on Arrival's digital Service Platform to train and certify any technician to service its vehicles.
Besides, as stated by the global company, «the Service Platform uses the data from Arrival's vehicles and proprietary algorithms to enable existing service providers to repair and maintain its electric vans and buses. This will utilize existing networks of technicians and workshops, ensuring scalable coverage while helping maintenance and repair companies transition to electric vehicles». Arrival has just showcased its latest van at the Global Investment Summit in London. The e-van is also traveling across Europe until March 2022.
The UK-based startup has recently debuted on Nasdaq. First trials of the Arrival electric bus will be held in the UK by First Bus. The single-deck Arrival Bus for First bus features a single front door with a passenger seating capacity of 36 across the entire flat floor. It is equipped with up to 310.8 kWh of energy storage capacity with the option of both an AC and DC charge.
Also, Arrival has signed a partnership with Hitachi Europe regarding the providing of new bus and infrastructure solutions to the European bus industry.
Arrival's Service Platform
Powered by Arrival's Service Platform, partners will have access to repair and maintenance documentation, in person and online training, predictive and automated diagnostics, and the distribution of spare parts. So far, four partners have been announced for the North American market and four within the European one. More into details, Amerit Fleet Solutions, Bridgestone, NAPA AUTO PARTS, and Valvoline are about to join Arrival in North America and ARC Europe Group, Kwik Fit, Rivus Fleet Solutions and ZF in Europe.
«We're aiming to fundamentally change the way that maintenance, service and repair is performed using in-house software to create a next generation experience for our customers», said Serge Sulgin, CEO of Arrival Solutions. «The Arrival Service Platform will provide a marketplace to connect EV users with skilled and certified service providers, giving them an end-to-end solution for the newest and most advanced products in their fleet and allowing us to scale our service network quickly and on-demand to meet our customers wherever they are. It will also give our partners the opportunity to upskill their workforce for the future of mobility».
The Global Service Network Program by Arrival
Arrival also explained how the system works. The Service Platform starts at the vehicle level, where on board sensors and embedded software constantly analyze the state of the vehicle and its components. This vehicle-specific information is maintained in the cloud, creating a real-time picture of the vehicle that allows Arrival to remotely determine which component needs service, rather than requiring technicians to manually diagnose an issue in the field. This remote capability is augmented by predictive models that aim to identify issues before they even occur.
The Platform then takes into account all the operations that are required to repair a vehicle based on the data received and builds an optimized work package determined by the criticality of the issue, the parts needed, the skill levels of the technician required and any additional supporting material needed. Customers will either be presented with scheduling options or an automatic selection based on their predefined criteria, and the Platform will orchestrate the coming together of resources to perform the repair.
If the technician encounters an unexpected issue, Arrival Service Engineers located strategically across markets remain on standby to provide remote support via chat and live sessions using smart glasses, or in-person if needed. To ensure customer satisfaction, the Platform carefully manages the people by delivering training, certification, and technical support directly to the technicians and helping them stay up to date. Automatic warranty authorization and easy job documentation further support the technician through the entire process and minimise any paperwork required.